Another day, a better one this time at the Australian Open.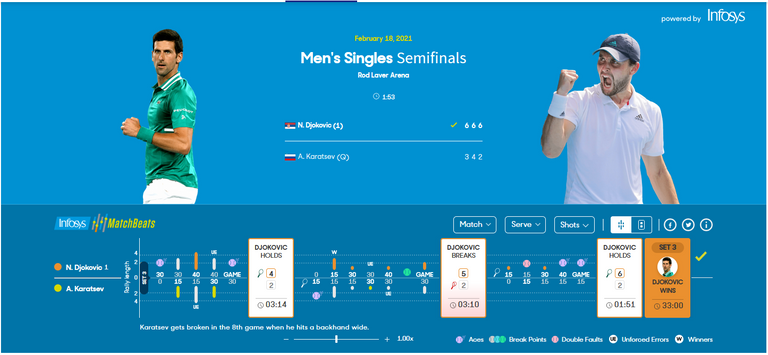 source
Novak Djokovic vs Aslan Karatsev
This match should have been a simple one and it was in a way, and yet a very good one, something to remember for many. I'd say a match for the tennis history books.
Aslan Karatsev is the surprise of the tournament. He's a 27 year old tennis player, representing Russia at the moment, who came from qualifications. It ia a newcomer in every sense of the word as he's already 27 and not know in the tennis world. Usually players start early and at this age they should be known already, with a few titles in their pockets. Well, Karatsev is not. He's No. 114 right now and has no career title yet.
This doesn't stop him to show us who he really is and this Open was a perfect occasion for that. He fought his way into the semifinals and became the second payer to make it to the semifinals from qualifications.
Aslan is an exceptional player, very talented who gave Djokovic a little bit of headache today. I'm not sure Dkjokovic knew what he's getting into today, but now he knows. We have a saying in Hungarian, we say he met his match and that can be applied here. I can see Aslan as a new contestant for the top in case he can hold up his fitness level. He can have a good few years still.
So Djokovic had the surprise to meet someone with the right attitude, plenty of talent and some lack of experience, that made him lose, but not before making Djokovic to work for the victory.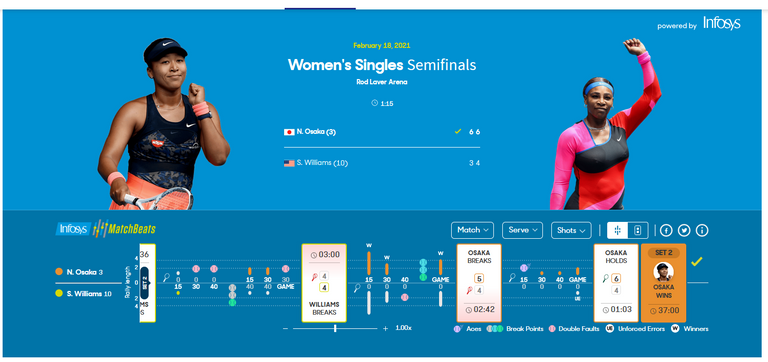 source
Naomi Osaka vs Serena Williams
I've said my interest for women's single ends with Simona Halep leaving the competition but I was wrong then. Today was the day for Serena Williams to meet Naomi Osaka, I'd say her younger self a decade ago.
I wanted to watch the match to see how Serena can keep up with world No. 3, or better yet, how she can't as I knew she can't and was right. She made so many simple mistakes that costed her dearly. I guess deep down she knew she had no chance but somehow she's clinging to this unrealistic dream of hers, hoping she can still win.
At the press conference she could hardly hold her emotions back, after answering a few questions she started crying, stood up, said she's done and left. The press started speculating on what exactly I'm done meant today but I guess it only meant she's done answering questions.
She had some goals for this year, she wanted to break some records and her dream is going down the drain as her body and mind is not helping her in achieving those goals. I'm feeling sorry for her as the longer she continues this struggle, the less her chances are for being remembered as an excellent tennis player. She's accumulating loss after loss and she's risking to be labeled as the one who couldn't let go, who did not know when to retire. It's painful just to watch her struggle, honestly. Naomi Osaka is 23 years old, the age difference between the two is 16 years, Naomi could easily be her daughter.
I'm pretty sure this is the last year for her and I'm expecting her to retire before the season ends.

This was my prediction for today:
Novak Djokovic vs Aslan Karatsev - Novak Djokovic - correct

My prediction for tomorrow:
Daniil Medvedev vs Stefanos Tsitsipas - Stefanos Tsitsipas (this is tough though, but he's my favorite, he must win)