Lucky me, today I got to watch the end of a few matches, more like half of them. It's difficult to watch every match as they overlap, plus obviously there's real life.
Usually I'm watching men's single but today the broadcaster was airing the match between my compatriot, Simona Halep (RO) and Ajla Tomjanovic (AUS), a good one for me as obviously I'm rooting for Simone, she deserves it.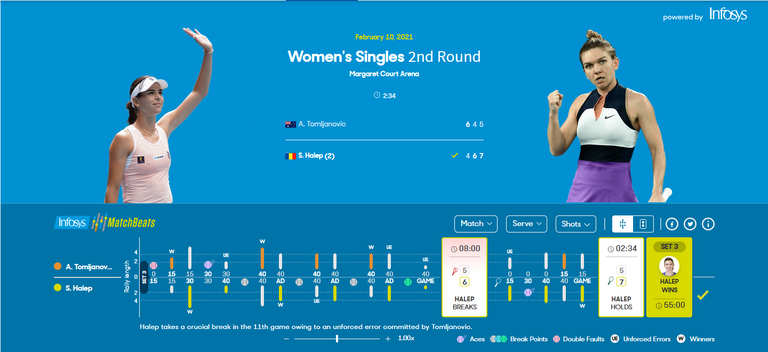 source
The two sets were done when I tuned in but the third one was worth the other two I guess as it was the most intense till now. Simona Halep is world No. 2 at the moment, one may think she can beat anyone and mostly it's true but there are exceptions and when you most want to see her win, she loses.
Ajla Tomjanovic was new to me and lucky as well as she got to play at home, in front of her Aussie public, that most likely helped her a lot. She's a really good player, she faced the pressure well and showed professionalism. The last set was very intense, it wasn't clear who's going to win, it could have gone both ways but I suspect experience and maturity played a big role here as Simona Halep was able to regain control and, plaid high level tennis and win.
Ajla Tomjanovic was unlucky to meet the world No. 2 so soon. Maybe if she could have played with a less experienced player, she's have had the chance for another round. However, she's still very young and have time to win. She's a promising player, a fighter, who we're going to see a lot in the upcoming years if things go well. She's a player to remember for sure.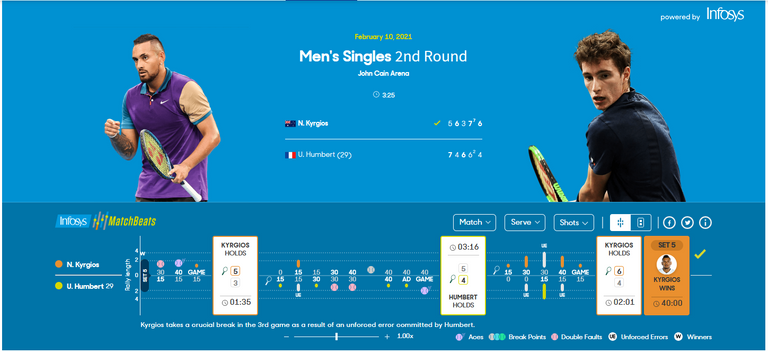 source
This was the match I've been looking for and was lucky to see the last two sets. I really wanted to see Nick Kyrgios playing and was curious if he can be the professional this level of tennis needs.
His performance was so and so. He had some very good shots and some very sloppy ones. He also made a show by making unnecessary and stupid moves, risking a lot but that's who he is. I guess for him making the public like him is more important.
There was an incident, the sensor on the net fell on the ground at some point, the chair umpire got down to put it back, Nick got angry, argued with the umpire but with any success. I don't know what was his problem, he kept repeating you're ruining the game. The umpire put the device back, got back to his chair and continued the match. Everyone knows by now who Nick Kyrgios is and what to expect from him.
Ugo Humbert on the other hand is a solid tennis player. He grew up in a poor family, hasn't been pampered, had to work hard to get where he is. He's No. 30 right now and this is his highest ranking. Today he had a balanced game, fought till the end, did everything he could, but Nick was better today, or just lucky.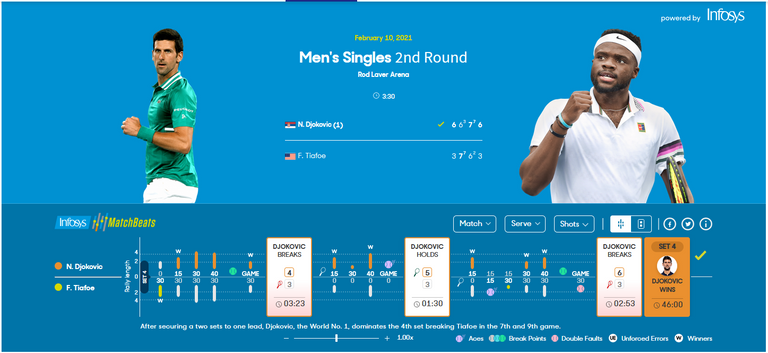 Djokovic met his match today as Tiafoe made him work for the victory. I've never seen Tiafoe before, knew nothing about him, but he's a hell of a fighter. He made Novak's life difficult today, which was great. I like matches where both players are equally good and the winner is decided in the last minutes. Unfortunately Tiafoe has to leave the tournament but let's hope we're going to see him soon.

Yesterday I made some prediction about today's games, so let's see if i was right or not.
Stan Wawrinka vs Márton Fucsovics - I said Wawrinka will win and was wrong. Lucky me, Márton Fucsovics won.
Alexandre Müller vs Diego Schwartzman - I said it can go either way and Diego Schwartzman won.
Dominic Thiem vs Dominik Koepfer - I said Dominic Thiem will win and he did.
Novak Djokovic vs Frances Tiafoe - It was clear Djokovic will win and he won.
Nick Kyrgios vs Ugo Humbert - I said it could go either way and Nick Kyrgios won.
Maxime Cressy vs Alexander Zverev - I didn't say anything, but Zverev won.

Today I have to be more decided and predict the winners. So let's see who's playing with who tomorrow.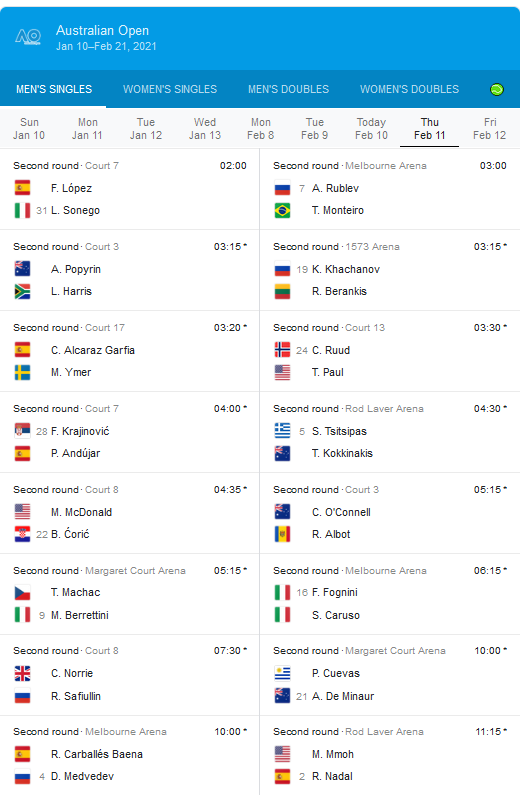 source
Andrey Rublev vs Thiago Monteiro = Andrey Rublev
Stefanos Tsitsipas vs Thanasi Kokkinakis = Stefanos Tsitsipas
Mackenzie McDonald vs Borna Coric = Borna Coric
Tomas Machac vs Matteo Berrettini = Matteo Berrettini
Fabio Fognini vs Salvatore Caruso = Fabio Fognini
Roberto Carballés Baena vs Daniil Medvedev = Daniil Medvedev
Michael Mmoh vs Rafael Nadal = Rafael Nadal

Impressions About The Tournament
Even though the pandemic is still existent, I see a number of spectators, quite high compared to last hear. Most of them are not wearing a mask. The crowd sometimes is too noisy. I know they have a role and are allowed to express their joy or disappointment, but I guess I liked better when it was quiet.