I'm back with my daily report on Australian Open. Today was day 6 with a couple of interesting matches and as many surprises, not necessarily good.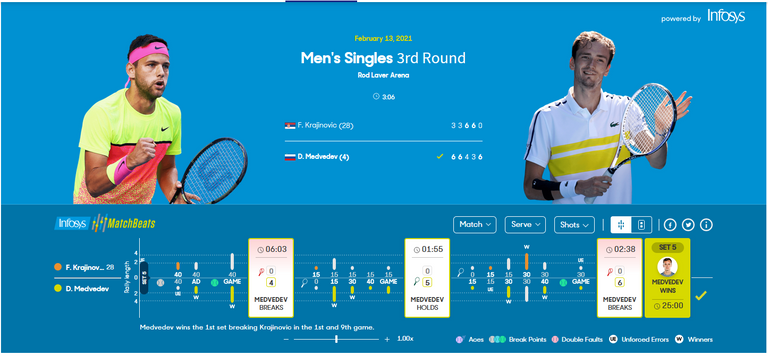 source
Filip Krajinović vs Daniil Medvedev
Let's start with Krajinović and Medvedev. This was an easy one as Medvedev seemed unstoppable last year already, he's an excellent player and better ranked than his opponent. However, nothing is straight forward in this game, this match wasn't exactly what we have thought it would be. Medvedev easily won the first two sets, then just as easily lost the next two. Then had a fabulous comeback and won the last, decisive set. This is not like him, he's usually pretty constant but anyone can have a bad day.
What's even more surprising is that he had a fight with his trainer, who left the match. Medvedev shouted let me play to the trainer. This was shocking. I know most of the players have disagreements with their trainers, it's normal, but to fight in public is not.
I'm looking forward to his next match and truly hope they can sort out whatever happened as there's plenty of stress in a tournament like this, he doesn't need extra stress created. I'm glad he was able to control his anger and emotion and win the game.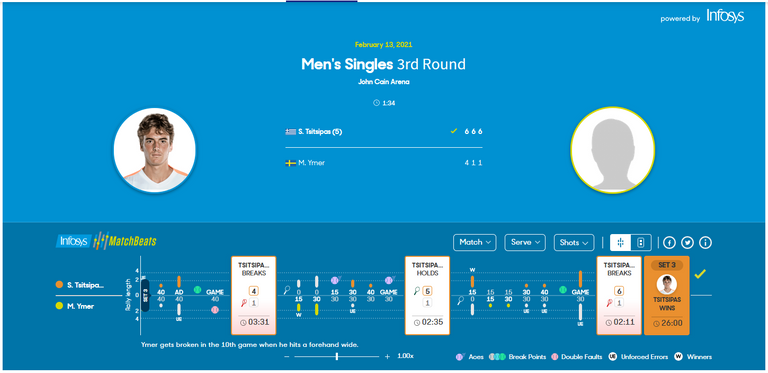 source
Stefanos Tsitsipas vs Mikael Ymer
This was one of the matches I was looking for. Tzitzipas is one of my favorites and I've never seen Mikael Ymer playing, actually I had no idea he exists. Turns out he's a friend of the Greek's, they know each other from junior years and The Swed has thought Tzitzipas a few Swedish words.
The match was a nice one, even though the professional level of the two players was very different. Ymer was brave, fought like a true professional, but he needs more experience at this level.
source
Karen Khachanov vs Matteo Berrettini
This match was the highlight of the day! I've never seen such a result honestly. 6-7, 6-7, 6-7! Absolutely amazing. Even though Berettini is better situated at the moment, Khachanov was as good as the Italian today. We got to see very high level tennis and I am truly sorry to see Khachanov leave. He proved himself to the world today, not that it was needed. I'm looking forward to seeing him more this year. Matches like this one make the tennis great.
However, there was something that almost put everything in danger. Berettini got injured at some point and requested medical help. The doctor needed 10 minutes to give him a fast treatment, that may helped. It must have been an abdomen muscle or something, but the injury looked similar to what Djokovic had yesterday. Obviously this is pure speculation as I'm not a doctor and even if I were, you can't know for sure just by watching things on Tv.
Djokovic had a scan and skipped practice today, waiting for the results. He most likely has been advised to protect himself and avoid efforts. Who knows, the two weeks isolation, lack of proper training may have something to do with these injuries.

These were my prediction for today:
Filip Krajinović vs - Daniil Medvedev - Daniil Medvedev - correct
Andrey Rublev vs - Feliciano López - Andrey Rublev - correct
Stefanos Tsitsipas vs Mikael Ymer - Stefanos Tsitsipas - correct
Karen Khachanov vs Matteo Berrettini - Matteo Berrettini - correct
Fabio Fognini vs Alexde Minaur - Fabio Fognini - correct
Cameron Norrie vs Rafael Nadal - Rafael Nadal - correct
6 out of 6! Yay

This is my prediction for tomorrow:
Dominic Thiem vs Grigor Dimitrov - Dominic Thiem obviously
Dušan Lajović vs Alexander Zverev - Alexander Zverev
Novak Djokovic vs Milos Raonic - Novak Djokovic