What a day, again! This is what this week has been like, a fantastic day every day. Today I got to watch the Dubai final, which looked like the toughest match so far, but reality says otherwise.
Lloyd Harris vs Aslan Karatsev
Two of my favorites from the younger generation met today in the semifinals. It's not an ideal situation, it's easier to watch the match if only one is your favorite, but this is what we got today.
Harris lost the first three games, surprisingly. He left too much surface uncovered, sent the ball out of the court and Karatsev took advantage of it. He said he like this surface but still needed three games as warm up, to be able to play.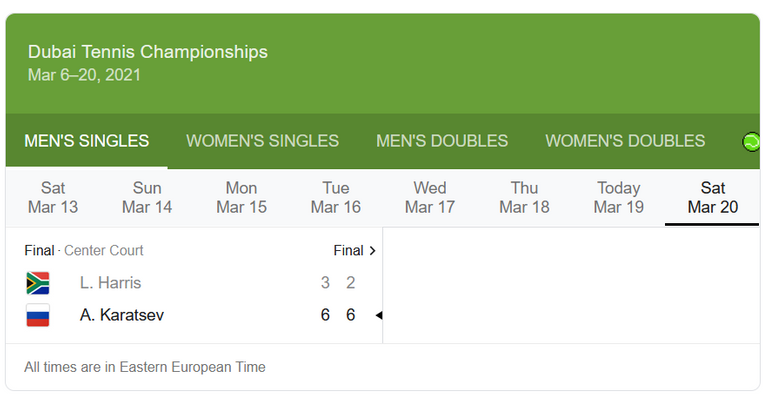 source
After that Harris seemed like he was able to find his rhythm and was able to win a few games, but could not keep up with Karatsev.
Karatsev's efficacy so far is 85%, lost 2 matches this year, jumped from 115 to 48 ATP after playing the Australian Open final against the best of the best, no one else than Novak Djokovic.
Harris managed to get two aces in the first game, first set, then another two in towards the end of the first set, to gave 8 in total at the end of the match, while Karatsev only had 3.
Harris's self confidence and self control was not enough today, Karatsev had more and won.
He has a funny way of holding his hand while waiting for the opponent to serve. He also has difficulties serving, have noticed that over the few matches I've watched. Sometimes the ball hits the net, other times it's out. Even though he's not in his early twenties, he's still new at this level and there's a lot to learn for him. Regardless, he's a great talent and has a bright future.
In my eyes both players were good, obviously Karatsev was better but they both need more experience that they will get playing in the big league.
What's Next
Tomorrow there's the Mexican Open final between Tzitzipas and Zverev. No doubt Tzitzipas is going to go home with the trophy. He must, he has no other choice. He had a good match today with the Italian Musetti.
Next is the Miami Open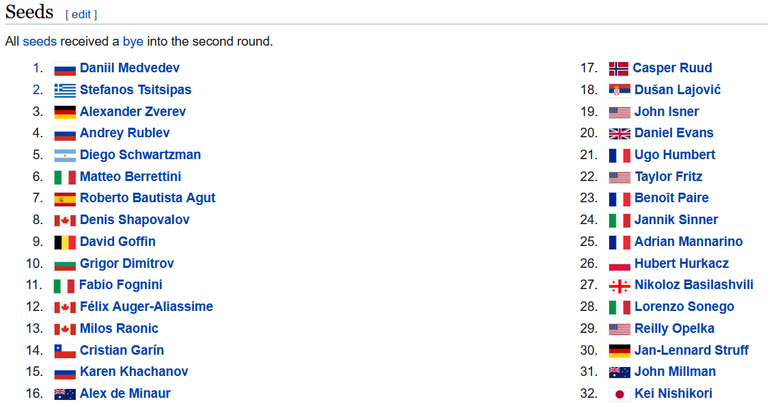 source
Looking at the seeds, it's going to be interesting, even though Federer, the defending champion decided not to participate this year, I can't see Nadal or Djokovic either. Most likely they are training for another tournament. This is not necessarily a problem as we get to see new players getting a chance. I keep saying this year is different from the previous one, this is a new era with so many good players.
The bad news is neither Karatsev, not Harris is on the list, most likely they don't qualify. Maybe next time.