Yesterday there were so many events in tennis that I couldn't cover all what's happened, so here's part two f my post.
One of the matches I was looking forward with great excitement was between Alex de Minaur and Lloyd Harris. I'm following Lloyd Harris's career because I consider him one of the most talented tennis player of this period. De Minaur is a good player but don't see him breaking his way into the top players to be honest. From technical point of view, this should have been a clean match, two sets in which Harris wins, but it wasn't. The first set ended with (6-2), which is clearly not what Harris is capable of and he gave it up in the second set, accusing back pain. I am not saying I wasn't disappointed, but it was a good decision. Better a walkover than a serious injury that could force him to sit a couple of tournaments out.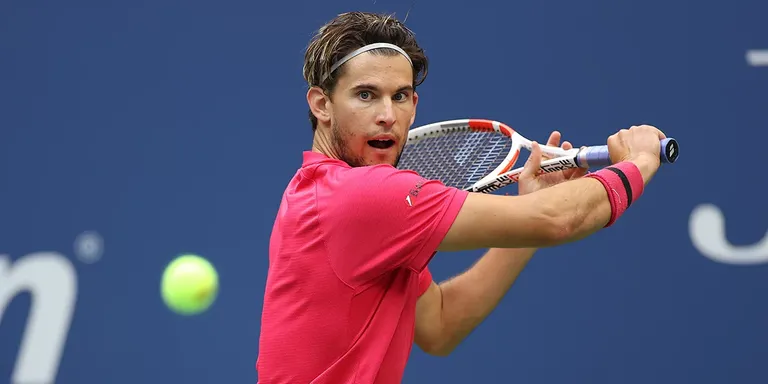 source
Dominic Thiem vs Marcos Giron is also worth mentioning in this post. Dominic Thiem is 3rd seed here and obviously world No. 4, so if we look at his position on the board, there's no question who'd better between the two. However, things are never so simple. Thiem hasn't played for awhile and this year he hasn't played on clay at all. He has been dealing with some injuries and that is always reason for concern. Yesterday he was lucky to meet a player like Giron and the match was like a training session as Dominic had no problem winning. It was a beautiful match that ended in a little more that 50 minutes with the result of (6-1)(6-3). I'm not sure that Giron was expecting from Thiem, mentally he must have been a little pressured by the fact that he was up against world No. 4, but if you're playing in the big league and want to be the best, you have to beat the best. He did ok though, but he also needs more practice.
The match between Nikoloz Basilashvili and Benoît Paire was also interesting because if you are following tennis, you know who Benoît Paire is and what's happened to him. If you're not, I'll tell you in a few words. He has made quite a name for himself for all the wrong reasons. He has made several statements about his intentions in tennis that has not been received well by anyone. He has stated that he's in tennis only for the money, he's not motivated to win because with the current rewarding system there's no incentive between the price of the winner and the loser.
It's his right to do what he wants as he's a citizen of a country (France), where freedom of speech is guaranteed but when you're representing a country at the international competition, you're no longer to do what you want as your actions are putting the country in a bad light. As a consequence, the French Tennis Federation has decided to ban Benoît Paire from participating at the Tokyo Olympics. I couldn't agree more with this decision as it's the only right one. Tennis is more than money and if Paire doesn't understand that, then someone else deserves more to go Tokyo in his place.
The thing with Paire is that when he doesn't want to win, he makes it visible to everyone and there's nothing worse that a tennis player that doesn't want to play. Yesterday however was not the case. He fought with every effort he had to be able to win to (4-6)(5-7) and what was even more interesting was his reaction at the end of the game. He was shouting and enjoying his victory. Now I don't know if he was really happy to win or it was just a show. Also it would be interesting to know if the Olympics ban had something to do with it, or not. I guess we're going to find out watching him next time. I'd like to think he has changed his mind and had realized what he has been doing is not right.
Karen Khachanov vs Kei Nishikori. I keep rooting for Karen Khachanov as i think he's a talented player but somehow he can't advance. Yesterday he got defeated by the Japanese Kei Nishikori. But even if he would have won he would have only survived another day as the winner of the match gets to meet Alexander Zverev today and has no chance.