This tournament is getting more and more interesting. You may say it's the same sport and the same players, which is true, but each match is different, which makes it interesting. The tournament itself is different as it's on clay, a different surface and not everyone is good at it, but more about that later. First let's see what's happened yesterday.
Rafael Nadal vs Carlos Alcaraz Garfia (6-1)(6-2)
Thai was a no brainer even for those who have no clue about tennis, but it was a match of utmost importance for Spanish fans. Nadal, their hero against the young Spanish talented teenager, who is seen as the next one in line to conquer the tennis world. This match for Nadal was more like a practice, for Garfia it was the match of his life as he got to play against one of the best. He is definitely talented but lacks experience. In a few years I'm sure we're going to see him more and if he is as good as others say, then he can take Nadal's place one day. He celebrated his 18th birthday yesterday, so there's plenty of time for him to learn and practice.
Roberto Bautista Agut vs John Isner (4-6)(7-6)(6-7)
Beautiful, beautiful match, from the beginning till the end, full of nice situations. Isner is a legend, he's the record holder of aces in a single game and in the same time the only player in top ten who's still active.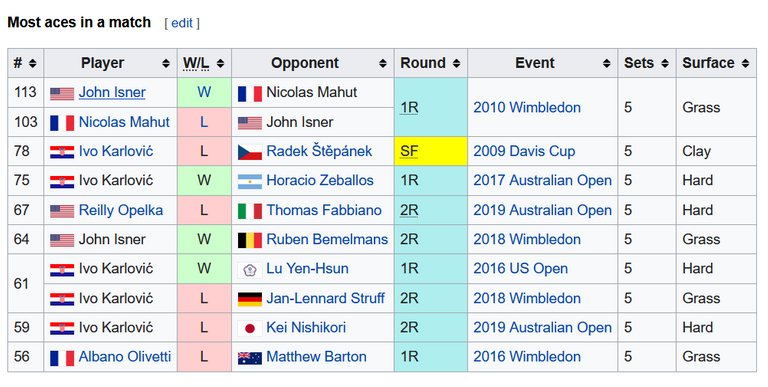 source
This is the technical data of yesterday's game.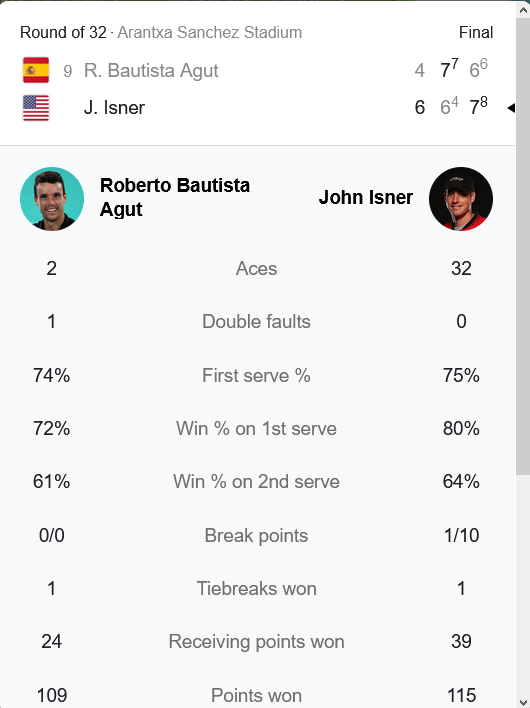 source
32 aces in one game! What can I say, sheer genius! I've never seen so many aces in one match.
The whole match was absolutely spectacular, both players gave everything they had and the result was not visible till the last moment. There were two tie-breaks, at the end of the second set and the third set and in the last one it looked like Bautista may win, but Isner could not let that happen. They both showed their value and I could not appreciate them more. Two champions, two professionals, even though only one could win.
Alexei Popyrin vs Jannik Sinner (7-6)(6-2)
This match was heartbreaking. Watching Jannik Sinner lose is not something I enjoy or looking forward to. He had a good first set, but the second wasn't the best. Shame, he can do better.
Benoît Paire vs Stefanos Tsitsipas (1-6)(2-6)
This was another interesting match. Yesterday I wrote about how Benoît Paire fought to win the match and how excited he was after winning. I don't know how much of that was for the show, for the cameras, but from where I was sitting, he looked genuinely happy, which is good. It was time for him to wake up and do something for tennis and it looks like he did.
Yesterday he had a tough job as Tsitsipas is one of the top players and he's unstoppable. At the beginning of the match I thought Paire would take it easy, knowing he can't beat the Greek. Paire is heading towards the end of his career and doing everything he can to ruin it with his own hands. However, yesterday he fought like a tiger, even though the results say otherwise. He did, trust me, but he is not on the top of his game and one of the reason is, as he stated, that he's not training, he just go to matches and plays. It is his decision after all and this is the result.
Casper Ruud vs Yoshihito Nishioka (6-1)(6-2)
Casper Ruud is a relatively new player, not well known. He's a 22 years old Norwegian who's starting to make a name for himself. He's part of the newest generation, still in formation, but in a few years we're going to see him among the top level players. He's qualified for the next round, which may as well be the last one in this tournament as he's meeting Tsitsipas today and he doesn't have the level of experience the Greek has. Regardless, it's going to be a nice match for sure.
Today some ugly things happened, which I'm going to talk about tomorrow, so stay tuned for the next episode.

Join me at Bybit and get $10 bonus in BTC! Plus, up to $600 worth of rewards await in your Bybit Rewards Hub.
Get started with my referral code: m3yjA
https://www.bybit.com/en-US/invite?ref=m3yjA