Sad day today in tennis. Three Italian players were eliminated, two of them exceptional talents.
Novak Djokovic vs Jannik Sinner (6-4), (6-2)
This was the match I've been looking for, with sadness I must admit. Two very important players and I like them both, but unfortunately only one can qualify for the next round, so one had to lose. No. 1 ATP obviously was favorite today, but if there's a player that can step in his footsteps in the future, that's Jannik Sinner, so there was a chance Sinner can win, even if it was a slim one. We've seen Sonego beat Djokovic, why couldn't Sinner.
Even though Sinner lost today, the tennis he played against the best player of the world was a great one. He made Djokovic work for the victory. He's still a teenager, there's plenty for him to learn and I'm sure this game served as an experience for him. I see him taking Djokovic's place once day. Hopefully in a few years.
For me it was the match of the tournament so far. Two players of the same height, with more than a decade age difference between them, playing high quality tennis. Djokovic most likely knew how to play Sinner, although they have never met in an official game. The Serbian must have watched Sinner's game or he figured out on the go, but what he did today was targeted, planned and well executed. Most of the time he called Sinner to the net and after the short he hit the ball at the far corner of the tennis court and Sinner got played almost every time.
Andrey Rublev vs Salvatore Caruso (6-3), (6-2)
This match was the disappointment of the day. It was more like a training session. Salvatore Caruso is a polite and disciplined player, but that's all. So lucky kid Rublev is qualified again, without any special effort.
Lorenzo Sonego vs Alexander Zverev (3-6), (3-6)
I must admit from the start, I was rooting for Sonego, even though logic said Zverev had more chance to win. Zverev is no. 6 ATP right now, but just because ATP has frozen the rankings. Otherwise he'd be higher up on the list as Federer is 5th right now and has barely played for the last 2 years.
The first set was a bit unbalanced. Sonego tried and succeded in tricking Zverev with short shots but it wasn't enough. Zverev has more experience at this level, but sometimes he seems to lose focus. Today was not the day as he won the first set.
The second set wasn't as unbalanced. Sonego knew he has to get himself together and do better if he wants to win and at some point in the second set there was 3-3, I was hoping there was a chance for Sonego to win the set, but then Zverev upped his game and all my dreams were shattered.
Zverev had 6 aces, while Sonego had none. The German was better today, no one can deny that.
Other Results
Karen Khachanov vs Pablo Carreño Busta (2-6), (3-6). This is kind of surprising. Carreño Busta is 12th seed but Khachanov is also good, so I was expecting a better result today. This is disappointing, Khachanov need to do better.
Federico Delbonis vs Rafael Nadal (1-6), (2-6). This was expected, no surprise here, although I haven't see the match. Can't watch Nadal playing.
Tommy Paul vs Roberto Bautista Agut (3-6), (4-6). Bautista had a good day today and was rewarded. I'm happy to see him qualify for the next round.
Fabio Fognini vs Jordan Thompson (6-3), (6-3). Two angry man in this game, looks like Fognini had a good day and could keep his cool, beating the Australian in only two sets.
Dan Evans vs Hubert Hurkacz (6-4), (6-1). Looks like Hurkacz's luck ran out as today was the day for him to go home. He had a good run but Evan s was better today.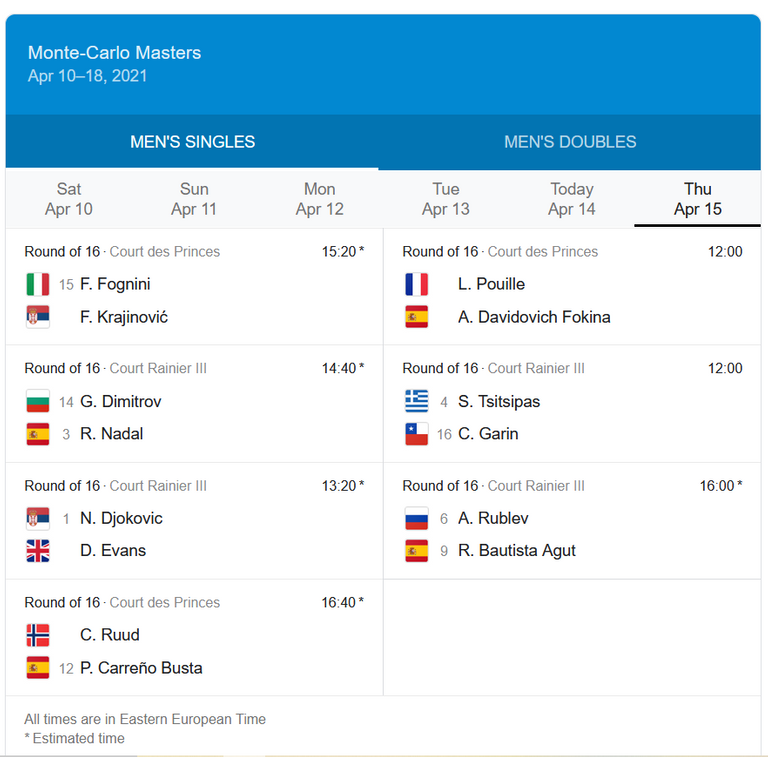 source
What Can We Expect Tomorrow
As time passes, games are becoming more interesting and the competition more tight. Tomorrow for example we're going to see almost all the top players.
Nadal should have no problem defeating Dimitrov, although I'd be happy to see Dimitrov win.
Djokovic - Evan is a no brainer. Unless something realy bad happens (I hope not), the Serbian should win.
Tsitsipas should beat Garing in two sets. The result should be something like (6-2), (6-3).
Rublev most likely will win against Bautista.
Busta should also win. Fognini too.
The only surprise will be Pouille vs Fokina. I don't know any of these players, so the game could go either way.