Yesterday was another qualification day at Monte-Carlo Masters, good for those who qualified for the next round, bad for those who had to go home.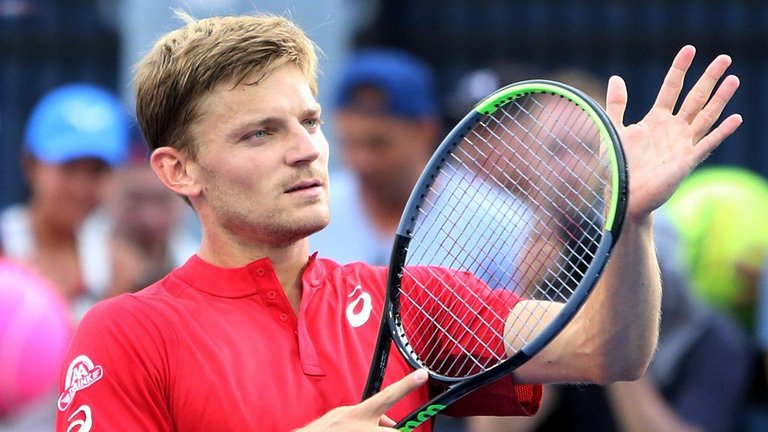 source
David Goffin vs Marin Čilić
The Belgian David Goffin is 11th seed in Monte-Carlo and No. 14 ATP at the moment, while Marin Čilić is No. 45 ATP and what is characteristic of both players, they are both going backwards at the moment.
Today is an interesting day as it's raining heavily in Monte-Carlo and 3 matches have been suspended already.
David Goffin's highest ranking was No. 7 in 2017 and he has 5 career titles so far, none of them Grand Slam titles. He played the quarter finals at the French Open in 2016, Australian Open in 2017 and Wimbledon in 2019.
The Croatian Marin Čilić highest ranking was No. 3 in 29 January 2018 and his only Grand Slam title in 2014 at the US Open. He played in the final in 2018 at the Australian Open and lost to Roger Federer. He last played in the Wimbledon final in 2017 and also lost to Roger Federer. Other than that, he played the quarter finals of the French Open in two consecutive years, 2017 and 2018 and lost to Rafael Nadal both times.
2020 was a difficult year for everyone, it's understandable that only a few could succeed in winning some titles. Many of the tournaments were cancelled, many players had restrictions imposed by the authorities, some got infected with covid, so I'd say 2020 doesn't really count.
Both players are over 30, so basically when you see a backwards evolution at this age, it is a sign that the player is going towards the end of his or her career. Without wanting to hurt anyone, I believe this is the case with both players.
I wanted to see who's better in this game as one of them had to win and yesterday David Goffin was better than Marin Čilić. Goffin dominated the first set and won to 6 - 3, lost the second to 3 - 6 and the third was very interesting as he won to 6 - 0! To lose a set to zero is a big embarrassment, no matter who you are, let alone at this level. Čilić wasn't injured, so no excuses there. He made a lot of mistakes, unforced mistakes and seemed lost, honestly.
David Goffin took advantage of the situation, handles the opportunity well and won the match. I guess he was lucky to be paired with Čilić yesterday.
I don't see a great future for any of these players. They may have a couple of years but the chances to win something consistent is slim to none. Time will tell.
Jordan Thompson vs Benoît Paire
Another interesting match, but in a different way.
Jordan Thompson is quite a character. Yesterday the Australian made a show, not quite like his compatriot Nick Kyrgios but it was close. Every time things didn't go his way he started to shout and threw his tennis racket on the floor a couple o times. He got some warnings for his unprofessional behavior. I don't like players who can't control their anger and I saw Jordan Thompson's behavior as quite childish. These tantrums have no place in the tennis court.
Benoît Paire is not any better but he is bad in a different way. He made waves with his controversial statements. Looks like he doesn't care about tennis, he only cares about money and he's happy to lose as the prize difference between winner and loser is not significant. He has recently fired all his staff to save money.
This behavior is totally unprofessional and disrespectful to the others as well but each to their own. I don't think he's going to last long as he is not motivated enough to fight for every chance and occasion. He's 31 now and clearly playing to impress the spectators, that is visible with the naked eye.
Yesterday in the third set he was in a great position, could have won the match as was leading against Thomson, who was angry and frustrated, thus easy to manipulate and still lost.
I don't know what's happened, why he lost. maybe he was ok with the prize money he could cash in or h gave everything he could. With him you never know and that's why you can't take him seriously. As soon as things get back to normal, he'll be out of the picture as his ranking will drop dramatically. ATP has frozen the ranking list, he's ok for now but this won't last long.