Luke usó la "fuerza" en Filadelfia [ESP] // [ENG] Luke used the "force" in Philadelphia || OPINION

      El béisbol es un deporte demasiado emocionante y aunque suene a lugar común, no comprendemos el porqué no ha sido capaz de escalar en las preferencias de las personas. Claro, se juega en apenas un puñado de países. Pero la dicha de pertenecer a uno de ellos no tiene descripción. Y lo decimos porque cada día éste hermoso deporte brinda historias dignas de contar. Si no me creen, prosigan leyendo.
Baseball is too exciting a sport and although it sounds commonplace, we do not understand why it has not been able to climb in people's preferences. Sure, it is played in only a handful of countries. But the joy of belonging to one of them is beyond description. And we say that because every day this beautiful sport offers stories worth telling. If you don't believe me, read on.
      Una fuente de esas historias a la que me refiero, son los novatos. Y vamos hablar de uno en particular, que hizo historia en dos escenarios muy distintos. Uno, el preolímpico de baseball jugado hasta el fin de semana pasado en Florida y el segundo el Citizens Bank Park de Filadelfia. En uno el tipo jugaba para los Estados Unidos y en el otro, como rookie graduado para los Filis. Este año 2021 será difícil de olvidar para Luke Williams.
One source of those stories I'm referring to is the rookies. And let's talk about one in particular, who made history in two very different scenarios. One, the pre-Olympic baseball tournament played until last weekend in Florida and second, the Citizens Bank Park in Philadelphia. In one the guy was playing for the United States and in the other, as a rookie graduate for the Phillies. This year 2021 will be hard to forget for Luke Williams.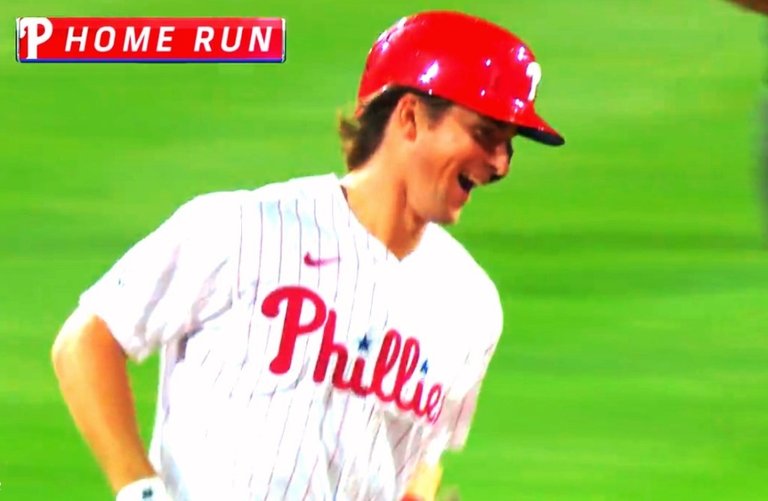 Screenshot from video by MLB

      ¿Luke quién? Ujú, nadie lo conocía hasta anoche, pero antes del turno que lo pondría en los titulares de noticias, les comentaba ayer lo importante de la serie entre ambos equipos. De allí el porqué lo hecho por Luke toma dimensiones extraordinarias. Jugando en triple "A", Williams fue convocado por la selección estadounidense para jugar el clasificatorio a los juegos olímpicos de Tokio 2020.
Luke who? Uju, nobody knew him until last night, but before the shift that would put him in the news headlines, I was telling you yesterday how important the series between the two teams was. That's why Luke's performance takes on extraordinary dimensions. Playing in triple "A", Williams was called up by the U.S. national team to play in the qualifier for the Olympic Games of Tokyo 2020.
      El tipo fue el héroe del partido ante Canadá en el preolímpico, sacando un jonrón para anotar la carrera de irse arriba ante sus vecinos del norte, en una ventaja que jamás perderían en el resto del partido. Y aunque Estados Unidos ganó 10-1 ese partido, Luke tuvo un tremendo aporte en la ofensiva para ganar notoriedad con su actuación.
The guy was the hero of the game against Canada in the pre-Olympic, hitting a home run to score the go-ahead run against their neighbors to the north for a lead they would never relinquish the rest of the game. And although the U.S. won that game 10-1, Luke had a tremendous contribution on offense to earn notoriety with his performance.
      Terminado el preolímpico, alistó su regreso a ligas menores. No está claro si cuando se bajó del avión al regresar fue llamado al equipo grande de los Filis, ni tampoco si tal llamado respondió a un premio por lo hecho en Florida. Lo que si está claro es que el tipo debutó el martes pasado en la noche bateando un sencillo, en el mismo partido donde Ronald Acuña Jr. la desapareció por el left-field. Y fue entonces anoche cuando llegó su momento de gloria.
After the pre-Olympic, he enlisted his return to the minor leagues. It is not clear if when he got off the plane upon his return he was called up to the Phillies' big team, nor if the call-up was in response to an award for what he did in Florida. What is clear is that the guy made his debut last Tuesday night hitting a single, in the same game where Ronald Acuña Jr. disappeared down the left-field line. And it was then last night when his moment of glory came.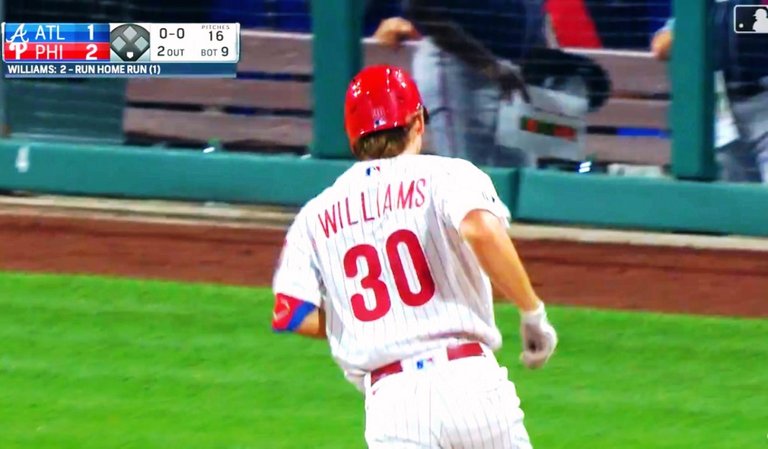 Screenshot from video by MLB

      Imaginen esto: Filadelfia perdiendo por una, cerrando el noveno inning con dos outs (el equipo había bateado solo tres hits en todo el juego, uno de los cuales anticipó el turno de Williams). Con hombre en primera, el cerrador de los Bravos Will Smith lanzó una curva de 81 MPH a las rodillas (bueno, ese era el plan) y el lanzamiento se quedó en la zona de poder de Luke, a continuación el momento soñado por todos los que amamos este juego. El swing pareció extraído de la "fuerza" como todo un Jedi.
Picture this: Philadelphia trailing by one, closing the ninth inning with two outs (the team had hit just three hits all game, one of which anticipated Williams' turn). With a man on first, Braves closer Will Smith threw an 81 MPH curve to the knees (well, that was the plan) and the pitch stayed in Luke's power zone, next the moment dreamed of by all of us who love this game. The swing looked like he was drawn from the "force" like a Jedi.
      ¿Cómo no festejar junto el novato, cuando recorría las bases? El estadio en Philadelphia casi se caía del ruido producido por los vítores y saltos de los aficionados. Y Williams dejó en el terreno a unos Bravos que amenazaban con llevarse la serie. Es inconmensurable explicar la emoción sentida por el espectador, pero mucho más debió ser para el novato. Y, sin duda, la "fuerza" está con Luke en 2021.
How could you not celebrate with the rookie as he walked around the bases? The stadium in Philadelphia almost fell down from the noise produced by the cheering and jumping of the fans. And Williams left the Braves, who were threatening to take the series, on the field. It is immeasurable to explain the emotion felt by the spectator, but it must have been much more for the rookie. And, without a doubt, the "force" is with Luke in 2021.
P.S. English is not my native language, apologize for that.
I used a web translator for english text (DeepL)
---
---