I just finished a 8.975km running that lasted about 0hh:42mm:54ss !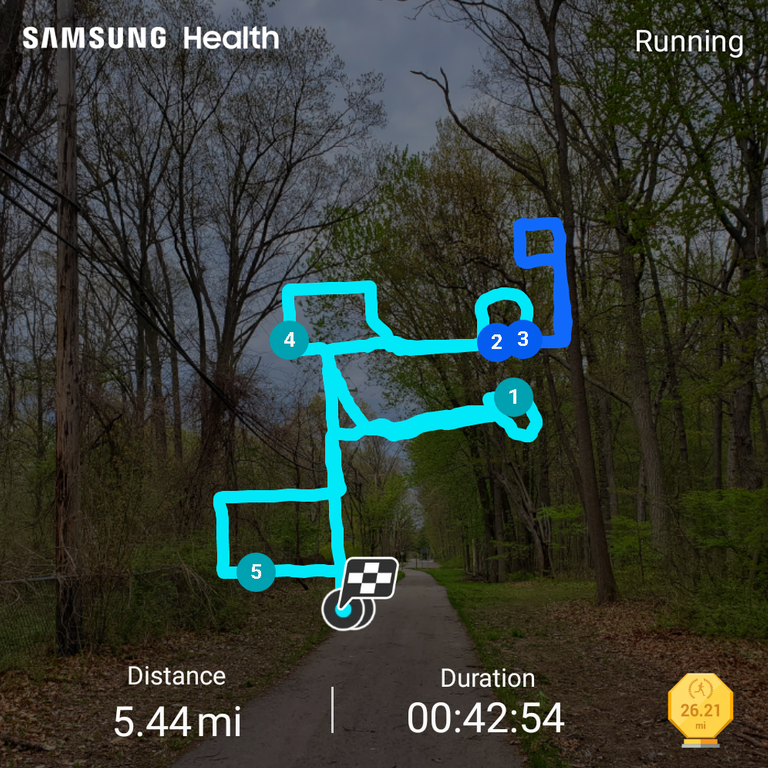 We ended up not going for an easy run with my buddy yesterday, I guess this week end wasn't meant to be the one he restarted his training after many years. Maybe next one. So today, even if it was already after 8pm and still around 82 F (which is something like 28 degrees Celsius, and like I mentioned many times, way outside my comfort zone), I decided to go for a run. No distance or pace in mind, just a random run.
Since there was still a little bit of daylight, I started in the forest but I guess I was more tired than I thought because I half-rolled my ankles several times, before I finally decided it was time to play it safer and go back to the asphalt. This lack of attention was quickly confirmed when I got startled by a deer. I was sort of sleep-running, because I ended up just a couple meters from it when I finally saw it, and jumped from the surprise (think cat videos 😁). I really felt ridiculous, but nobody was around luckily. And as the saying goes: that deer was much more afraid of me than I was of it, because it quickly fled in the deeper parts of the woods.
I've been feeling a bit sluggish and heavy the past few days, but at least my legs were not sore today. I did have a serious cotton mouth though. Not from smoking weed, but I mowed the lawn before and ate a lot of dust. I doubt that really affected my running and it was kind of smooth and relaxed (at least once on the asphalt). Pace is just on par with my latest runs, not very fast, but not super slow either. The last mile was a bit of a struggle though, my body still needs to get used to this heat. With the constant temperature swings in Michigan, it will take some time.
Overall, a good run. Most probably the last one before the virtual 10k race I mentioned a few days ago. It needs to be completed before Saturday. I'm planning it for Wednesday. That gives me 2 full rest days, it's supposed to be rainy the next couple of days anyways. And that's before my second vaccine shot this Thursday, in case I get any side effects (nothing on the first shot, so we'll see on this one). Usually my running plans tend to keep changing, so hopefully this time it does go as planned.
Till then, keep Exhausting!
Check out some detailed info at my EXHAUST page
Join me in testing out EXHAUST!