It's the end of another game Week and I was able to secure quite an appealing result that surpassed the average point by some reason able margins.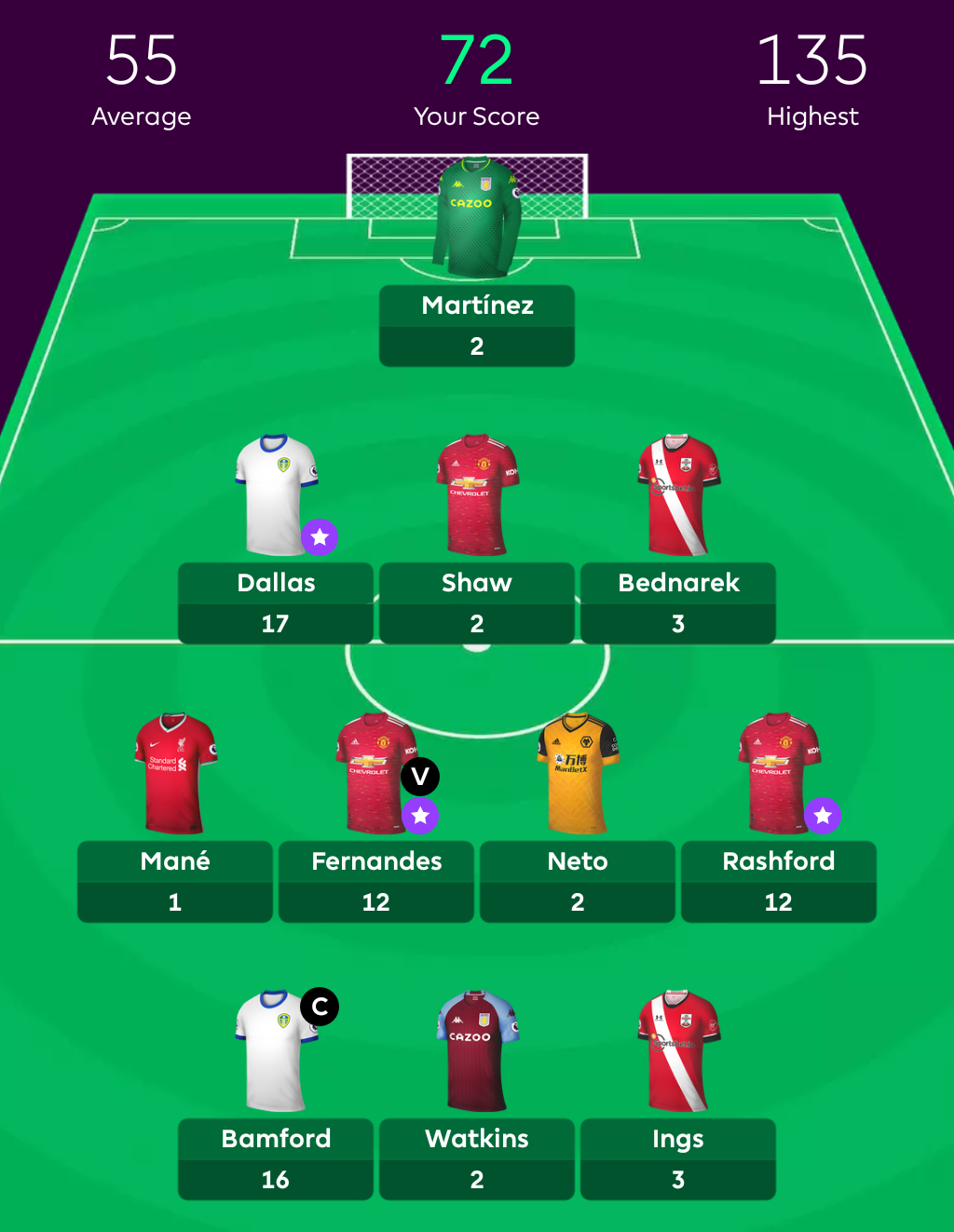 Beating the average score with 17 points shows how good my results were and though I had some little regrets but then, they weren't that worse to the extent that I would find it difficult to forgive myself.
Martinez as my major goalkeeper this season has been the best thing and option for my team but then, for the fact that my alternative goal keeper Areola performed quite better the him this weekend due to Areola securing a clean sheet made it quite painful for but then, Martinez had more smile than sorrow to my face.
Dallas who was able to secure me with whooping 17 points in the last game Week has finally emerged as my best defender so for in the season's premier league's competition. As far as FPL is concern, Dallas has earned me so much points more than any other defender I have ever had!
The likes of Shaw and Bednarek tried with their performances but personally, I really expected more for Shaw. I though he should have been able to secure a clean sheet win with his team (Manchester United) in the last game Week, though United aren't that good at keeping clean sheet, but for such a match that was played in the last game Week, Shaw ought to have been able to secure at least an assist through his ball crosses.
The souls of United gave my midfield more solidity as Bruno and Rashford performed interesting intriguing by contributing to two goals each. Rashford scored a goal and assisted a penalty. Bruno score a penalty and assisted a goal by another team mate (James).
Mane played way way below my expectations and even got carded. I didn't start Neto in my team initially but he had to replace Grealish that couldn't play due to either illness or injury.
My attackers results were quite bad on the average but yet I still found a good Captain amidst them. Bamford featured in two matches in the last game Week alongside his team mate (Dallas), and in the two matches, he was just able to secure a goal and that was quite fair and better than not contributing to any goal. I took the risk to make him my captained and I didn't really regret that but it would have been the best feeling if only I had Bruno or Rashford as my captain for that very game week.

As usual, there isn't much on my bench but a painful fact that I kept Areola on this bench again while he performed better than Martinez, aside that, there isn't much to be worried or pained about as the players left on my bench didn't get the chance and opportunity to prove themselves on the pitch in the last game Week!
All pictures are screenshots from my mobile phone.
Thanks for Reading!