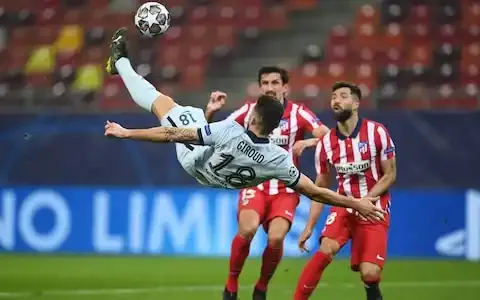 Oliver giroud is presently the man of the moment, trending everywhere & his name is on everyone's lip, his acrobatic goal made the difference as chelsea beat athletico madrid 1 nil away in their UEFA champions league match, i feel this incredible goal can definitely make the goal of the season. But oliver is used to goals like this remember his scorpion goal while at Arsenal.
---
This means oliver giroud is now having 6 goals in this year's champions league first chelsea player after Didier Drogba to score 6 or more goals in a champions league season. No wonder france national team coach preferred giroud to any other striker in the french national team, Oliver is perhaps the most underrated striker in europe as he is not a regular started for chelsea. And for record purposes Thomas Tuchel is the first manager to beat diego simeone's athletico Madrid at home in knockout round of the champions league.
---
looking at the game properly:
In champions league, everybody brings their A game, you have to be at your best so that you don't get beaten silly,
Athletico came with a good game plan and thats to contain chelsea and they were also cautious, they want to deny Chelsea goals and at some point in the game they lined up six men at the back, tracking every threat or advanced movements from Chelsea
---
I think thats where they got it wrong, coming up with a defensive setup, once Chelsea noticed their defensive tactics, they allowed chelsea play and grow in confidence while ATM were sitting deep and waiting for counter attacks
---
Like i predicted while previewing this match, it was a closed and intriguing encounters, big ups to Tuchel who had his tactics well spot on, using alonso and azpilicueta to join the midfielders to open up Athletico midfield and create space up front.
---
Stand out performers for me are Rudiger at the back who kept suarez and felix in his pockets, not allowing them that space to play, jorginho and kovacic partnership was outstanding also, with jorginho shielding the defense, collect the ball and distribute well while kova tries to open up the play while pushing the ball forward, Mason mount was everywhere too causing all sort of problems for ATM defense and the match changer oliver for that incredible acrobatic display. He made the difference
---
However, its not yet over, its a 2 legged affair, and in two weeks time, chelsea will host athletico Madrid at Stamford bridge. While chelsea still enjoy their win, i mean a great win away from home, they should not be carried away as the match is not settled yet, no one knows which Athletico side will turn up in the returning leg, but chelsea surely deserves the win and they have the advantage going into the 2nd leg. But before then, the high flying chelsea play Manchester united this sunday.