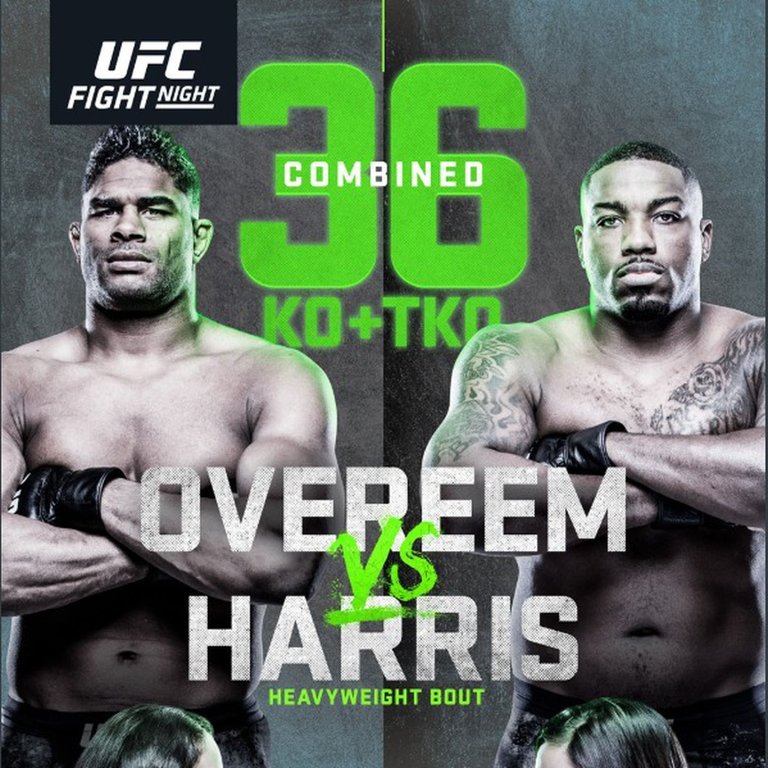 Source
Heavy Hitters Up Next As The UFC Keep The Fights Coming.
No rest for the wicked as far as the UFC is concerned. Fighters took to the scales again ahead of a weekend of more fights to the delight of sports fans everywhere, perhaps a very important weekend for sport in general as the German Bundesliga was also given the green light to carry on with their season, one of the first European nations to do so.
Perhaps some of the talking points from the weigh-in included Edson Barbosa's successful drop to the 145-pound division, the Brazilian looking to reinvigorate his career after a few setbacks at lightweight. And while on the subject of lightweight, Bantamweight mainstay and hall of famer, Urijah Faber, stepped onto the scales to weigh-in as a lightweight alternative in light of VISA complications for Chinese fighter, Song Yadong, who was scheduled to fight Marlon Vera.
In the main event, MMA veteran, Alistair Overeem looks to get back onto the horse after his win streak was brought crashing to a halt against Jairzinho Rozenstruik. He'll take on up and comer, Walt Harris, who will be brimming with confidence as he enters the fight having won three of his last five fights, his last loss coming via DQ in 2017.
In the co-main event, Claudia Gadelha will meet Angela Hill in an interesting Women's Strawweight bout that brings with it fascinating implications. Focusing on the two main fights on the card, I look at what victory could mean for the fighters moving forward.
Main Event: Alistair Overeem vs. Walt Harris
Alistair Overeem ranks as one of the most decorated MMA fighters at the moment, and except for Alexey Oleynik, he has fought the most fights in the promotion, his fight this weekend marking his 64th professional fight. The Reem still appears determined to add UFC gold to an impressive collection of fighting honors, the closest to this achievement came between 2014 and 2016 when an impressive run of results lead to a fight with champion, Stipe Miocic, but he would ultimately come up short. Since then, Overeem has struggled to find consistency, often failing to go beyond two-fight winning streaks. He would be kicking himself in the last fight, as a close to perfect technical fight that should've ended in victory, ended in disaster when he dropped his hands in the last five seconds of the final round, allowing Rozenstruik to knock him out.
Standing opposite him will be Walt Harris, another heavy hitter currently ranked 10th in the UFC's heavyweight roster. Harris comes in having won four straight, although his victory against Andrei Arlovski was overturned and ruled an NC. Harris has had his ups and downs in the organization; winning 6 of 13 fights. But he has always been an exciting fighter who doesn't seem to know any other way of winning than by knockout, all 13 of his victories coming by way of KO/TKO.
Both fighters have strong incentives for victory in the fight, Harris presented the opportunity to overcome a higher-ranked opponent, while Overeem could set his course straight again after the misstep of the last fight. But now more than ever, Overeem must use the years of experience to outsmart Harris, Overeem has shown recently that he is more than capable of finishing his opponents, but the best strategy for him will be to remain calm, use his movement and mix up his striking, constantly circling away from the power hand of Harris and dictating the pace. As the years have gone on, it seems clear that The Reem doesn't have the chin he used to, and he is always in danger of falling victim to a big power shot from his opponent, and worse, being relegated to gatekeeper status who's sole purpose becomes making up and coming heavyweights look good. Alistair's key to success is staying evasive, kicking the legs, and showing superior cardio.
Walt Harris may be feeling very confident coming into the fight, but perhaps his key to victory is to do the exact opposite of what most will think he will do. When it comes to Harris, there doesn't seem to be a great deal of mystery as to the approach he'll take, which will be to knock Overeem out. But perhaps it's In grappling that Harris will surprise his opponent the most. If harris can use grappling to set up his strikes, he could find a great deal of success, giving Overeem something else to worry about to bait his opponent into his heavy hands. Aggression will be key and Harris needs to cut off the octagon and remain calm in his striking.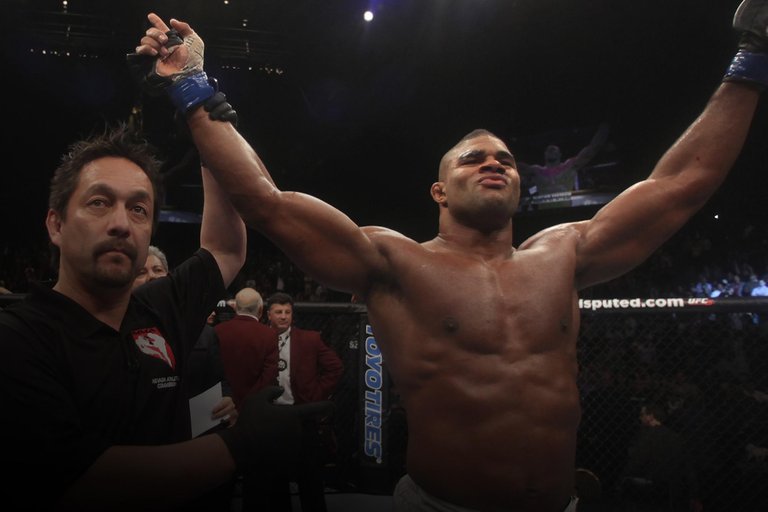 Source
Prediction: Overeem wins by split decision
Perhaps a bold prediction, but as the old saying goes, once bitten, twice shy. Alistair will be aware of the power that Harris brings to the table and would be wise not to commit the same mistake he made in his previous fight. Alistair's experience and intelligence can carry him through the fight if he can move well, kick the legs, control the range, and make Harris swing and miss. While wild flurries may come, Overeem can aim to frustrate his opponent towards a decision victory.
Outcomes of Victories
A victory for Overeem would be very important and it could set up an interesting fight against another heavy hitter in Derick Lewis. Currently ranked two slots behind Overeem, the two fighters have never met inside or outside of the UFC, and the fight could be beneficial for both. With Blaydes and Volkov likely to lock up in the future, this seems like the fight to make if the Dutch international can get past Harris.
The same match-up could be made for Harris, as a fight against another heavy hitter is always a good sell for the promotion, especially when one considers that if Blaydes can get past Volkov, he should be involved in the fight triangle currently occupied by Miocic, Cormier, and Ngannou.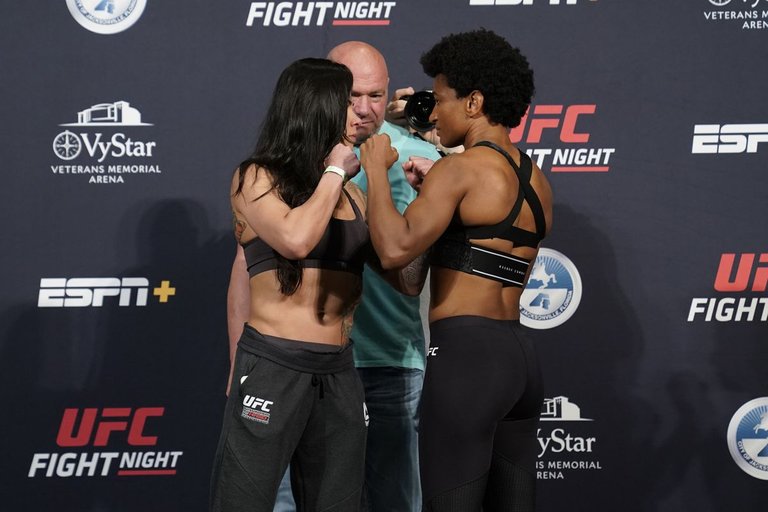 Source
Co-Main Event: Claudia Gadelha vs. Angela Hill
Claudia Gadelha was considered at one stage as the best female strawweight fighter second only to Johanna. She was a tough and vicious striker with an impressive submission game, and to this day has never been finished. But something seemed to change along the way, Claudia seemed to have lost the fire that she once had, and has been vacant from the table as far as title talks are concerned. Her last fight was in 2019, winning a unanimous decision victory against Randa Markos, and has won three of her last five fights, failing to put a winning streak together.
Angela Hill will be her opponent, a familiar face who has been in the game for a long time, plying her trade in various organizations. Hill seems to have found more success in her Street Fighter cosplaying at weigh-ins than actually being a solid contender, but she has gone on to wrack up an impressive string of results that has now resulted in a very large opportunity. Hill has won four of her last five fights and rides a three-fight winning streak going into her battle, impressively finishing two of her last three opponents.
Gadelha's performance will hinge on her mentality and if she truly still has the hunger to be the best in the world. At her peak, Gadelha possesses the intimidating aura of a top striker and can use this to walk Angela down and slowly pick her apart. Gadelha's power can work to damage Angela mentally, along with physically, and the key to victory will be to show aggression and intent. Cutting off the cage and landing effective strikes to get a takedown, will allow her to take the wind out of the sales of her opponent and secure a submission victory.
Angela, on the other hand, can't afford to be intimidated. Good footwork and darting in and out might be the best strategy for her. Staying out of harm's way and forcing Gadelha to chase and reach. Throwing both punches and kicks, she can give Gadelha different things to think about. In this fight, Hill may want to take a page from Michelle Waterson's book of avoiding damage and scoring effectively.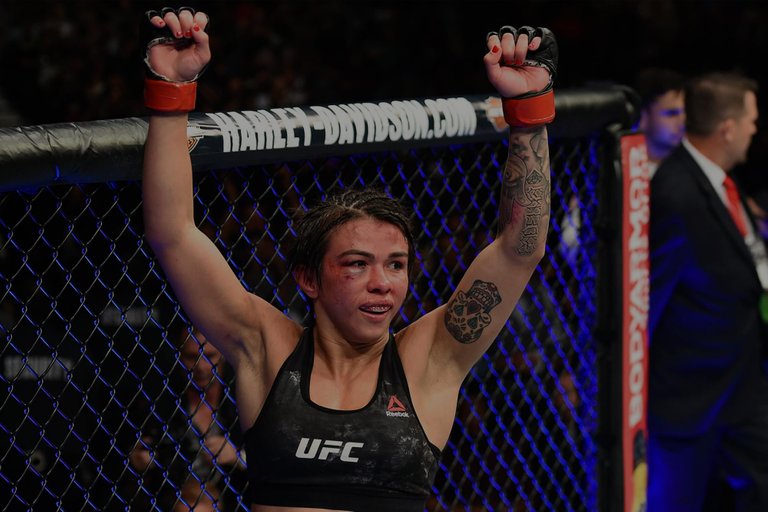 Source
Prediction: Gadelha wins via second-round submission.
This fight is very important for all to gauge where Gadelha is mentally. Anything but a convincing win will all but remove her name from serious conversation regarding a title fight, and so one can only hope that the Brazilian comes into the fight with ambition. If she can cut the cage off effectively, she can do significant damage to score a submission. The first round can be used to get a feel of the cage and her opponent's durability and strength. The next rounds can be used to put her game plan into motion.
Outcomes of Victories
The women's strawweight division is very interesting place these days, many fighters holding impressive records, and yet none seeming ready to share the same cage with the current champion. A win for Gadelha answers a few questions and gives a second victory in a row, but she will have to show off more. Tatian Suarez might be a good match-up, as the American is undefeated in five fights in the UFC. If not, the winner of Andrade and Namajunas may also be an interesting bout to make.
As for Hill, a victory will be very big for her as it will be against an established, high-rank opponent. But she will need to make steady progress up the ladder, a fight against 15th ranked Brazilian, Amanda Ribas, seeming to present a sensible option.