Scotland qualified against Serbia
One missed penalty of Aleksandar Mitrovic put the Scots in football heaven on Thursday night. They are qualified for the European Championships of next summer. After 23 years of not qualifying for a major tournament, the Tartan Army will finally be back. I just love it! Especially their enthousiastic and sarcastic way of supporting their national team, is an example for all supporters world wide.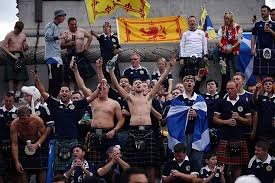 This is a clip of the Scots singing their national anthem "Oh Flower of Scotland" before the game against Germany in Dortmund. Enjoy, and don't forget to shiver!
Come on Scotland!
Sincerely,
Pele23