Self Defense Situation - What Do You Do? - Part 37: Some Alternative Techniques Against Hair Grab
I'd like to thank all of you for your support and feedback. It means a lot to me. I write about martial arts and share different things about martial arts and self defense. In one of my recent posts, @devann made a thought-provoking comment and asked a question.
Today we will talk about that and share a video that shows a technique that you will find useful. Let's see @devann's comment first.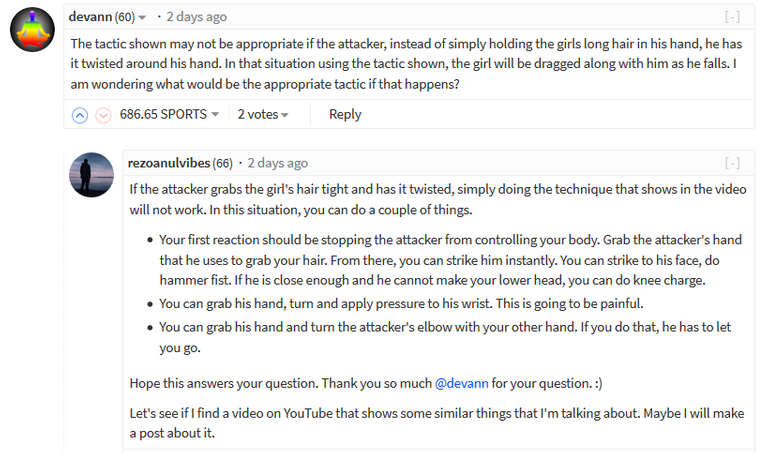 The tactic shown may not be appropriate if the attacker, instead of simply holding the girls long hair in his hand, he has it twisted around his hand. In that situation using the tactic shown, the girl will be dragged along with him as he falls. I am wondering what would be the appropriate tactic if that happens?
Source
Every self defense technique is not applicable in every situation. To make this clear what you can do in a particular situation, I started making a series of posts titled - Self Defense Situation - What Do You Do? Your support and feedback inspire me to continue that series.
Yes, if the attacker grabs a girl's hair tight and has it twisted, that technique will not work. We are going to break it down and talk about it
Source and Video Credit
From 1:16 to 1:27 Minutes
If the attacker grabs your hair from the side, you can grab his hand first that holds your hair, turn his elbow and place your hand between his chin and face, and push back. He will lose his balance and fall on the ground.
If the attacker grabs your hair from behind, again, you can grab his hand, then turn towards him and strike.
Can you strike the attacker without grabbing his hand first that holds your hair?
Yes, you can, but the question is,
Will the attacker let you do that?
He will grab your hair tight and have it twisted as @devann said in the comment. When the attacker grabs your hair, he can control your head movement, aka your whole body. He can move you here and there or put your head down. You cannot stand straight. So your strike will not be effective.
For this reason, you should grab the attacker's hand first and get control of the situation. As soon as you grab the attacker's hand, he cannot move you easily. Now his hand gets stuck, and you can make your move. You can do palm strike, punch, hammer fist. If he is close enough, you can do knee charge.
In this way, you can deal with this situation. So what do you do in a situation like this? Please feel free to leave your comment below. Thank you so much @devann for asking this question, and thank you, everyone, for taking the time to read this post.
Stay safe. Always be happy!
Follow me on Twitter
---
---