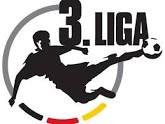 Heute das Rückspiel um den Aufstieg in die 3. Liga in Deutschland.
Today the second leg for promotion to the 3rd league in Germany.

vs.

Verl spielt zu hause gegen Lok Leipzig. Nach dem 2:2 im Hinspiel Verl ein wenig im Vorteile, aber Lok war in diesem Spiel die bessere Mannschaft. Ich tippe 2:3 Auswärtssieg und somit Lok Leipzig in der 3. Liga.
Verl plays against Lok Leipzig at home. After the 2-2 in the first leg, Verl had a bit of an advantage, but Lok was the better team in this game. I guess 2: 3 away win and thus Lok Leipzig in the 3rd league.
Funny match @all
Best regards & Glück auf
sportfrei