My prediction for the UFC 254 title fight
So the wait is over as of today / tonight depending on where you live in the world: The long awaited "reunification" of the lightweight belt and another appearance by who I consider to be one of the best, if not the best pound-for-pound fighter in the world happens in about 12 hours from now.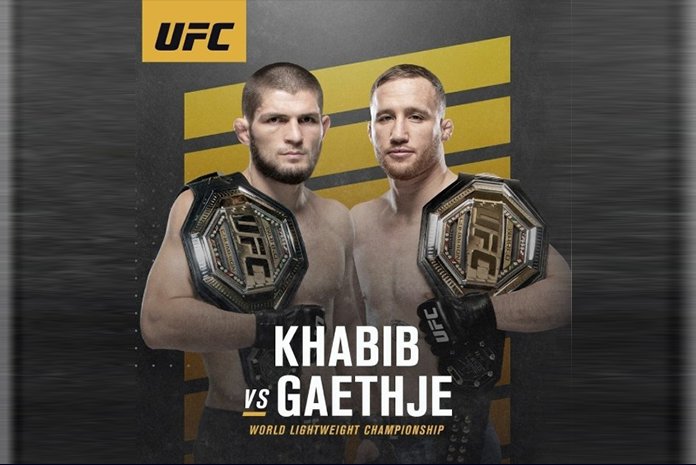 src
Gaethje is the interim champion at the moment and to be honest with you I am not entirely sure how that works but I do know that when Justin was awarded the belt after defeating Tony Ferguson quite soundly he quickly took it off and put it on the ground. This was a statement that he realized that the true champion wasn't even in attendance back in May and that belt and championship could not be considered truly his until he has faced and defeated the true champion, Khabib Nurmagomedov. Khabib was the one that was meant to fight that night, but due to Coronavirus he could not make it.
Gaethje repeated this same "statement" earlier this week when he had a face-off with Khabib at Fight Island.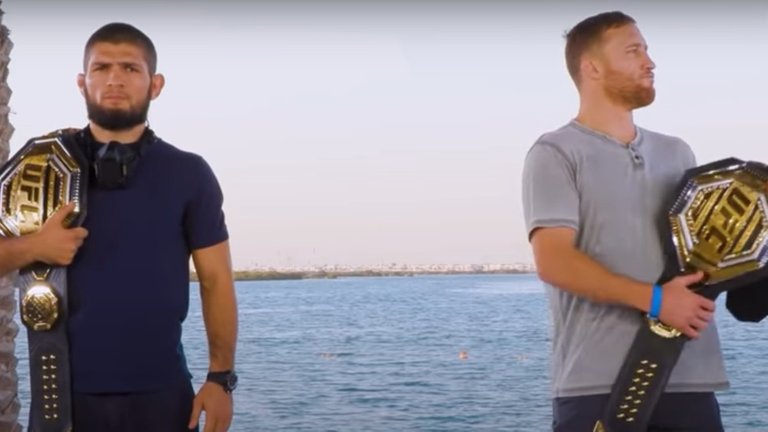 src
He gained a lot of respect from a lot of people when he did this, including yours truly. He later stated about the belt: "I'm waiting for the real one" and I appreciate this attitude because I have never been a fan of how quickly Dana White strips belts off of fighters and even creates new belts such as the BMF belt, which was totally stupid and something I think all MMA fans want to forget ever happened.
Khabib doesn't play the trash talk game and instead relies on his very evident ring skills to do all the talking for him.
My prediction for the fight
Gaethje is a fantastic fighter, this much is for sure. He has been lauded as one of the best strikers in the UFC and has certainly earned his title spot. His humility makes him an attractive contender and his seeming disinterest in the trash talking that has dominated too much of the sport doesn't seem to be part of his modus operandi.
That being said, I believe that Khabib is on an entirely different level than Gaethje and unless Justin comes to the Octagon with a few new weapons in his arsenal, his incredible striking isn't going to be enough. Khabib is the real deal, and he is just as good of a striker but also posesses a tremendous ground game, hence his 28-0 record. If this fight goes to the ground, Khabib is at a huge advantage.
If Justin can pace himself or manages to connect early, I suppose he could have a shot, but the beat down that he gave to Ferguson back in May... I really don't think that anything like that is possible against Khabib. He'll cover up, wear Gaethje down and rely on counter-attacks until Justin leaves an opening. If Khabib can get the fight to the ground, especially if he manages to take Gaethje's back, I believe we are looking at a fight that wont even get to the championship rounds.
My pick is that Khabib wins by submission in the first 3 rounds.
What do you think?
---
---