Hello Friends of Sports Talk- Bar

It is a great honor to welcome you to our community, this is intended to support you with the quality of your sport related items and reward you for your achievements. To obtain our support, you just have to comply with the regulations published in this publication and publish your publication by the Discord server in the subsequent promotion channel, our moderator will select the publication to make a positive vote, your work will be rewarded on Mondays, Wednesdays and Friday, it can be highlighted in the report on Tuesdays, Thursdays and Saturdays, don't forget to follow us and join the Discord server
The intention of this community is not to compete with any other, we just have to support them and boost their publication through this project, in exchange for the new users that are arriving.
If you want to delegate your Sportlk directly and support the community in general.
Selected publication for healing
Finally 1M staked And it has been a busy day hardly find time to write

In this post he reflects us as a person who still believes in this project, betting on his sporting touch, apart from having such a busy life @rokyupjung dedicates his time to his son who is autistic, children who are blessings for each family or father, go out enjoy, exercise it is the best way to share. When the night comes after helping his wife with the housework, he dedicates his time to this project because it is the only place that is focused on sports, places like this one on steem there is none ... Thank you friend @rokyupjung.
The Sportstalksocial Weekly Writing Contest (Week 4)

this post this stemenian helps the platform by writing contests, the inscriptions or ticket are sent directly to null for them to burn, in this week his contest is about: Are football fans stupid? Thank you friend for the great support to this platform @zoneboy
Harga SPORTS Coin Semakin Tertekan, Akankah Mencapai Titik Nadir?

This content shows us how the market to touch its purchasing value has been lower since when it began, being a critical point for many, while being a benefit for what you want to invest and acquire the currency this is the best moment. He also gives his words as he knows that this project is going to rise again. Thank you friend @nane for your support
Come and support these big fans of the sport.
How to delegate Sportlk
1.) Visit steem-engine.com and go to your wallet.

2.) Make sure you have SPORTS chips bet.


3.) Click on the delegate button that looks like this
4.) Assign the user sportstalkbar and how many tokens you want to delegate.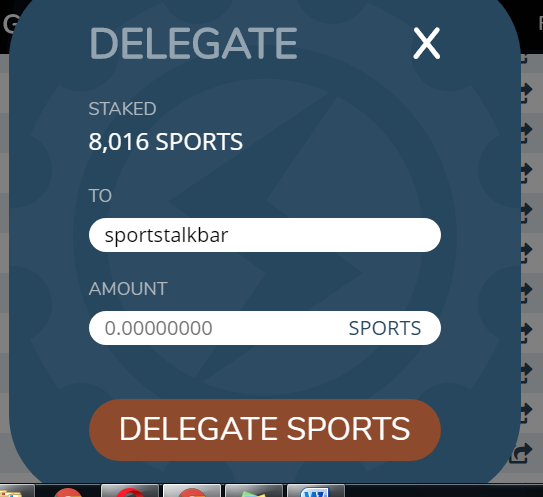 This can be revoked at any time, allowing you to return the SPORTS delegated to your control 7 days later. After delegating, send your delegation confirmation in the #participation channel.
Come join our team.
Thank you for your support and believe in us.