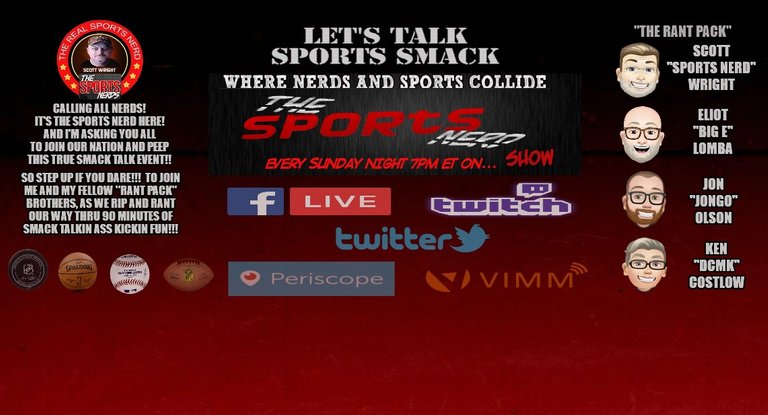 Late post tonight, as it is Friday and it has been a long week. Anyway, these are the stories I am looking at headed to the weekend in the world of sports.
NHL Stanley Cup playoffs… Game 4 tonight with the #Bolts up 2-1 in the series. After a dominating win Wednesday night the lightning look to go up 3-1 in the series. As I write this, the first period has just ended and the #Stars are up 2-1, so it looks like this may be a closer game than the previous one, and am looking forward to seeing the rest of this game, as well as the remainder of the series. I still think it goes 6 or 7 games as these two teams are pretty evenly matched. I will admit I was so happy to see Steven Stamkos return in Game 3, even in a limited manner, as he only had 2:47 of ice time in game 3, but he took full advantage of it, scoring his only attempt on goal to put the Lightning up 2-1 in the first period of that game, sparking the Bolts to a 5-2 victory. These teams have 3 games scheduled in the next 4 days with game 4 tonight, game 5 tomorrow, and Game 6 (if necessary) on Monday night, so we may have a Stanley Cup Champion crowned before the weekend is over. Going off on a tangent here, I want to address a misnomer regarding this team, you would think being in Florida, a warm-weather state, that Hockey would not be very popular here. On the contrary, in an area with three major professional sports teams, the Lightning of the NHL, the (2020 AL East Champs) Tampa Bay Rays of the MLB, and the Tampa Bay Buccaneers of the NFL, the Lightning are actually the most popular franchise in the area. Amalie Arena, where they play their home seats about 20,000 fans, and it is full to capacity each and every home game. Remember this team actually won Lord Stanley's Cup in 2004, I was there to witness it, and it was the most exciting thing to happen to this town in 20 years at the time, outside the Bucs winning the Super Bowl the year before. I honestly feel fans enjoyed the Cup win more than winning the Lombardi Trophy. It is a dedicated fan base and they live or die with the Lightning, so having them back in the finals for the 2nd time in 4 years has exploded the fanbase and brought light into the darkness that has been hovering over this area ever since COVID started, so #GoBolts and let's bring the Cup back to Tampa.
NFL Week Three… Some marquis matchups are on the schedule this week as the NFL season continues into week 3 and beginning with the 1:00 ET slate of games, New England faces Las Vegas, Buffalo hosts the LA Rams, and Pittsburgh vs Houston. The lone major late game on Sunday will be Dallas at Seattle, which promises to probably be the game of the day. Sunday Night Football highlights Green Bay and New Orleans, and finally Monday Night, the biggest game of the week, as Kansas City travels to Baltimore to face the Ravens. This is going to be a fun week of football, I am so looking forward to all of these games and I will break it all down later in the post with a short summary and opinion of each matchup. It is no secret Football is my favorite sport and I am glued to the TV every weekend from August through February each year. It is truly an American Sport, and we Americans love the game more than any other sport in the country.
NBA Conference Finals… Eastern Conference Finals, Miami Heat vs Boston Celtics – this has been a somewhat shocking series as the heavily favorited Celtics find themselves down 3-1 in the series with game 5 being played tonight. Currently, as I write this, the Heat are leading in the 2nd quarter 46-41. In the Western Conference finals, the LA Lakers Lead the Denver Nuggets 3-1 in their series with game 5 tomorrow night. I am only a casual observer of the NBA and have not been an avid fan since the mid-1990s when the Chicago Bulls were in their prime with Michael Jordan. I played Basketball in High school, but the game has changed so much since that time that it just doesn't interest me as much now. Maybe I am just old and long for the days of the '80s and 90's when it was more of a team game and not so much a showboat league. MY good friend @jongolson is a die-hard NBA fan and he has had many a fun time poking me wit NBA and Toronto Raptors smack talk for the last couple of years, but meh… not my thing…
Some headlines to look and think about going into the weekend:
•NCAA College Football gets a more expanded schedule this week as the SEC returns to playing this weekend, adding more sports to your plate. With the looming return of the B1G next month, it was announced this week that the PAC 12 and the Mid Atlantic Conference (MAC) will also be returning to play in November, so with a few exceptions, to include the Ivey League we will be pretty much back to a full schedule by the middle of November.
•MLB Playoffs will be starting this month, with an expanded roster of teams vying for the World Series in the form of a 16-team playoff schedule, increased from the normal 10 teams in a regular year. The playoffs will be played in a "Bubble" similar to the NBA and the NHL to provide maximum safety and limit the chance of games being canceled due to COVID.
•In Tennis, the French Open starts this weekend with some notable names being absent from the draw, including Roger Federer and Naomi Osaka, and for the first time, fans will be allowed to be courtside, with the limit maxing out at 1,000 fans due to COVID concerns. I am not a huge fan of the French Open, however, clay court tennis is always exciting and Rafael Nadal, the most dominant clay court player in a generation, is going for his 13th French Open title.
Finally here is my summary for this weekend's marquis NFL matchups:
LA Rams at Buffalo Bills 1:00 pm ET – the only matchup between two 2-0 teams of the Sunday games. Josh Allen has been lighting it up for Buffalo at QB the first two weeks of the season, but the Bills haven't faced a defense the caliber of what they will be facing this weekend in the LA Rams. Aaron Donald is the best DL in the league and the Bills offensive line will have their work cut out for them as they face one of the best defenses in the NFL. Buffalo has the #6 rated offense in the NFL, while the Rams have the #5 ranked defense, which promises to a very exciting matchup. Rams 28-24
Las Vegas Raiders vs New England Patriots 1:00 PM ET– Las Vegas is coming off a huge win against New Orleans while New England suffered a close loss to the Seattle Seahawks. The return of Cam Newton to the NFL has been a shot in the arm for the NFL, as he seems to have returned to form after his injury-plagued season last year. Derek Carr seems to have improved his game after a mediocre 2019 and the Raiders have raised eyes throughout the league as Head Coach Jon Gruden has his team playing very well. Should be a high-scoring game and I am curious to see if NE can still be considered one of the best teams in the NFL despite losing Tom Brady in the offseason. Patriots 21-14
Houston Texan vs Pittsburgh Steelers 1:00 PM ET– The Texans have been a shadow of the good team they were last season, but with Deshaun Watson leading this team, anything is still possible. I look to see if they can get back on track after a 0-2 start but going into Pittsburgh to face that revitalized defense will be a monumental task indeed. Pittsburgh has the #6 ranked defense in the NFL and they have shown to be quite stingy in the running game, but not as much in the passing game, so let's see if Watson can get the air game going. Pittsburgh 30-21
Dallas Cowboys vs Seattle Seahawks 4:25 ET– Dallas is coming off a HUGE comeback win against the Falcons last week in which they trailed 20-0 at one point. Seattle won a close game against the Patriots last week and Russel Wilson continues to show why he is the MVP leader after two weeks with his performance. I see another high scoring affair with the possibility of the last team with the ball in the 4th quarter to take the win. Seattle 35-31
Green Bay Packers vs New Orleans Saints 8:20 ET Sunday Night Football – the Saints were dominated by the Raiders last week and it appears that future Hall of Famer Drew Brees might be showing his age, as he was not able to go deep and seems to have lost some velocity on his throws. Aaron Rogers on the other hand is playing with a chip on his shoulder this season and has been the Aaron Rogers of old. I will just sit back and enjoy this matchup of seasoned veterans and future Hall of Famers. The Saints will be without their star WR Michael Thomas, so it will be interesting who the go-to receiver will be for Brees, compare that to the Packers being without their star receiver Devonte Adams, and that will make this matchup that much more interesting. In a shootout – Packers 35-30
Kansas City Chiefs vs Baltimore Ravens 8:15 pm ET Monday Night Football – Game of the week in my mind this week. In my opinion, this is a matchup of the two best teams in the NFL, not just the AFC, and as an added bonus, a matchup between the top 2 QB's in the NFL as well. Mahomes vs Jackson and this will be a shootout, a pinball game, and a non-stop air fest run-fest and Highlight real dream of a game. the first-ever matchup of former MVP's under 25 years of age in NFL history. both have great offenses, Baltimore has the better defense, but that didn't matter last year when they played, I am looking at the best game of the week. Another shootout Ravens 42-40
I know this was a bit long-winded, but there is a lot going on in sports this week and the content in this post reflects that. on a final note I am seeing a lot of comments and posts about how people have lost interest in sports due to social and political issues intruding sports, outspoken players, statements of solidarity, comments on world and national events. To those individuals who say to keep these topics out of sports, to shut up and dribble or just stick to sports, I say this… These players have a platform and have a right to use that platform to bring attention to world events because people look up to and respect these players for what they do not only on the field/court, but what they do off the field/court. Don't watch if you like, but you don't see anyone coming into your place of business and telling you to stick to whatever it is you do. If you decide to not watch because of this, so be it, but understand we live in unique times, which requires unique to lead by example, and that is exactly what these players are doing.
thanks for reading….
Join The Sports Nerds LIVE every Sunday night at 7 pm Eastern as we discuss the week in review of the world of sports. from NFL
to the NHL, and every sport in-between. It is unfiltered, NSFW, and high energy. We do not hold anything back and you should be there to experience it LIVE.
Join me and my partners in crime - @jongolson, Eliot "Big E" Lomba & Ken Costlow
FACEBOOK - https://www.facebook.com/groups/730158067790783/
PERISCOPE: https://twitter.com/The_Sports_Nerd
VIMM: https://www.vimm.tv/the-sports-nerd22ce8a7a32d8401b
TWICH: