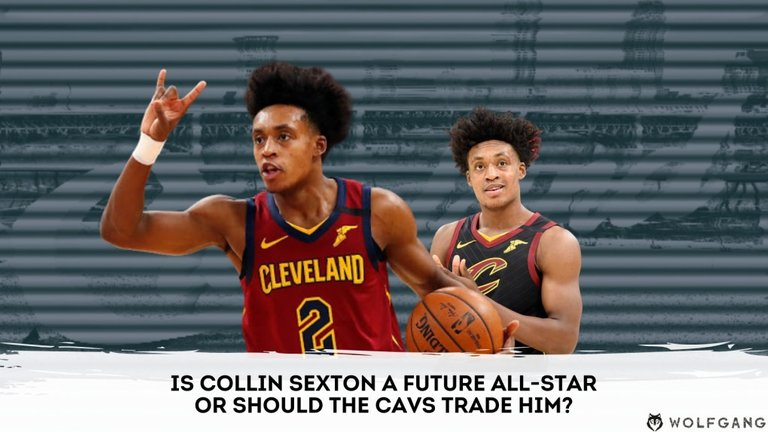 Sign up to the Wolfgang Sport Youtube Channel.
Keep up to date with the Wolfgang Sport podcast 
It's been a bit over 3 months now since Collin Sexton went ballistic scoring a career high 41-points against the Celtics.
The 2018 8th pick of the draft has led the Cleveland scoring charts this season with almost 21 points per game. 
Despite starting all 65-games there are series doubts for many as to whether he is the future of the struggling franchise.
Many grade him only as good as a sixth-man or role player.
That's despite starting all Cleveland's games this season as well as 72 of the Cavs 82 games in his rookie year.
Is he the future of the franchise or at least worthy of starting at point guard, or is he just over-hyped from one 41-point game?
Well let's take a closer look at Sexton's numbers, the good, the bad and the ugly.
The Bad
Lets start with the bad.
A lot of negative press surrounding Sexton comes down to his tendency to force plays on offense.
I mean, he's a point guard so isn't that his job?
Sexton is copping heat despite topping the Cleveland scoring charts (20.8 ppg) as well as adding 3 assists, 3 rebounds and 1 steal per game.
Perhaps that's the problem right there.
Although he's scoring well, Cleveland seem to be expecting more productivity from him in terms of assists, rebounds and steals from his 33-minutes per game.
If you compared his production to other young eilte point guards – Ja Morant and Trae Young for example – his lack of assists do stand out.
The major issue with Sexton is that for every 3 assists he dishes out, he commits 2.3 turnovers.
So in his career to date he's amassed 435 assists and already a whopping 343 turnovers.
Compare that to Ja Morant and Trae Young who have a better than 2:1 assist-turnover ratio and almost triple the amount of assists over Sexton, and it doesn't look good.
The Ugly
Where things really get ugly for Sexton is when we look at Player Impact Plus-Minus (PIPM).
A full explanation can be found here but in summary PIPM measures a players points impact on their team on a per 100 possession basis with the idea of creating a stable set of data and a clearer view of how an individual impacts their team.
Related: Related: PIPM proves Doncic offensive king, Trae Young defensive liability and Rozier is hella overpaid!
How bad is Collin Sexton defensively according to PIPM? He's Trae Young bad and that's next level as you can see below.

The Cavs are -3.61 points worse off defensively with Sexton on the court as opposed to when he's off the court.
He basically has an identical negative impact to that of Trae Young on the Hawks defense.
The glaring difference between the two is that the Hawks are almost +5 points better offensively with Trae on court and the Cavs only +0.75 better with Sexton on court. 
So Sexton and Young are both defensive liabilities but at least for Trae his impact on offense helps offset his defensive issues. 
Sexton does not do that.
It leaves him with a negative overall PIPM impact of -2.9 which ranks him in the bottom 6% of the entire league.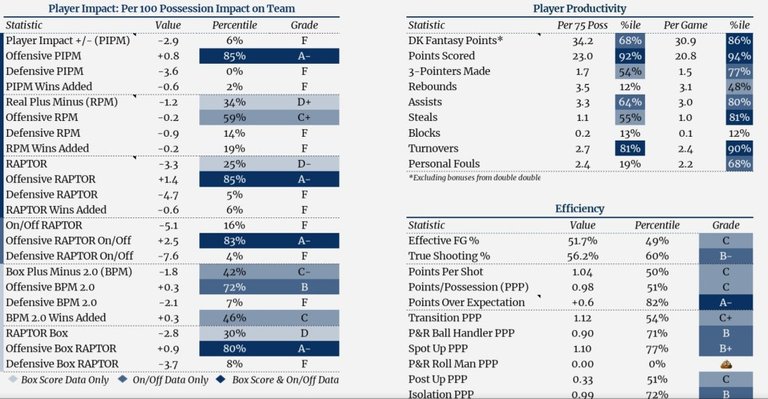 Sexton also has quite the reputation for being a ball hog.
He touches the ball 62-times on average per game, holding the ball for 28% of the total time on offense.
That places him in the top 17% in the league for time with the ball.
On a per-75 possession basis, he ranks in the top 33% for assists but ranks bottom 8% for defensive rebounds but is the perceived lack of production really his fault?
It isn't and let me explain.
The good
Sexton is copping heat for his production but we're talking about a sophomore who has a production trajectory heading upward.
He's doubled his steals production per game and has remained steady into his second year with rebounds and assists.
Yes, he holds the ball 28% of the time on offense but that only ranks him in the top 17%. Calling him a hog is a bit of a stretch.
Sexton ranks top 33% for assists per-75 possessions. Not great but the truth is he doesn't have a great supporting cast around him.
When offensive lineup talent is analyzed, Sexton is on-court with teammates that rank in the bottom 33% in the league. 
He also ranks in the top 14% for estimated open shots created for teammates.
On the drive he's also strong, ranking top 7% for drives per-75 possessions and top 14% for unassisted shots made at the rim.
What makes him truly multi-dimensional on offense is that he's got a strong 3-point game.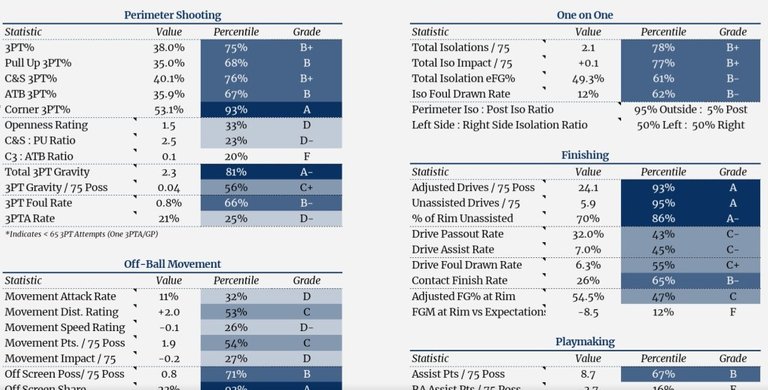 Despite a dry spell in December where he shot 3-of-27 from beyond the arc, he's shot at 38% this season.
That's a slight regression on his rookie year but he still ranks as a top-25% perimeter shooter and ranks in the top 7% for corner 3-point shooting (53.1%).
Conclusion
So what's my verdict?
I think we're all being way too harsh on poor ol' Collin Sexton.
Cleveland is rebuilding, he's only a sophomore and we've got to be patient to allow him time to gel with Darius Garland and Andre Drummond.
Everyone talks about how good Trae is at 3-point shooting but Collin actually has a better 3P%.
Related: Why Ja Morant can become a cultural icon ; a generational talent in the making
He also scores more points per game than Ja Morant, despite Morant being a generational talent.
You could argue we're nitpicking numbers here, but his trajectory is either steady or upwards from his rookie year in all categories except 3P%, but still remains a better perimeter shooter than Morant and Young. 
Cleveland need to fit the right pieces in together with Sexton. He shouldn't be shouldering the blame.
Let's give it some time.
Defensively he's a liability but bringing in one of the leagues' best players at rebounds and steals in Andrew Drummond can allow Sexton to have the offensive freedom and continue to develop.
Cleveland also have a guaranteed top-6 pick in the 2020 NBA draft to help compliment the current roster.
Sexton is a good player who has lived up to expectations but is he franchise changing?
Lets give it another season at least. 
Sexton has the tireless worth ethic to take his game to the next level.
If Cleveland can become a .500 team and Sexton can take them there and continue to progress, we're looking at a likely NBA All-Star in the making.

MATT IERIKO
My passion for sports led me to create Wolfgang Sports in 2017 as a way to connect American & British sports culture. My writing is driven by a fascination for sports culture focusing on popular culture, rookie players, data analytics and sports card collecting
Sign up to the Wolfgang Sport Youtube Channel.