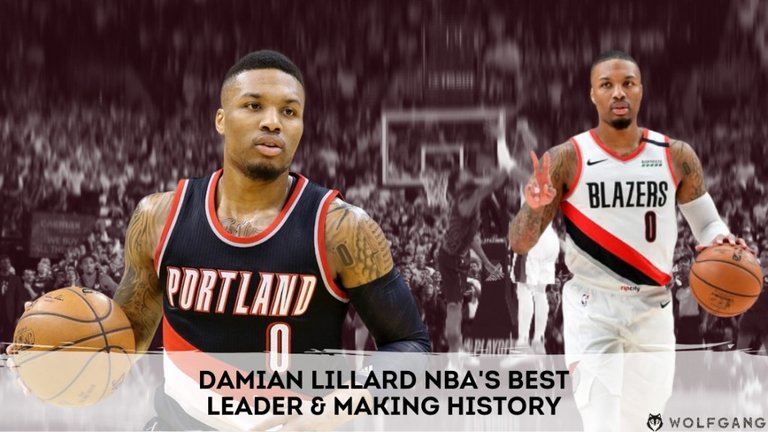 Damian Lillard was on an absolute tear this year before the Coronavirus hit. 
He became the first player in NBA history to average over 45 points and 10 assists, as well as the most 3-pointers (49) in any six-game stretch ever.
As we await to see if and how the NBA season will resume, Lillard's stat line is a career high 28.9 points, 4.3 rebounds and 7.8 assists per game.
He's also shooting at 46% from the field and almost 40% from beyond the arc. 
Damian Lillard is way more than just a great point guard.
His journey began in his hometown of Oakland before ballin' it out in college for Weber State Wildcats in Ogden, Utah. 
Lillard explains his life journey through the selection of his #0, which represents 'O' for Oakland, Ogden and Oregon.
Damian is a cultural phenomenon, as he's also a hip-hop artist and rapper going by the name Dame D.O.L.L.A., which stands for Different On Levels the Lord Allows.
Related: NBA vs. NFL Rappers: Who's better, who has bars and who is wack?
"Pressure is the homeless man, who doesn't know where his next meal is coming from. Pressure is the single mom, who is trying to scuffle and pay her rent"
Damian Lillard is a true leader for Portland and this was on show in the playoffs last season.
He forged legendary status in Portland with his 50-point performance and 37-foot buzzer beater to single-handedly eliminate the Thunder waving them off in the process.
The Trail Blazers continue to be blessed with Lillard headlining and leading the franchise. His true leadership ability was on show in 2017 when asked if expectations from the previous season was creating pressure on both him and his team.
Lillard's response was first class. "
Pressure, nah. Fam, this is just playing ball. Pressure is the homeless man, who doesn't know where his next meal is coming from. Pressure is the single mom, who is trying to scuffle and pay her rent."
"We get paid a lot of money to play a game," he continued. "Don't get me wrong ― there are challenges. But to call it pressure is almost an insult to regular people."
DAME DOLLA cemented himself as the face Portland when he signed a five-year, $120 million extension in 2015. 
"The biggest area we're looking at for Damian is making his teammates better and obviously his leadership is going to be important," Portland head coach Terry Stotts said.
Lillard has delivered on Stotts' demands. His dynamic personality and leadership ability was acknowledged last October in the 18th annual NBA.com GM Survey by the league.
He was voted as the best leader in the NBA receiving 41% of the total vote. 
Stephen Curry finished second with 37% and LeBron James was third with 15% of the vote. 
Lillard was also voted the second-best point guard behind Curry.
After being picked 6th in the 2012 draft, Damian Lillard was entrusted with a leadership role as a team captain in his sophomore season alongside LaMarcus Aldridge.
He has now evolved into the the very best leader in the NBA and will be continued to be heavily relied on by Portland in a stacked Western Conference.
The Trail Blazers sit 9th in the conference 3.5 games behind the Grizzlies. The upside to a poor season will be a lottery pick in the NBA draft and the addition of another floor-spacing wing alongside both Lillard and CJ McCollum will put Portland in a great position for next season.
Sign up to the Wolfgang Sport Youtube Channel and watch the full breakdown here.
Keep up to date with the Wolfgang Sport podcast 
My passion for sports led me to create Wolfgang Sports in 2017 as a way to connect American & British sports culture. 
My writing is driven by a fascination for sports culture focusing on popular culture, rookie players, data analytics and sports card collecting.