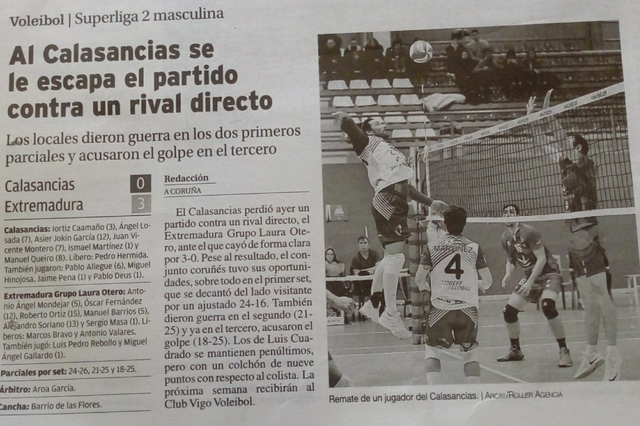 Saturday, January 18. Municipal Pavilion Barrio de las Flores. 18:00 h
CALASANCIAS CORUÑA: Isma, Losada, Tito, Queiro, Asier, Ioritz, Hermida (initial team), Deus, Hinojosa, Junco, Besteiro, Pena and Allegue
EXTREMADURA GRUPO LAURA OTERO: Mondejar, Celis, Ortiz, Barrios, Soriano, Masa, Valares (initial team) Bravo, Rebollo, Fernández, Gallardo and Sánchez
**Aroa Garcia and Suarez de Tena
RESULT. 0 - 3(24-26, 21-25 and 18-25)

The team of A Coruña fall defeated by Extremadura Group Laura Otero, a direct rival of Calasancias Coruña to avoid the last positions in the classification. In a match in which the locals were unable to reach their level of play of recent seasons, Calasancias Coruña missed an opportunity to move up the rankings.
The match started with a first set controlled by Calasancias Coruña, who although he did not develop a very powerful attacking game, his absence of errors allowed him to dominate the score until a partial 18-14 and 22-19. However, the errors of reception and attack of Calasancias Coruña in the last phase of the set allowed the Extremadura players to equal the score with a 22-22, which made the outcome of the game unpredictable. Thus, the score alternated until 24-24, where new errors in the local attacks made possible the victory of Extremadura.
The result of the first set marked the subsequent development of the match and began to become evident the doubts and errors of the Coruña, which from this moment were always behind Extremadura in the scoring. The development of the game in the next two sets was very similar: Calasancias Coruña started the set with many errors in the reception, which allowed the visitors to control the local attack and to counterattack efficiently, distancing themselves in the score, to later start a very complicated local comeback, with an attack very conditioned by the inaccuracies in the first hit. In this way, Extremadura Group Laura Otero controlled the set, taking the victory in both sets in a comfortable way.
Although this match was important for Calasancias Coruña, their goal of climbing positions in the standings is still present, having another chance to do so next Saturday against C.V. Vigo.