Omweso A Ugandan Local Game Which Is the African chess.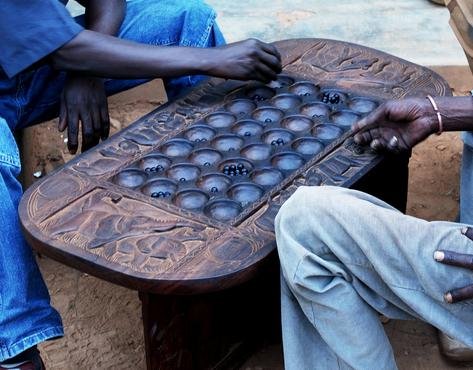 image of people playing omweso
Hello, sports love to I would like to introduce a very interesting game that is mostly played by Ugandans and East Africa called Omweso.
Omweso comes from a Swahili word Michezo that means game.
The Mweso is believed to have been introduce by the Bachwezi dynasty in the ancient Bunyoro-kitara empire in the 16th century.
The Bachwezi and the Batembuzi are believed to have been the ancient people who leave in the East of Africa.
All people who leave in Africa the first and the biggest game developed by Africans. It is one game you can relate to chess because one has to put in all mind to win the game.
This game requires a 32 pits board, arranged with 8 pits lengthwise towards the players, and 4 pits deep. With 16 pits on each player side of the board.
It also requires 64 seeds with each player given 32 seed as you can see.
To win this game, the last player to make a legal move, capturing all opponent's seeds to the extent that the other cannot move his seed any more because of the opponent less than one seed in each pit. The alternative is that a player can win by capturing on both ends of the board in one turn of paying.
Omweso is played by two people at a time.
I can not teach you how to play this game I one post because it has very many varieties just like chess.
This game was loved by the Africans kings has it would show how brilliant someone was.
Omweso is nowadays is being played by the old people in the town centers of Uganda in their late days.
This leaves me wondering whether there is an African game that can survive in the coming generation.
For this reason, I will take time to look out for the rules of this game and write them on my blog so that we can keep then on the steem blockchain. To preserve this game.
The is why I thank the team behind this @sportstalksocial for developing this Idea.
This is the place where we can keep all our local sport both new and ancient.
Thanks for reading.
---
---