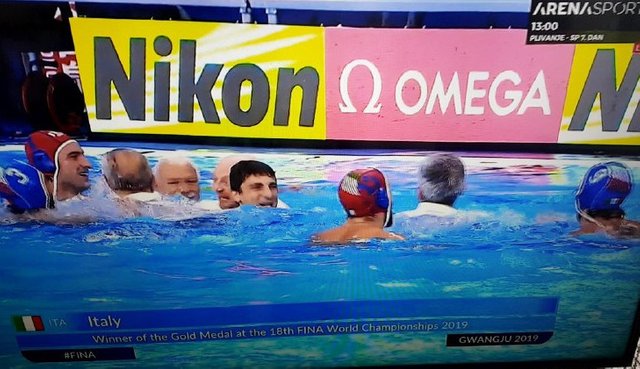 Italy ran over Spain in FINA men Water polo World Cup 2019 in South Korea. Real fight was just until beginning of third period when they moved away to 6:3 lead. They showed some nice skill in Water polo. Center player Ikardi and goalkeeper De Lungo were brilliant in this game. De Lungo had somewhere around 75% of saved shots at the end of a game. Helpless Spanish players could just swear to referee, who gave them so many extra man play, in helpless fury near the end. They couldn't find a way to score more goals near superior Italian goal keeper.
First period
1:0 Italia scored after extra man play. It was nice shot from angle. Spanish had extra man in next attack and Filipe Perrone equalized result to 1:1. Next Italian attack ended with shot above goal, while Italian goal keeper saved new Perrone shot. Italia then had close range shot, but Spanish goal keeper denied it. Soon Spanish had extra man, but shot has been blocked and De Lungo saved new attempt. Italians then tried with long range shot, but could not score. Spain had extra man again but shoot ended wide of goal. In new extra man play they did not combine good and send bad pass. Then number 8 in Italia Echenique scored great goal for 2:1. He found the net above 3 players trying to block him and Spanish goalkeeper who just started to go down in moment of shot. New extra man for Spain, but again De Lungo saved. Italians could not score in next attack. Spain had extra man again, ball was almost in Italian hands, some players started to swim in attack, but Spanish took the ball and Felippe Perrone scored for 2:2. Azuri then hit post and near the end Spain was awarded with 5m. penalty, but man of the match De Lungo saved even that. First quarter ended with draw 2:2
Second period
Italians won first attack, but could not shot at goal. Spain tried, but goal keeper denied shot. Then Italia made great long distance shot for 3:2. Spain got extra man in next attack but goal had been enchanted by De Lungo. In next attack Italy got extra man and Vicenzo Dolce scored a goal for 4:2. Nothing new on other side as new attack has been saved by Italian goal keeper. Italia had extra man again and Vicenzo Recunto scored very nice goal from right side for 5:2. Spain had extra man in next attack but shot went wide of goal. Italians had then nice combination but player number 5 Di Songo missed goal alone from around 2-3 meter. Spain get extra man again, coach called timeout in attempt to tell them how to play it. What happen after was quick shoot by Perrone above goal. Italians made weak shot, but their goal keeper denied Spain again and had 75% of saves at that point. Italians then made bad mistake in passing and Spain went to counter attack and got penalty shoot. Number 2 in Spain scored for 5:3. Italians tried shoot from turn, but Spanish goal keeper saved it. Spain had extra man again, but their shot has been blocked by Italians. Goal was enchanted. After second period it was 5:3 and Spain was still in the game.
Third period
Italians won first attack but little squib went over goal. Spain player then shoot in goal keeper. Italia then had extra man, but let it timeout and shot when player came back, but could not score. Spain tried with wide shoot, but De Lungo saved again. Then we saw something incredible Italian center Icardi got the ball turn around and scored between 3 Spanish players for 6:3! Next Spain attack went wide of goal. Italians tried but could not score. Italians played something like 3-2-1 in defense in this quarter and denied Spain extra man play. Then again lovely attack by Italians and great long distance just on time shoot by player number 12 for 7:3. Spanish then lost the ball Italians went in counter attack and scored for 8:3 and that was the end for Spain for tonight. Coach called new time out. Frustrated players started to lose ball to often. Italians started to play in exhibition style and made foul in attack then Spanish had extra man and finally scored for 8:4. Italians made good attack and shoot from turn by Icardi, but ball went wide. Spanish had extra man again, but De Lungo saved Blei's shoot. Last train for come back in the game just went out. They could not score any more goals in this period. Result was 8:4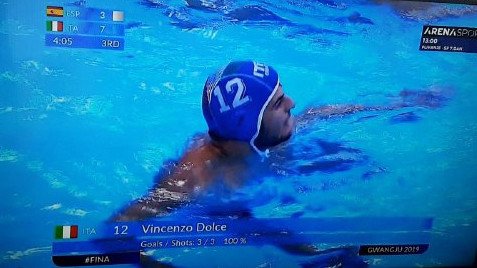 Forth quarter
Italians scored 9th goal by Luongo. It was shoot in closer part of goal. Icardi tried new shot from turn, but ball went wide. Spanish managed to score for 9:5 with extra man. Italian goal keeper was angry on defenders after this goal. Final goal was shoot from turn by Italy for 10:5. Spanish could not do anything and some players started to swear to referee for some unknown reason. If someone had to many extra man plays today that was Spain.