ANALISIS || PREMIER LEAGUE - Previa Gameweek 21 [ESP-ENG] ⚽️⚽️⚽️
ANALISIS || PREMIER LEAGUE - Previa Gameweek 21 [ESP-ENG] ⚽️⚽️⚽️
Está por empezar un nuevo fin de semana lleno de fútbol europeo. La Premier League sigue dándonos razones para seguirla semana a semana, por los encuentros disputados y los nombres que siguen llegando en cada ventana de fichajes. Repasemos tres buenos partidos que tendremos y uno de esos nuevos ingresos a la mejor liga del mundo.
A new weekend full of European soccer is about to begin. The Premier League continues to give us reasons to follow it week after week, because of the matches played and the names that keep arriving in each transfer window. Let's review three good matches we will have and one of those new entries to the best league in the world.
---
ARSENAL vs. MANCHESTER UNITED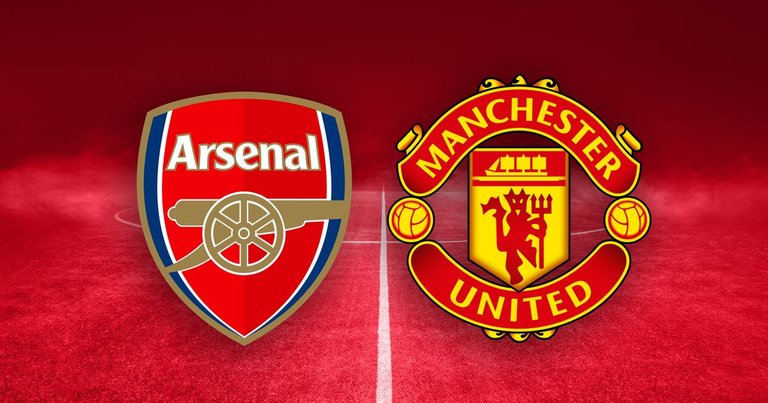 ARSENAL dejó claro quién es el que manda en Londres esta temporada, llevándose la victoria en la casa del Tottenham en otro derby de la ciudad. Con éste resultado sigue siendo uno de los mejores visitantes. Y ahora que le toca jugar en casa, cabe destacar que es el mejor local, con ocho partidos jugados aún no ha sido vencido en el Emirates. Los resultados más bajos ha sido un empate. Ha logrado defender su localía con 22 goles a su favor y 8 en contra. ¿Das al Arsenal por campeón? Mikel Arteta seguro evadiría ésta pregunda, alegando nuevamente que lo importante es el siguiente partido, la forma de jugar, la ideología en el campo, no los números (al menos, en ésta instacia). Lo que sí parece ser un secreto a voces es lo cerca que está el belga Trossard de llegar al líder del torneo como flamente nuevo fichaje, por la actual relación que lleva con su nuevo entrenador. Es interesante que no se extraña a Gabriel Jesús, lesionado, con actuaciones impresionante en la pre temporada y en las primeras fechas. La responsabilidad ofensiva se la ha distribuido los extremos Martinelli y Saka, así como el creador y capitán Ødegaard. Ya sabemos en quien está pensando el técnico rival.
MANCHESTER UNITED estuvo en Londres recientemente, en el nido de las águilas, y se llevó un agrio empate, con sabor a derrota, porque luego de sufrir para marcar un gol apenas, el empate vino de tiro libre, donde el portero viajó al primer palo sin poder llegarle al esférico. Son esas faltas que el equipo sabe que no debieron haber existido. Con ese empate rompió su buena racha de 5 victorias seguidas. El 06 de noviembre fue su última derrota en el Villa Park. Desde allí no han vuelto a perder y ahora está metido en el top 4, de donde probablemente no salga, al menos en las próximas dos fechas. En esta buena racha han aprovechado de dejar su porteria imbatida en tres ocasiones. La mala noticia es que Casemiro estará fuera de la convocatoria por ver su quinta tarjeta amarilla, aunque de seguro viajará con el equipo a Londres. No cabe duda que ahora estamos viendo un Manchester United que se parece más a las expectativas mundiales y que la historia describe.
Al Arsenal no le ha ido tan mal en el Emirates, puesto que ha ganado tres de los últimos cinco partidos allí frente a los diablos rojos, con apenas una derrota. Sin embargo, en la fecha 6 de ésta campaña, fue el Manchester United precisamente quien le quitó el invicto a los gunners, derrontándolos en Old Trafford 3-1. ¿Volverán a arruinarle la fiesta al Arsenal?
ARSENAL made it clear who is in charge in London this season, taking the victory at Tottenham's home in another city derby. With this result, they remain one of the best visitors. And now that it is their turn to play at home, it is worth noting that they are the best home team, with eight games played they have not been beaten at the Emirates. The lowest results have been a draw. They have managed to defend their home ground with 22 goals scored and 8 conceded. Do you consider Arsenal champions? Mikel Arteta would surely evade this question, claiming again that what matters is the next game, the way they play, the ideology on the pitch, not the numbers (at least, in this instance). What does seem to be an open secret is how close Belgian Trossard is to joining the tournament leaders as a brand new signing, given his current relationship with his new coach. Interestingly, Gabriel Jesus, injured, has not been missed, with impressive performances in the pre-season and early season. The offensive responsibility has been distributed to the wingers Martinelli and Saka, as well as the creator and captain Ødegaard. We already know who the opposing coach is thinking about.
MANCHESTER UNITED was in London recently, in the Eagles' nest, and took a sour draw, with a taste of defeat, because after struggling to score a goal, the equalizer came from a free kick, where the goalkeeper traveled to the near post without being able to get to the ball. These are those fouls that the team knows should not have existed. With this tie, they broke their good streak of 5 consecutive victories. On November 6th was their last defeat at Villa Park. Since then they have not lost again and now they are in the top 4, from where they will probably not leave, at least in the next two dates. In this good run they have taken advantage of leaving their goal unbeaten on three occasions. The bad news is that Casemiro will be out of the squad due to his fifth yellow card, although he will surely travel with the team to London. There is no doubt that we are now seeing a Manchester United that more closely resembles world expectations and that history describes.
Arsenal have not fared too badly at the Emirates, having won three of the last five games there against the Red Devils, with just one defeat. However, on matchday 6 of this campaign, it was Manchester United who took the unbeaten run away from the Gunners, defeating them 3-1 at Old Trafford.
---
LIVERPOOL vs. CHELSEA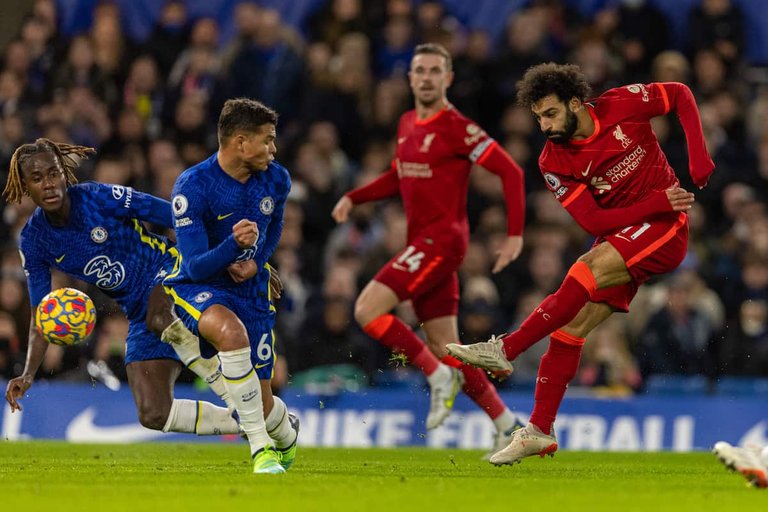 LIVERPOOL sigue caminando sólo fuera de casa. En la última fecha se tragó tres goles de las gaviotas y materializando su segunda derrota en fila. Pero lo más escandaloso es que en ambos encuentros ha permitido tres goles en contra. Ver a Gakpo como unas de las caras nuevas y su propuesta de juego en el campo genera esperanza para que la situación de los reds mejore, sin embargo se necesita más que un prospecto en buenas condiciones para salir de mitad de la tabla y alcanzar puestos de competición europeas. Ya son 19 puntos que ha dejado escapar fuera de casa y alcanzando una diferencia de goles de -5. Seguiremos extrañando a Van Dijk, Jota, Diaz y Firmino. ¿Estará listo Darwin Nuñez para éste encuentro? La situación crítica del Liverpool tiene varias matices y cada quien puede inclinarse por la que le guste: las lesiones, el número de temporada bajo la dirección de Klopp, el medio campo... Parece que la pausa de la copa del mundo no les sirvió de mucho.
CHELSEA está en el puesto 10 de la tabla. Esto es una terrible derrota para sus nuevos dueños, la gran inversión que se ha hecho, y la afición acostumbrados a verlo mucho más alto en la clasificación. Afortunadamente encontraron la primera victoria del mes ante el Crystal Palace en la última fecha, pero aún hay mucho que demostrar, puesto que tenía tres partidos sin ganar, empatando uno y cayendo en par de oportunidades. La enfermería tiene todas las camillas ocupadas. Tiene al menos ocho bajas importantes por lesión, jugadores que fácilmente pudieran ser titulares en el equipo, exceptuando a Broja. Por la billetera de Boehly sigue derramando millones. El criterio parece evidente: comprar el mejor talento joven posible y que alcancen su mejor versión ya dentro del club, cueste los millones que cueste. Fofana, Andrey Santos y Badiashile son los nuevos azules que han llegado al equipo. Mykhailo Mudryk fue presentado en el entretiempo y de seguro también lo veremos en éste encuentro. Joao Félix y Madueke son dos más con los que se contarán en los próximos meses. ¿Estos muchachos lograrán amalgamarse y aventajar al equipo, o serán completos desconocidos?
El Liverpool tiene un 60% de porcentaje de victoria ante el Chelsea en Anfield, donde los londinenses apenas han arañado un 15% de ganados. En los últimos tres encuentros han tenido todos los resultados posibles, con seis goles para los locales y cinco para los visitantes.
LIVERPOOL continues to walk alone away from home. On the last matchday, they swallowed three goals from the Seagulls and suffered their second defeat in a row. But the most scandalous thing is that in both matches they have allowed three goals against. Seeing Gakpo as one of the new faces and his approach on the field gives hope for the Reds' situation to improve, however it will take more than a prospect in good condition to get out of mid-table and reach European competition positions. They have already dropped 19 points away from home and have a goal difference of -5. We will continue to miss Van Dijk, Jota, Diaz and Firmino. Will Darwin Nuñez be ready for this match? Liverpool's critical situation has several nuances and everyone can lean towards the one they like: injuries, the number of season under Klopp's management, the midfield.... Looks like the World Cup break didn't do them much good.
CHELSEA is in 10th place in the table. This is a terrible defeat for their new owners, the big investment that has been made, and the fans used to seeing them much higher in the standings. Fortunately they found their first win of the month against Crystal Palace on the last day, but there is still a lot to prove, as they had three games without a win, drawing one and losing a couple of times. The infirmary has all the stretchers full. It has at least eight important absentees due to injury, players who could easily be starters in the team, except for Broja. Boehly's wallet is still hemorrhaging millions. The criterion seems obvious: buy the best young talent possible and let them reach their best version already within the club, no matter how many millions it costs. Fofana, Andrey Santos and Badiashile are the new Blues to join the team. Mykhailo Mudryk was introduced at halftime and we will certainly see him in this match as well. Joao Felix and Madueke are two more who will be counted on in the coming months, will these guys manage to blend in and take the team forward, or will they be complete unknowns?
Liverpool have a 60% win percentage against Chelsea at Anfield, where the Londoners have barely scratched out a 15% win rate. In the last three meetings they have had every possible result, with six goals for the home side and five for the visitors.
---
WEST HAM UNITED vs. EVERTON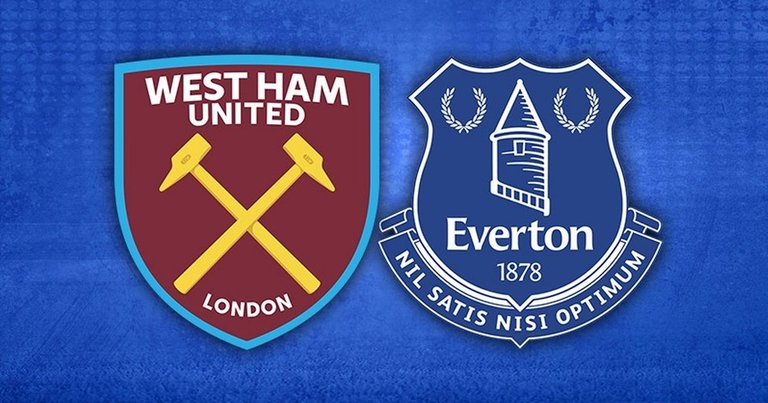 WEST HAM UNITED fue hundido en la zona de descenso gracias a la derrota propinada por el Wolverhampton en la fecha anterior. Aunque ya ha estado allí antes, los hammers aspiraban no volver al foso del que salieron en Octubre. ¡Pero es que no han ganado desde hace siete partidos! Mas bien, en ese tiempo apenas han empatado una vez, acompañado con una sequía goleadora que lo han llevado a completar cuatro partidos sin marcar goles. Yo no soy un ilustre que acaba de descubrir eso. La junta directiva ya lo ha dislumbrado y ha traído a Danny Ings a sus filas para renovar el ataque colectivo. ¿Estará David Moyes en uno de sus últimos partidos en el banco del club londinense? Nombres como los de Nuno Espirito Santo y Rafael Benitez ya empiezan a sonar en los alrededores del London Stadium. Ahora que se enfrantará a uno de sus compañeros del calabozo buscará la llave para salir de esa zona.
EVERTON vio con tristeza cómo su equipo era arrastrado un escalón más abajo en la tabla por parte de precisamente el último de ella. Goodinson Park vivió una nueva derrota de los toffies ante el Southampton 1-2. Frank Lampard también ve su puesto en la cuerda floja. ¿Necesitará un nuevo entrenador, una nueva idea, un nuevo lider, un nuevo fichaje, una nueva formación, más carácter en el vestuario? Lo cierto es que el inglés aún no parece descubrirlo. También, en los últimos siete encuentros no ha ganado, y sólo ha empatado en par de ocasiones. Sin goles a favor en ése período hace de que su diferencial de goles esté en -10.
Los últimos tres encuentros en el London Stadium han tenido todos los resultados posibles, con tres goles para cada uno. Todo parejo. Tanto así que en la fecha 8 éstos dos se enfrentaron y la diferencia fue de un solo gol en Goodinson Park. ¡Aquí está la lucha por no descender!
WEST HAM UNITED were plunged into the relegation zone thanks to a defeat by Wolverhampton last time out. Although they have been there before, the Hammers were hoping not to return to the ditch they climbed out of in October, but they haven't won for seven games! Rather, in that time they have barely drawn once, accompanied with a goal drought that has seen them complete four games without scoring goals. I am not some illustrious person who has just discovered that. The board of directors have already figured it out and have brought Danny Ings into their ranks to revamp the collective attack. Will David Moyes be in one of his last games on the bench at the London club? Names such as Nuno Espirito Santo and Rafael Benitez are already starting to be bandied around the London Stadium. Now that he will be facing one of his dungeon mates he will be looking for the key to get out of that area.
EVERTON watched sadly as their team was dragged one step further down the table by the very bottom of the table. Goodinson Park witnessed another 1-2 defeat for the toffies against Southampton. Frank Lampard also sees his job on the line: will he need a new coach, a new idea, a new leader, a new signing, a new formation, more character in the dressing room? The truth is that the Englishman does not seem to have figured it out yet. Also, in the last seven games they have not won, and have only drawn on a couple of occasions. With no goals scored in that period, their goal differential stands at -10.
The last three meetings at the London Stadium have had all possible outcomes, with three goals for each. All evenly matched. So much so that on matchday 8 these two met and the difference was a single goal at Goodinson Park. Here's to the fight to avoid relegation!
---
EL JUGADOR || THE PLAYER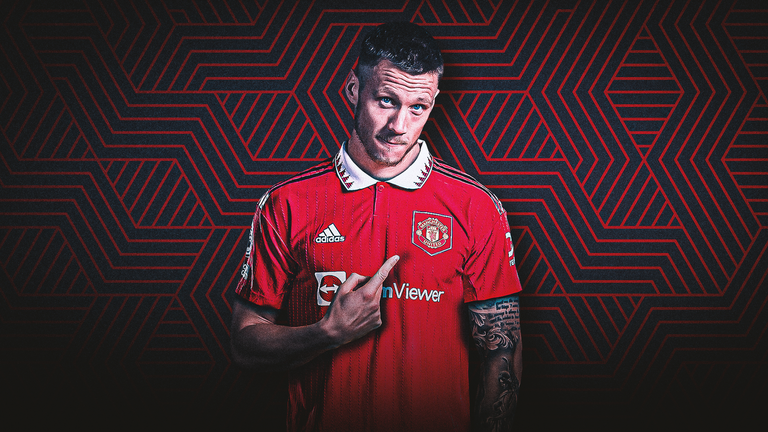 Wout Weghorst es uno de los que vinieron a ocupar los espacios dejados por CR7. Por supuesto, no son equivalentes. ¿Pero quien dijo que hay que hacer siempre las cosas igual? Éste espigado nerlandés de 30 años ha tenido un paso breve por la Premier League, pero no le tiene miedo al compromiso. Ya lo vivmos en el encuentro frente al Crystal Palace. A pesar de su altura no suele estar estático, lo que provoca el arrastre de marcas y la liberación de compañeros para el disparo y el armado de la jugada. También, se vio buscar el gol de cabeza con tan sólo media hora de juego, y el balón se fue por arriba por muy poco. Estaremos pendientes de él, porque su técnico confía en él, y por ser compatriotas podría tener ese plus que algunos necesitan para sobresalir.
Wout Weghorst is one of those who came to fill the spaces left by CR7. Of course, they are not equivalent, but who said you always have to do things the same way? This lanky 30-year-old Dutchman has had a brief spell in the Premier League, but he is not afraid of commitment. We saw it in the match against Crystal Palace. Despite his height, he is not usually static, which causes the dragging of marks and the release of teammates to shoot and set up the play. Also, he was seen looking for a headed goal with only half an hour of play, and the ball went over the top by very little. We will keep an eye on him, because his coach trusts him, and because we are compatriots he could have that plus that some need to excel.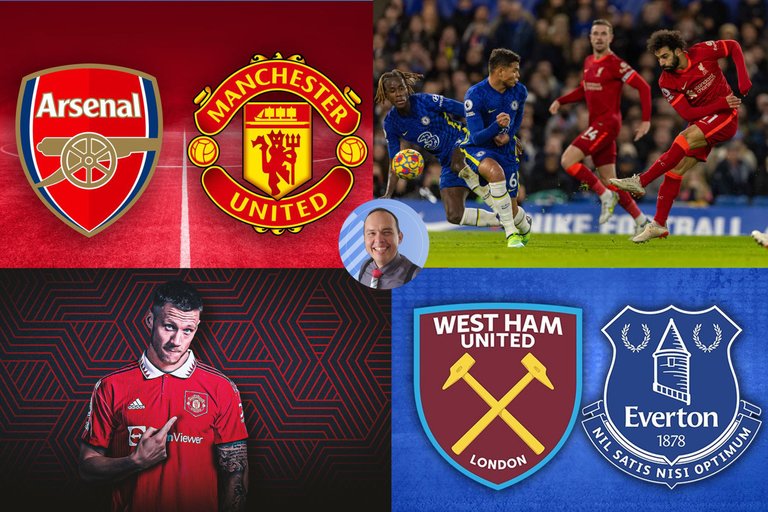 Ésta jornada se extenderá a través de tres días. Luego se pausará durante el fin de semana para los otros compromisos de copa. Así que aprovechemos ésta importante jornada, aunque probablemente veremos cambios significativos en la tabla. ¡Disfrutemos el fútbol!
This day will be spread over three days. Then it will be paused over the weekend for the other cup matches. So let's take advantage of this important day, even though we will probably see significant changes in the table. Let's enjoy the soccer!

⚽️⚽️⚽️

FUENTES / SOURCES
Portada: Realizada por mi en GIMP con imágenes debidamente señaladas // Cover: Made by me in GIMP with images duly marked.
Banner: Made by me in GIMP with my own images and free resources from the site pfpmaker.com/
---
---