Lo que nos trae cada equipo en la Fórmula 1 de 2022 — What each team brings us for the 2022 Formula 1 season #F1
Las pruebas de pretemporada, realizadas del 23 al 25 de Febrero en el circuito de Barcelona-Catalunya, ubicado en España, han concluido algunos días atrás. Hemos presenciado en pista el 'arma' que cada equipo nos trae de cara a esta nueva temporada y nueva era de la Fórmula 1. Aunque aún no sabemos como será el auto definitivo que cada equipo llevará a la primera carrera en Bahréin, lo cierto es que, a grosso modo, ya conocemos las características generales del auto que cada equipo tendrá a lo largo de la temporada 2022.
The pre-season tests, held from February 23 to 25 at the Circuit de Barcelona-Catalunya, located in Spain, have concluded a few days ago. We have witnessed on track the 'weapon' that each team is bringing for this new season and new era of Formula 1. Although we still do not know how will be the final car that each team will take to the first race in Bahrain, the truth is that, in general terms, we already know the general characteristics of the car that each team will have throughout the 2022 season.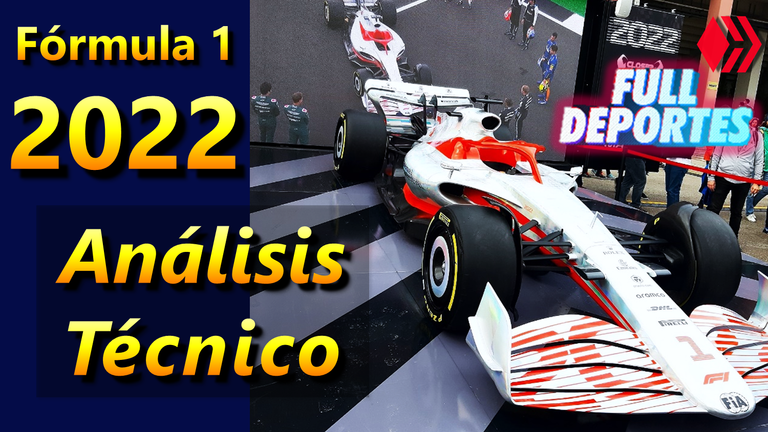 Imagen editada en PowerPoint - SAİT71, CC BY-SA 4.0, via Wikimedia Commons
Los detalles juegan un papel importante en la Fórmula 1. Ya lo vimos con Red Bull, llevando a estos primeros tests de pre-temporada un auto un poco distinto al de la presentación oficial, realizada días antes. Y todavía faltan los segundos tests de pre-temporada, a realizarse en Baréin del 11 al 13 de marzo, en el circuito de Sakhir.
Es seguro que en estos segundos test de pre-temporada los equipos introducirán cambios en sus vehículos para probar su eficiencia en pista. Pero lo que también es seguro es que el modelo base o características generales del auto de cada equipo de cara a la primera carrera serán aproximadamente las mismas, y son las que podemos intentar analizar en esta publicación.
Details play an important role in Formula 1. We have already seen it with Red Bull, bringing to these first pre-season tests a car a little different from the official presentation, made days before. And there are still the second pre-season tests to be held in Bahrain from March 11 to 13, at the Sakhir circuit.

It is certain that in these second pre-season tests the teams will introduce changes to their vehicles to test their efficiency on track. But what is also certain is that the base model or general characteristics of each team's car for the first race will be approximately the same, and these are the ones we can try to analyze in this publication.
Alerón delantero
Front-wing
---
Esta es una de las áreas más visibles a primera vista en un auto de Fórmula 1. Acá los equipos han introducido diseños diferentes, algo que difiere un poco de lo que habíamos visto en la temporada 2021, donde todos tenían un diseño más o menos similar. Es probable que, de todos estos diseños, alguno tenga más éxito que otros y termine siendo copiado por el resto de los equipos a lo largo de los próximos años.
This is one of the most visible areas at first sight on a Formula 1 car. Here the teams have introduced different designs, something that differs a bit from what we had seen in the 2021 season, where everyone had a more or less similar design. It is likely that, of all these designs, some will be more successful than others and will end up being copied by the rest of the teams over the next few years.
https://twitter.com/JunaidSamodien_/status/1496177802005127186
https://twitter.com/JunaidSamodien_/status/1496181135574974473
Los diferentes equipos han optado por diferentes vías, algo similar a lo que vimos en temporadas como las de 2012 y 2014, o yéndonos más atrás, a cuando Williams nos presentó su "morro divergente" por allá en el año 2003. En cuanto a alerones delanteros, da un poco que pensar lo que ha hecho el equipo Mercedes. El equipo de Lewis Hamilton y George Russell nos ha revelado un alerón delantero cuyas aletas se curvan mucho al llegar a la zona del neumático.
Lo distinto acá, respecto al resto de los equipos que también presentaron una especie de curva bastante pronunciada en la aleta superior del alerón delantero, es que Mercedes es el único cuya curva se pronuncia de manera importante casi en la zona del neumático, y las aletas se unen al morro muy abajo. Esto es algo que se notó más en el auto la presentación oficial que en los tests de pre-temporada. Podría decirse que Alfa Romeo presentó un concepto similar en su presentación inicial. AlphaTauri y McLaren también se fueron un poco por esta vía. Williams fue al contrario, y su alerón delantero se ensancha más bien en el centro.
The different teams have opted for different ways, something similar to what we saw in seasons like 2012 and 2014, or going further back, to when Williams presented us with its "divergent nose" back in 2003. As for front wings, it's a bit interesting what the Mercedes team has done. The team of Lewis Hamilton and George Russell has unveiled a front wing whose wings curve a lot when they reach the tire area

What is different here, compared to the rest of the teams that also presented a kind of quite pronounced curve in the upper fin of the front wing, is that Mercedes is the only one whose curve is pronounced in an important way almost in the tire area, and the wings join the nose far below. This is something that was more noticeable on the car the official presentation than in pre-season testing. Arguably, Alfa Romeo presented a similar concept in its initial presentation. AlphaTauri and McLaren also went a bit this way. Williams went the other way, and its front wing widens rather in the center.
https://twitter.com/TimoteoBriet/status/1497624190547025932
Con respecto al resto de los equipos, el concepto general ha sido el de aletas prácticamente horizontales en el alerón delantero. Solo algunas curvas asoman, en los alerones de autos como el Red Bull o el Alpine. Ferrari es el equipo que 'lidera' este concepto de horizontalidad. A su vez, Ferrari ha sido uno de los equipos que mayor atractivo visual tiene, según los fanáticos, en una encuesta realizada en la página oficial de la Fórmula 1. A su vez, el morro delantero presenta diferencias marcadas entre los equipos.
Lo cierto es que el mejor concepto o el que resulte ser el más eficiente será en cierta medida copiado por los demás equipos a lo largo de la temporada y a lo largo de los años. Todo depende también de las características generales del auto en su conjunto.
With respect to the rest of the teams, the general concept has been that of practically horizontal wings on the front wing. Only a few curves are visible on the wings of cars such as the Red Bull or the Alpine. Ferrari is the team that 'leads' this concept of horizontality. In turn, Ferrari has been one of the teams with the greatest visual appeal, according to fans, in a survey conducted on the official Formula 1 website. In addition, the front nose presents marked differences among the teams.

The truth is that the best concept or the one that proves to be the most efficient will be copied to some extent by the other teams throughout the season and over the years. Everything also depends on the general characteristics of the car as a whole.
Entradas de aire en pontones
Refrigeration sidepods
---
Este ha sido un aspecto muy llamativo en los análisis técnicos. Han habido equipos cuya entrada de aire ha resultado ser de un tamaño considerable. En otros, el tamaño es más discreto. Además, pueden haber variaciones importantes entre el auto presentado y el auto que rodó en los test de Barcelona.
This has been a very striking aspect in the technical analyses. There have been equipment whose air inlet has turned out to be of considerable size. In others, the size is more discreet. In addition, there may be important variations between the car presented and the car that was tested in Barcelona.
https://twitter.com/AdrianMCF/status/1497854436240203782
Además, se debe destacar el diseño introducido por el equipo Red Bull en las pruebas de pre-temporada, algo que no mostraron en la presentación oficial (la presencia de pontones laterales muy distintos a los del resto). Aunque esto es algo exterior a la entrada de aire lateral, afecta en cierta forma esos flujos de aire.
La importancia de estas entradas o aberturas a ambos lados del auto radica principalmente en la refrigeración interna, específicamente al motor. Un Fórmula 1 alcanza temperaturas muy altas en su interior, al tener un motor que alcanza potencias muy elevadas. Los distintos equipos diseñaron esta abertura en función de esto (además, por supuesto, de la aerodinámica).
In addition, it should be noted the design introduced by the Red Bull team in pre-season testing, something they did not show in the official presentation (the presence of sidepods very different from the rest). Although this is something external to the lateral air intake, it affects in some way those air flows.

The importance of these inlets or openings on both sides of the car lies mainly in internal cooling, specifically to the engine. A Formula 1 car reaches very high temperatures inside, as it has an engine that reaches very high powers. The different teams designed this opening in function of this (in addition, of course, to aerodynamics).
https://twitter.com/F1/status/1496883165297889285
https://twitter.com/JunaidSamodien_/status/1496795693373136898
No parece haber relación entre el tamaño de estas aberturas y la marca del motor utilizado por cada equipo. Las diferentes aberturas varían desde las más pequeñas (Alpine o McLaren) a las más grandes (Alfa Romeo o Haas). También varían desde las más cuadradas (AlphaTauri) o las más redondeadas (Ferrari). También hay de formas singulares, como las de Red Bull y Alpine. Y más raro aún, lo que hizo el equipo Williams, con una abertura extra donde el aire vuelve a salir hacia afuera del vehículo.
There seems to be no relationship between the size of these openings and the brand of engine used by each team. The different openings vary from the smallest (Alpine or McLaren) to the largest (Alfa Romeo or Haas). They also vary from the squarest (AlphaTauri) to the most rounded (Ferrari). There are also unique shapes, such as those of Red Bull and Alpine. And even more unusual is what the Williams team did, with an extra opening where the air flows back out of the vehicle.
Diseño de pontones laterales
Sidepods design
---
Aquí es donde las variaciones entre equipos pasan de los pequeños detalles a diferencias a una escala mayor. Esto es algo que probablemente no sea tan notorio al ver a los autos rodar en pista, viéndolos desde el horizonte. Esto que podemos notar mejor cuando vemos a los autos más de cerca o desde arriba.
This is where the variations between teams go from small details to differences on a larger scale. This is something that is probably not as noticeable when watching the cars run on track, viewing them from the horizon. This we can notice better when we look at the cars more closely or from above.
https://twitter.com/cheurtra/status/1493587406632718336
https://twitter.com/F1/status/1495016567213596675
https://twitter.com/AlbertFabrega/status/1496459420846469121
Algunos equipos optaron por un diseño más "cuadrado" o "redondeado", como es el caso de Aston Martin (en verde). Sin embargo, la mayoría de los equipos optó por un diseño más en forma de "V", o quizás en forma de "V" pero con mayor ensanchamiento en la parte trasera del vehículo. Me parece que Mercedes es el equipo cuyo auto es menos ancho en la zona trasera, un concepto totalmente opuesto al de Aston Martin.
Algunos equipos como Red Bull han llevado la innovación al extremo, con pontones laterales totalmente diferentes al resto. Red Bull, como suele hacer, podría ser el equipo que lleve la delantera en aerodinámica en esta nueva era. Los diferentes diseños son tema de discusión, y habría que esperar al menos a la mitad de temporada para saber cuál resultó ser más efectivo. No olvidemos que cada circuito tiene características propias y puede que algunos equipo vean ventajas en los circuitos lentos y otros en los circuitos rápidos.
Todas estas diferentes vías de diseño fueron influenciadas por las nuevas regulaciones de 2022. Evidentemente, cada equipo tomó su propio camino, y veremos también si alguno encuentra alguna "zona gris" en el reglamento para sacar ventaja. Todas estas diferentes vías influenciarán como circula el flujo del aire alrededor del coche, y el equipo que halle la mejor eficiencia tendrá ventaja en las curvas.
Some teams opted for a more "square" or "rounded" design, as is the case of Aston Martin (in green). However, most teams opted for a more "V" shaped design, or perhaps "V" shaped but with more widening at the rear of the car. It seems to me that Mercedes is the team whose car is the least wide in the rear area, a concept totally opposite to that of Aston Martin.

Some teams like Red Bull have taken innovation to the extreme, with side sidepods that are totally different from the rest. Red Bull, as it usually does, could be the team that takes the lead in aerodynamics in this new era. The different designs are a matter of discussion and we would have to wait at least until the middle of the season to find out which one proved to be more effective. Let's not forget that each circuit has its own characteristics and some teams may see advantages on slow circuits and others on fast circuits.

All these different design paths were influenced by the new 2022 regulations. Evidently, each team took its own path, and we will also see if any find any "gray areas" in the regulations to take advantage. All these different paths will influence how the airflow around the car circulates, and the team that finds the best efficiency will have the advantage in the corners.
https://twitter.com/AlbertFabrega/status/1496396095165022212
https://twitter.com/fikrieatworld_/status/1496415043608809474
Todo esto podría impulsar la competitividad o hacer que veamos nuevas caras o equipos en los primeros puestos. No veíamos un cambio así y diseños tan diferentes desde 2014, y ya sabemos cómo ha sido la Fórmula 1 desde entonces, con un dominio aplastante de Mercedes casi todo el tiempo. Queda esperar al inicio de la temporada para saber más o menos qué nos espera en esta nueva era. Lo cierto es que Mercedes y Red Bull siguen siendo favoritos, pero se habla mucho de Ferrari y McLaren como fuerzas emergentes que podrían sumarse arriba. Dudo que algún otro equipo pueda sumarse al grupo de arriba, pero no podemos descartarlo aún.
All this could boost competitiveness or cause us to see new faces or teams at the top. We haven't seen such a change and such different designs since 2014, and we already know how Formula 1 has been since then, with an overwhelming dominance of Mercedes most of the time. It remains to wait for the start of the season to know more or less what awaits us in this new era. What is certain is that Mercedes and Red Bull remain favorites, but there is much talk of Ferrari and McLaren as emerging forces that could join at the top. I doubt that any other team could join the top group, but we cannot discard it yet.
---
Te recomiendo revisar el blog de @greengalletti, donde encuentras un análisis de la presentación oficial de cada equipo.
Si has llegado hasta aquí, gracias por leer. Deja tu comentario o comparte (reblog) si te ha parecido interesante.
I recommend you to check @greengalletti's blog, where you can find an analysis of the official presentation of each team.

If you've made it this far, thanks for reading. Leave a comment or share (reblog) if you found it interesting.
---
Translated to English with the help of DeepL.com.
¡Gracias por visitar! — Deja tu comentario 🚥🏆

---
---