1.Fresh green and rain sound riverside solo camp./新緑と雨音の河畔ソロキャンプ/[ENG/JPN] My Actifit Report Card: June 2 2022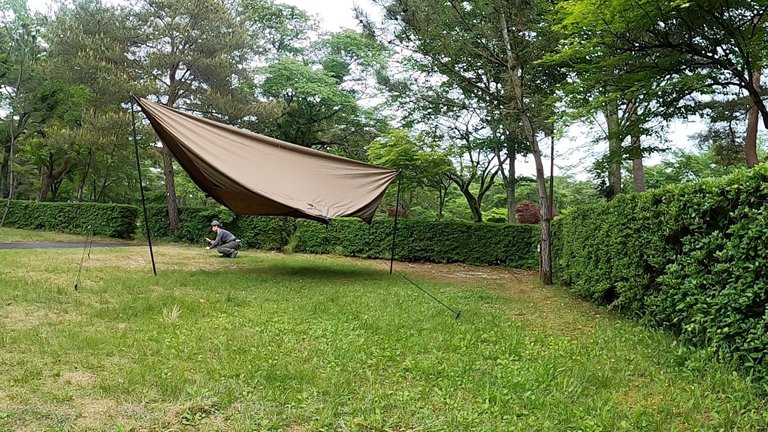 I will write about the solo camp that I went to on May 12th and 13th, 2022 from today.
This is my first time to visit this campground.
I used to see the sign of this campsite on my way to another campsite.
It was a strange name, so it was a place I was interested in.
This is a campground near a beautiful river, and the fresh greenery is beautiful inside.
The lawn of the site is also very beautiful, and I was worried about where to set it up.
This day is a rainy weekday.
Therefore, there were no other campers, and I was the only one!
What a luxury! Happy!


---
今日から2022年5月12日、13日に行ってきたソロキャンプを記事にします。
ここは初めて来たキャンプ場です。
以前、他のキャンプ場へ行く途中で、このキャンプ場の看板を見たことはありました。
ちょっと変わった名前なので、気になっていた場所でした。
ここは美しい川のそばのキャンプ場で、場内も新緑が美しいです。
サイトの芝生もとても綺麗で、どこに設営するか悩みました。
この日は雨の平日。
そのため他のキャンパーさんはおらず、私1人でした!
なんて贅沢なんでしょう!ハッピー!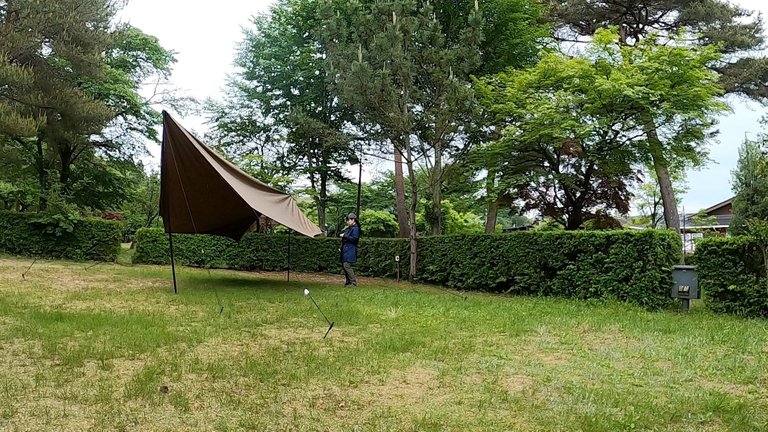 This tarp used this time is a new one that I just purchased the other day.
I was wondering whether to buy it for a long time, but I finally bought it.
It is a very large size and is octagonal in shape.
I used to use a hexagon, but this octagon was also the correct answer.
It is a tarp made of a material called technical cotton.
Since cotton is used, it is heavier than nylon.
I tried to stretch the rope firmly.


---
今回使用したこのタープは、先日購入したばかりの新品です。
ずっと買おうかどうしようか迷っていましたが、ついに購入しました。
とても大きめのサイズで、形は8角形です。
従来、6角形を使ってきましたが、この8角形も正解でした。
テクニカルコットンという素材でできたタープです。
コットンが使われているので、ナイロンと比べて重いです。
張り綱をしっかり張るよう心がけました。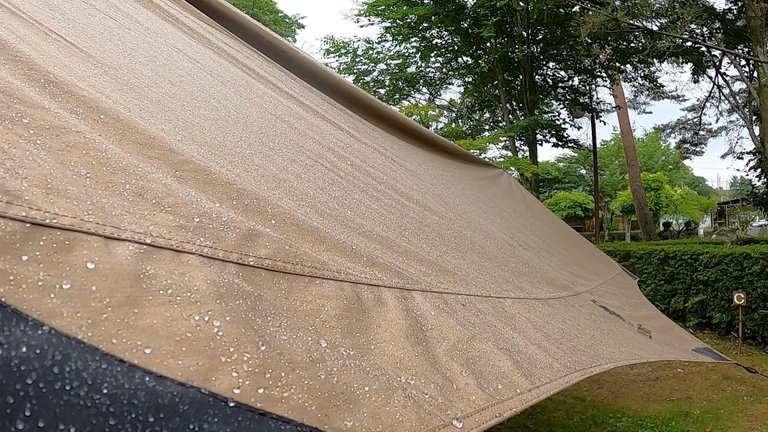 Water droplets roll on the rained tarp.
Really beautiful.
Actually, all the camps where I introduced new items are rainy (laughs)
This is the 5th time.
At the time of the first tent, at the time of using the hexagonal tarp, at the time of the next new tent.
When using the shelter for the first time, and this time using the octagonal tarp.
When using a new one, the rain god seems to bless me and the tools.


---
雨を受けたタープの上を、水滴が転がります。
本当に美しい。
実は、私がニューアイテムを投入したキャンプは全て雨天です(笑)
これで5回目です。
最初のテントの時、6角形のタープ発使用の時、次の新しいテントの時。
シェルター初使用の時、そして今回8角形のタープ発使用。
新品を使うときは、雨の神様が祝福してくれるようです。
次回に続きます。




今日は春の健康診断でした。
胃カメラを受診しました。
鼻からカメラを入れるタイプのものです。
終わった後鼻血がしばらく止まらず、とほほでした。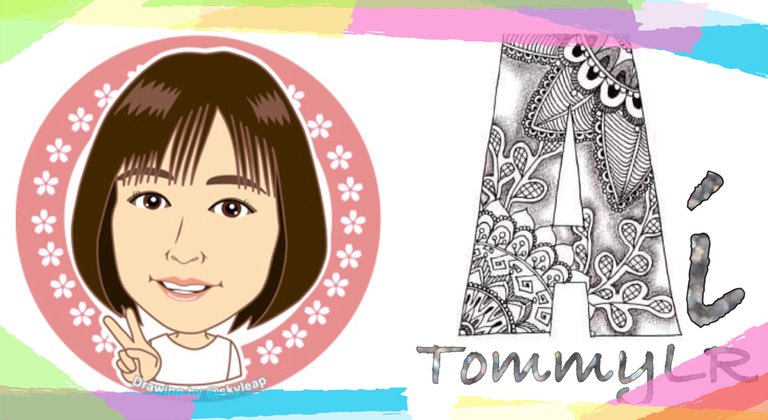 I am glad that you read it :-)
今日も読んでくださってありがとうございます😊
This report was published via Actifit app (Android | iOS). Check out the original version here on actifit.io




02/06/2022

23761

---
---