Llevando El Street Workout A Otra Dimensión | Taking Street Workout To Another Dimension [ESP | ENG]

Llevando El Street Workout A Otra Dimensión
Motivation In My Training Park
---
Hola amigas y amigos de
Street Workout Community SWC
, en esta oportunidad les traigo un día motivación de la Calistenia Street Workout nivel avanzado para que se motiven mucho como atletas del Street Workout.
Hello friends and friends of
Community Street Workout SWC
, in this opportunity I bring you a day of motivation of Calisthenics Street Workout advanced level to motivate you as Street Workout athletes.
---
---
Video
---
---
---
Experiencia del día
Experience of the day
---
Este día fue emocionante gracia a todos mi compañero hubo mucha combinación de dinámico estático y mas que todo estático fue una experiencia muy buena a pesar que se reventó un callo y este día todo mis compañeros estaba muy motivado por eso hice mucho intentos de full plancha y lo mejor de todo es que por fin gracia a mis entrenamiento la saque bien, combinándola com muchos truco dinámico y estático intentar combinaciones nuevas y llamativas llevado mi limite a nivel mucho de mis compañero que estaba entrenado estático para progresar y otros dinámico hay ellos me motivaron hacer combinaciones a seguir como atleta competidor.
This day was exciting thanks to all my partner there was a lot of combination of dynamic static and more than all static was a very good experience even though a callus burst and this day all my teammates were very motivated so I did a lot of attempts of full plancha and best of all is that finally thanks to my training I got it right, combining it with many dynamic and static trick to try new and striking combinations taken my limit to level much of my partner who was trained static to progress and other dynamic there they motivated me to make combinations to follow as an athlete competitor.
---
| Fotos de dinámico | Photos of dynamic |
| --- | --- |
| | |
| | |
| | |
| | |
---
motivación
motivation
---
Bueno amigos este día muy distintos a los otros porque llevamos el Street Workout a otro nivel hubo mucha motivación en mi parque de entrenamiento gracia al apoyo de mi compañero de entrenamiento le traje este tipo de motivación donde vera los 3 mejores atleta de mi estado que son
@jisus-swyc
y
@alexandersw020
y mi persona vera combinaciones de estático y dinámico motivándonos para la próxima competencia hemos estado practicando nuevas combinaciones de dinámico y estático o combinaciones de estático aprovechando la motivación mucho tiempo que en el parque no avía tanta motivación y trabajo duro. allí, todos los que entrenamos en parque nos conocemos y ayudamos, apoyamos y seguimos adelante con los entrenamientos y siempre nos corregimos los unos a los otros y motivándonos entre si y entrenamos animados siempre con una mentalidad positiva.
Well friends this day very different from the others because we took the Street Workout to another level there was a lot of motivation in my training park thanks to the support of my training partner I brought this kind of motivation where you will see the 3 best athletes in my state that are
@jisus-swyc
and
@alexandersw020
and my person will see combinations of static and dynamic motivating us for the next competition. competition we have been practicing new combinations of dynamic and static or static combinations taking advantage of the motivation for a long time that in the park there was not so much motivation and hard work. there, all of us who train in the park know each other and help, support and go ahead with the training and we always correct each other and motivate each other and train encouraged always with a positive mentality.
---
| Fotos de dinámico | Photos of dynamic |
| --- | --- |
| | |
| | |
| | |
---
Con mucho cariño les traje esta este maravilloso día de combinaciones del Street Workout nivel avanzado en mi parque de entrenamiento les traje este post para que se motiven mucho y sigan adelante como atletas
With much affection I brought you this wonderful day of combinations of Street Workout advanced level in my training park I brought you this post to motivate you a lot and keep going forward as athletes.
---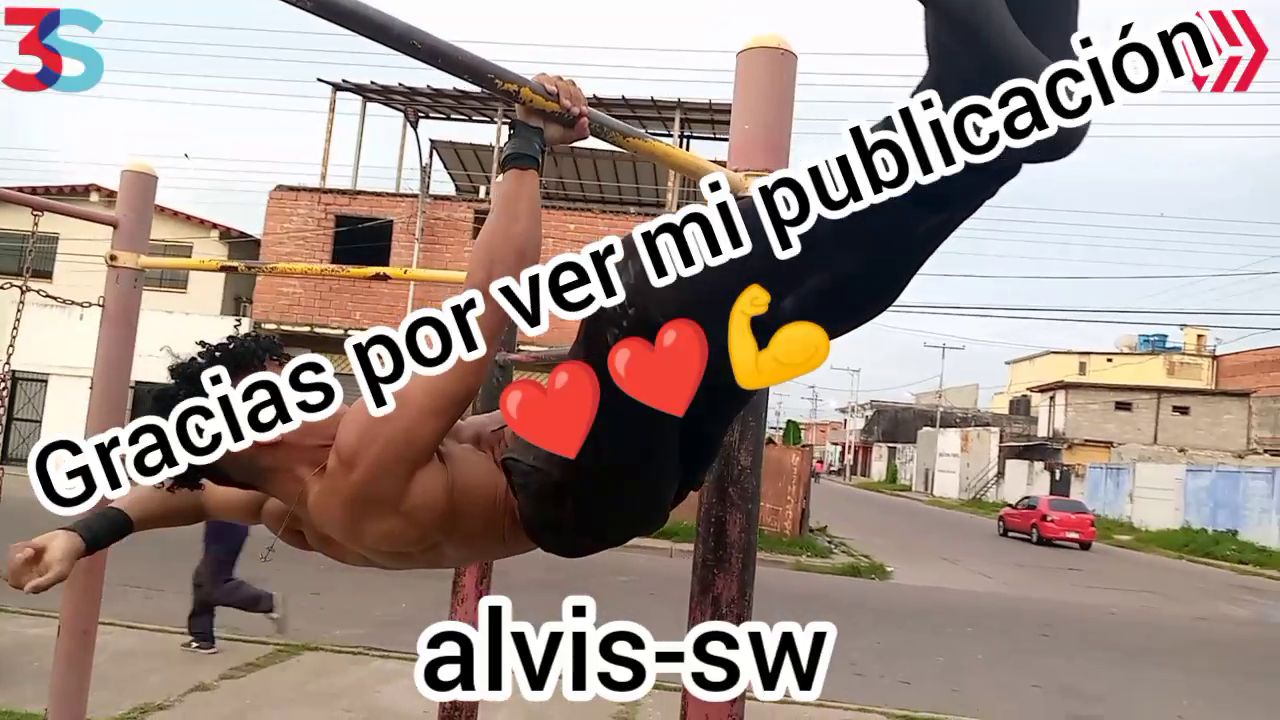 ---
''Gracias por ver esta publicación con mucho cariño para ustedes amigos de hive espero que les guste , nos vemos en una próxima publicación''
''Thanks for watching this post with much love for you hive friends I hope you like it, see you in a next post.''
---
***
| Créditos | Credits |
| --- | --- |
| Cámara | Camera |
| @jisus-swyc | @jisus-swyc |
| Musicalización La musica usada en la intro del video esta libre de derechos de autor | Music The music used in the intro of the video is copyright free |
| Alvis Orozco - Creando Contenido de Calidad | Alvis Orozco - Creating Quality Content |
| --- | --- |
| Gracias por leer mi publicación | Thanks for reading my post |
| --- | --- |
| Gracias por ver mi video | Thank you for watching my video |
| --- | --- |
| ¿Quieres saber más de mí? | ¿Want to know more about me? |
| --- | --- |
***
@alvis-sw - Creador de Contenido Original
@alvis-sw - Original Content Creator
Sport is the best way to live life
---
---
---
---
---
---