My Fpl Team Talk : Gameweek 5 and 6
---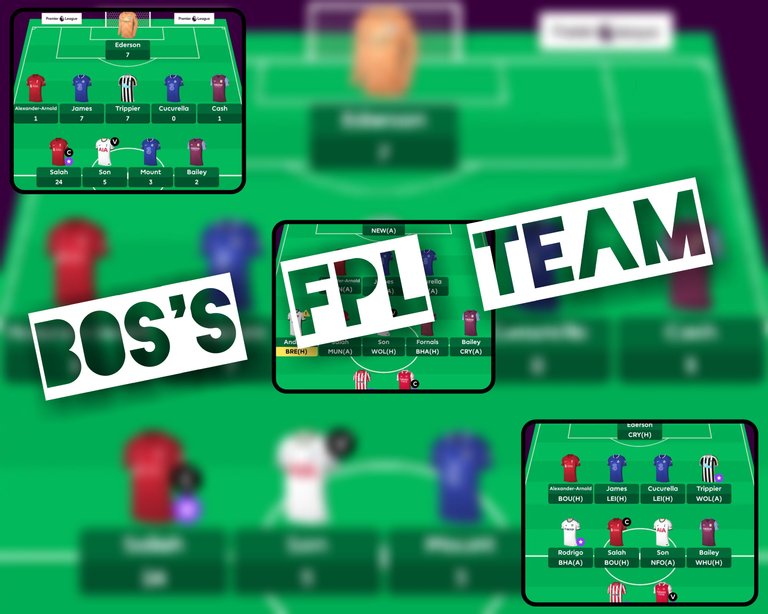 Photo made using Gridart collage maker
---
Last week, I wasn't able to share my gameweek 5 team because I was busy, and also the gameweek was really close to gameweek 6, so I decided I'd share them both in this post.
Straight to the point

MY GAMEWEEK 5 TEAM
---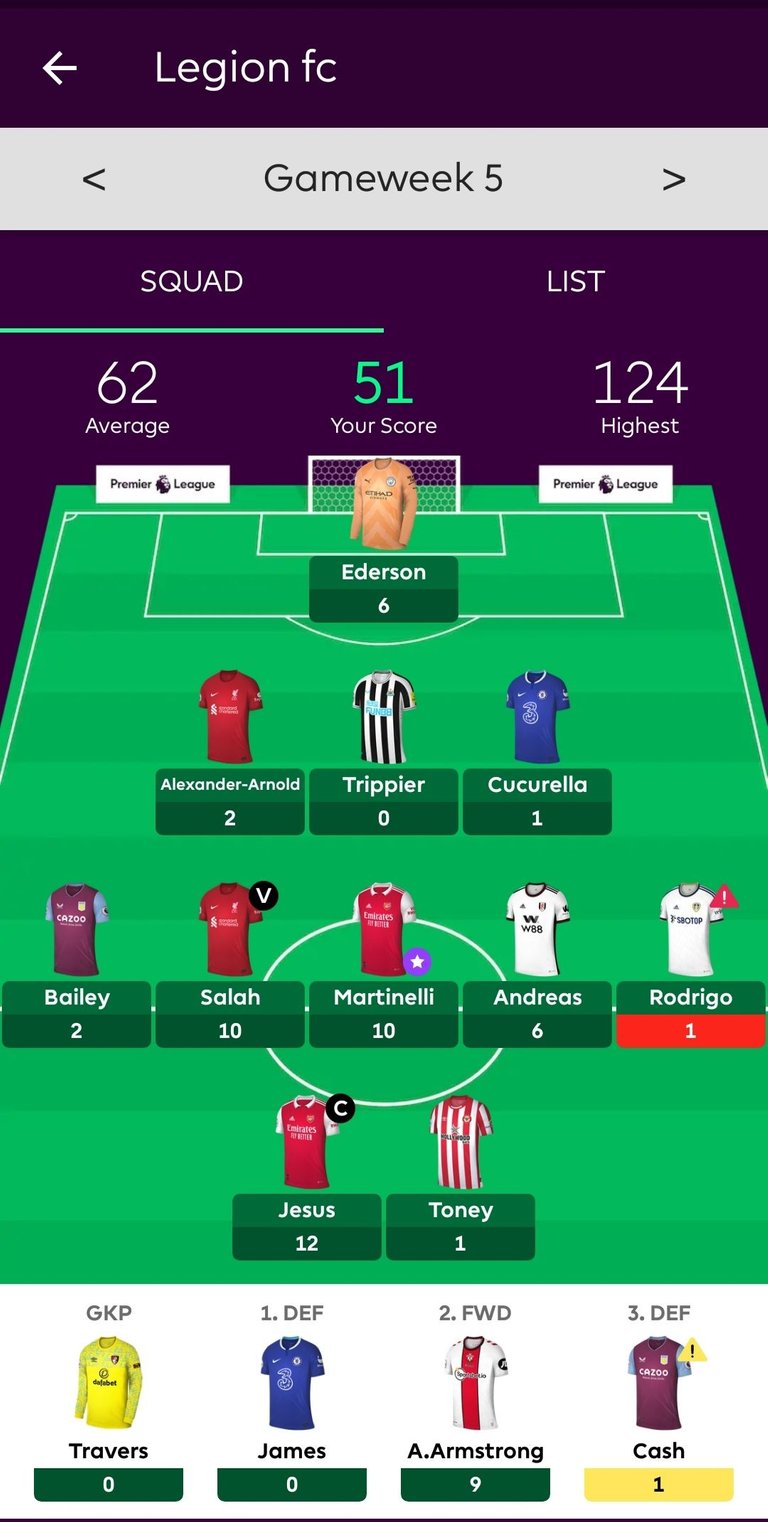 ---
It was another terrible gameweek as I fell behind the average (62), having just 51 points. Rodrigo, who I had high hopes for got Injured, Reece James didn't play, so Andreas who was on the bench came in for him. So sad that I didn't put Armstrong as the first person on the bench as he scored. I also made the wrong choice and captained Jesús instead of Salah, on the bright side Jesus didn't blank, and also bringing on Martínelli instead of Odegard for Son turned out to be a great move as He got 10 points. Andreas also got 6 points, he's turning out to be a good budget midfielder at 4.6m.

At this point, once again I wanted to use my wildcard, I even started doing some research on possible players, but then I realized that if I used my wildcard the only major player I'd be looking to bring in that I don't have already is Haaland. He Inflated the average once more with another Hattrick so he was definitely a must have. I eventually decided against using the wildcard once more and instead took a - 4 to bring in Haaland and Eze for Armstrong and Rodrigo. Lucky me, I had some funds from the Son transfer earlier. I could have as well just taken out Toney for Haaland, but I wanted to get rid of Rodrigo immediately so I took the hit like a man.

MY GAMEWEEK 6 TEAM
In gameweek 6 a lot of the regular big hitters since the season began didn't hit, and those that hit, didn't hit too much so it was up to the differentials to make the difference and deliver the points, as a result the average was quite low, cause a lot of people rely on the big hitters.
---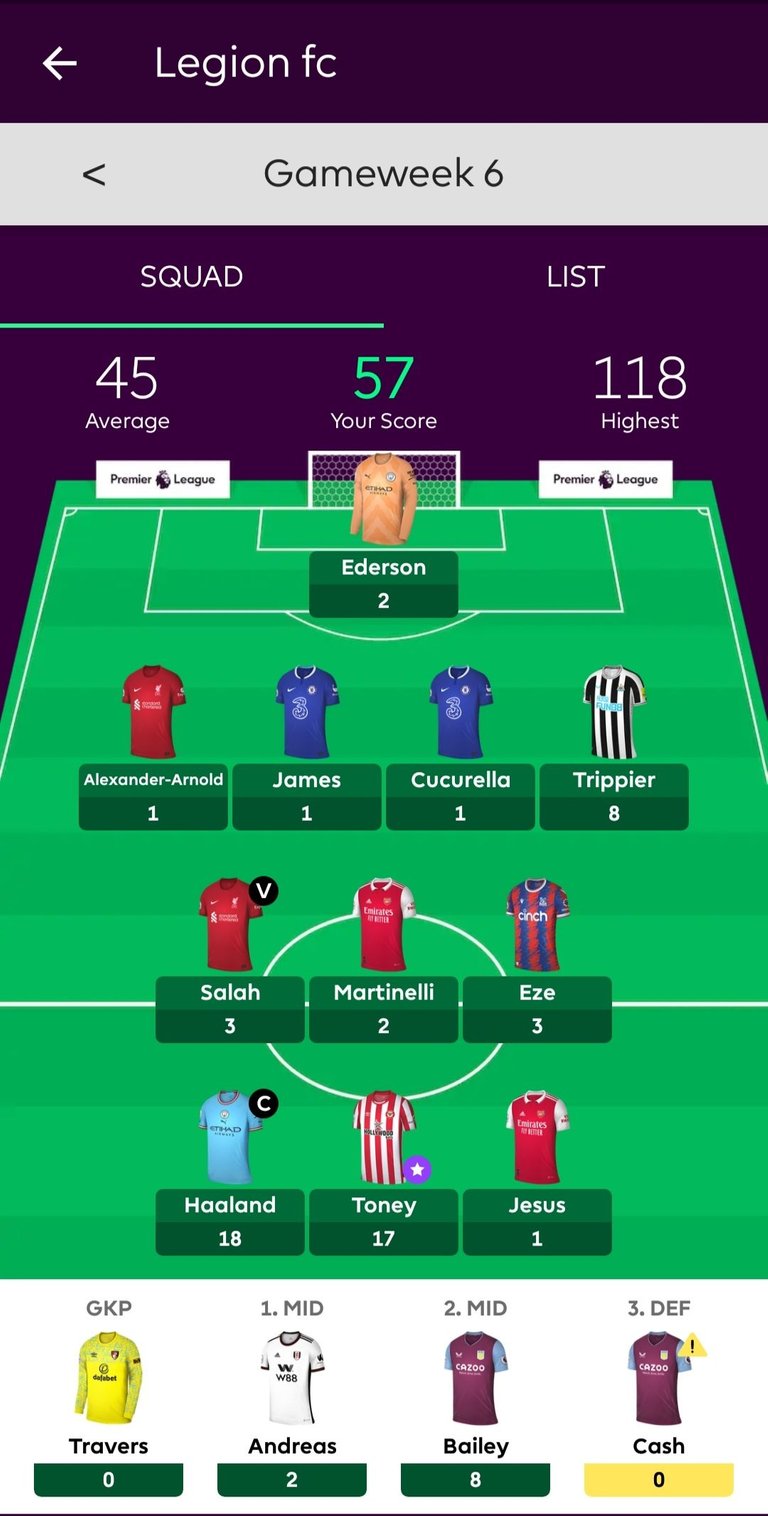 ---
Despite It not being too big I was quite happy with this week's points. I was able to beat the average well, and I finally saw green upwards arrows in all my leagues. I'm happy I didn't use my wildcard this week, because I was definitely going to go for the big hitters.
As you can see the bulk of my points came from Ivan Toney who I almost replaced for Haaland, luckily I was able to get them both, making my - 4 worth it. Toney Scored an incredible hattrick and 3 bonus points to get me 17 points, while Haaland who I took the risk captaining (knowing fully well he may not start) got a goal and 3 bonus points despite his team only getting a draw.
As usual once more I had a goal scorer on the bench. Leon Bailey who I'd been giving starts and had been blanking consecutively decided to score the gameweek I benched him.
Oh well, on to the next

I'm currently sitting in 70th position in @hivefpl on 311 points.
---

---
That's exactly 100 points from the top of the league.
---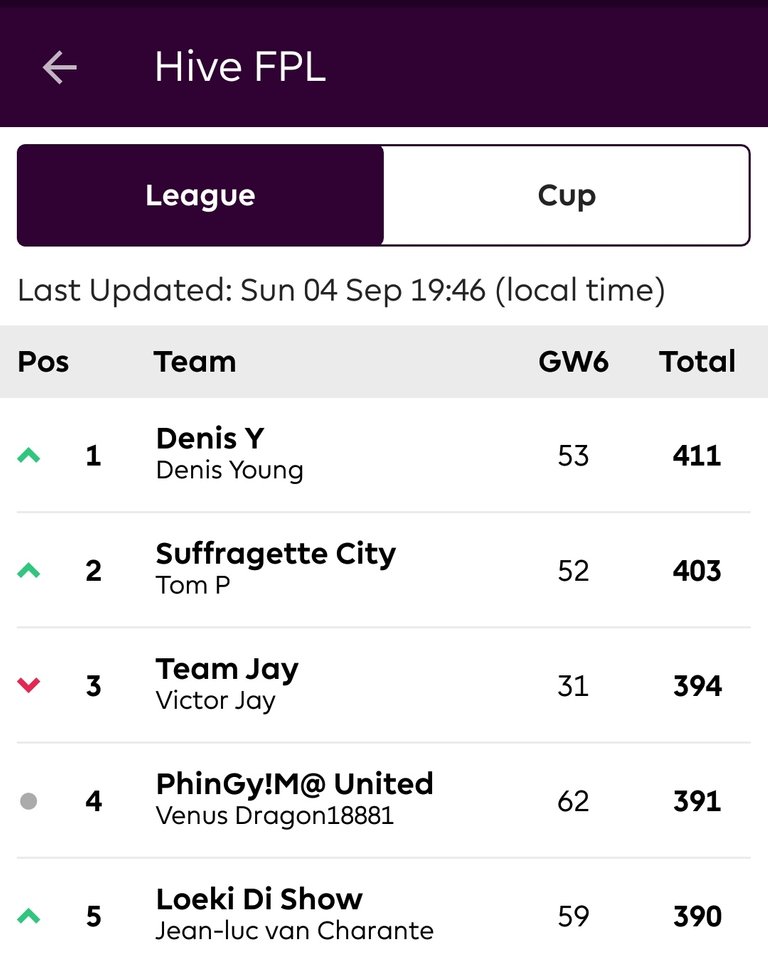 ---
At this point I'm just going to have to stop looking up, and just keep doing my best to get a green arrow every week.

MY TEAM FOR GAMEWEEK 7
I've been looking to get rid of one of the Chelsea defenders in my squad. Chelsea has not been as defensively solid as before despite signing a lot of good defenders. They've only kept 2 clean sheets this season, and after watching them concede and lose to Dinamo Zagreb, it seems they're not improving in that aspect, as a result I sold Marc Cucurella. Cucurella was definitely the one to go as he's less likely to get points for goals and assists than James, also after Chillwell's performance off the bench in the last game, it's clear he may have to fight for that position with Chillwell. Reece James on the other hand is first choice in that position, and is the only Chelsea player,other than Sterling who looks decent.

In place of Cucurella I put in Joel Veltman of Brighton. Brighton have relatively easy fixtures and have one of the best defenses in the league this season. If you check you'll also see that he's been attracting bonus points most of the time whenever they keep clean sheets which is quite good.
The only concern may be that he doesn't play all the minutes. But so far he's started all the games and even on games where he came off, he played till the 60 minute, which is a good thing. It wouldn't be so bad if he played till 60th minute, got the clean sheet and was subbed off before Brighton conceded. Anyways, here's my team
---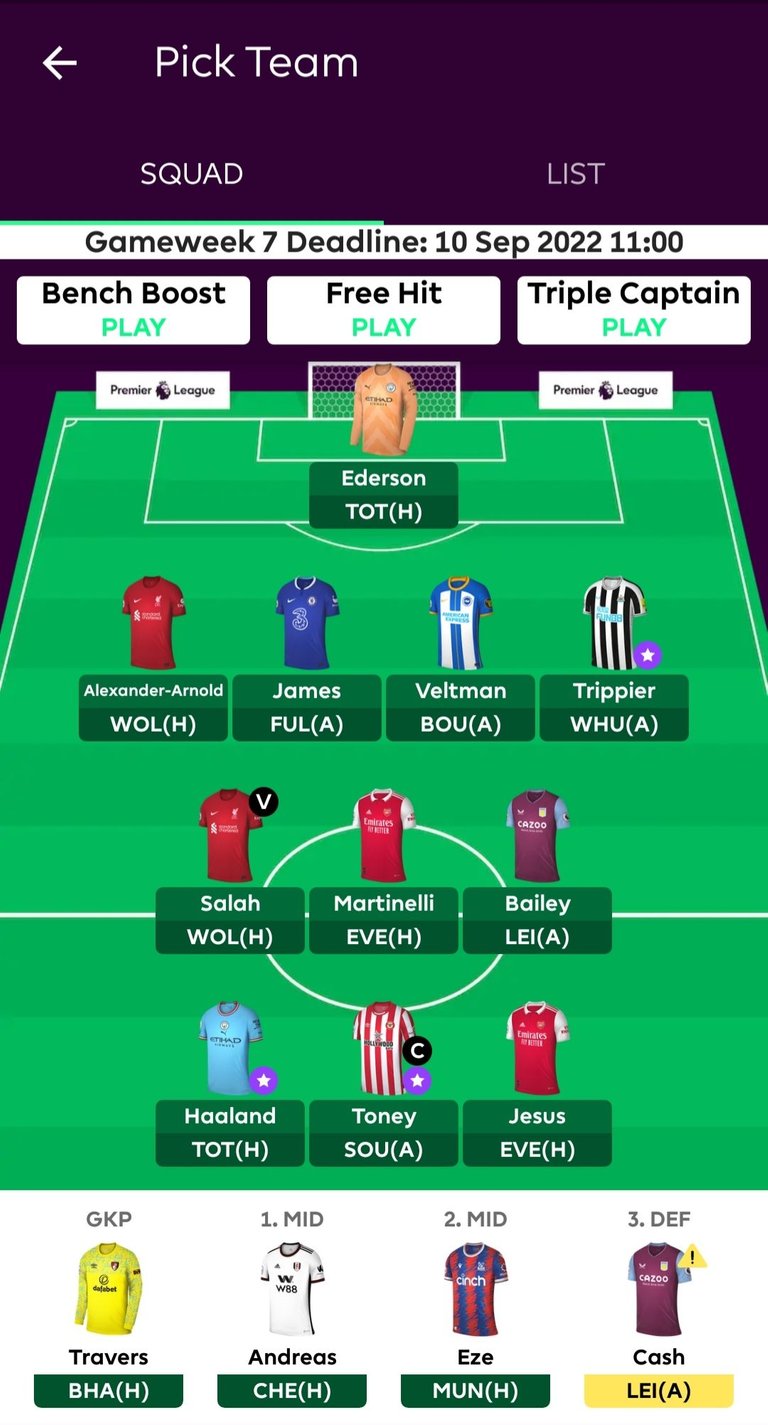 ---
As you can see the captain's armband is currently on Ivan Toney. I'm considering taking that risk and captaining him against Southampton. Seeing as Salah and Jesús haven't been very reliable, and Haaland..., I don't trust Pep.
What do you think? Is it a move worth taking? I'd like to hear your opinion about my team in the comments. Thanks for reading have a wonderful day

NB:All photos are screenshots from the official premier league app
Posted using SportsTalkSocial
---
---