Rabona - Season 88 Results - Survival!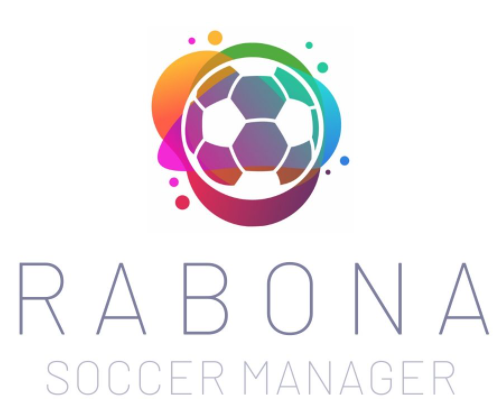 Season 88 Strategy
Legion FC started the season 88 in League 1. Our main goal was to not get relegated. We had a short life in League 1 last time, so the goal was to stick around for a little while.
Season 88 Results
We finished 12th in the table. Just high enough to achieve our goal of not getting relegated. We were admittedly lucky to not get relegated, especially if you put any weight into goal differential.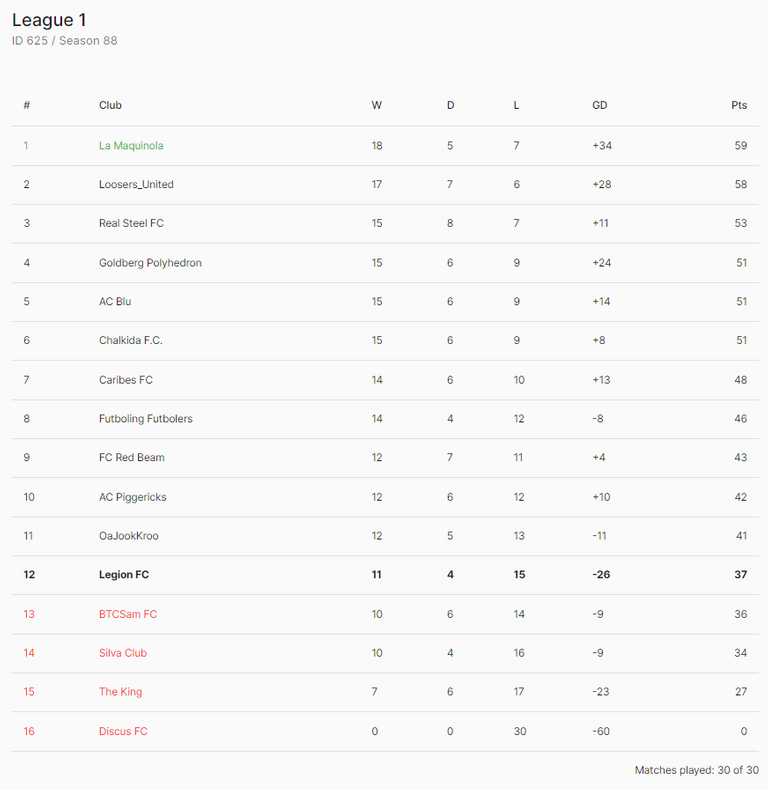 It was a tale of two halves of the season. I'm somewhat convinced there is code that allows newly promoted teams to win in the beginning of their first season. This seemed to happen to me last time I was relegated.
Here is the beginning of the season: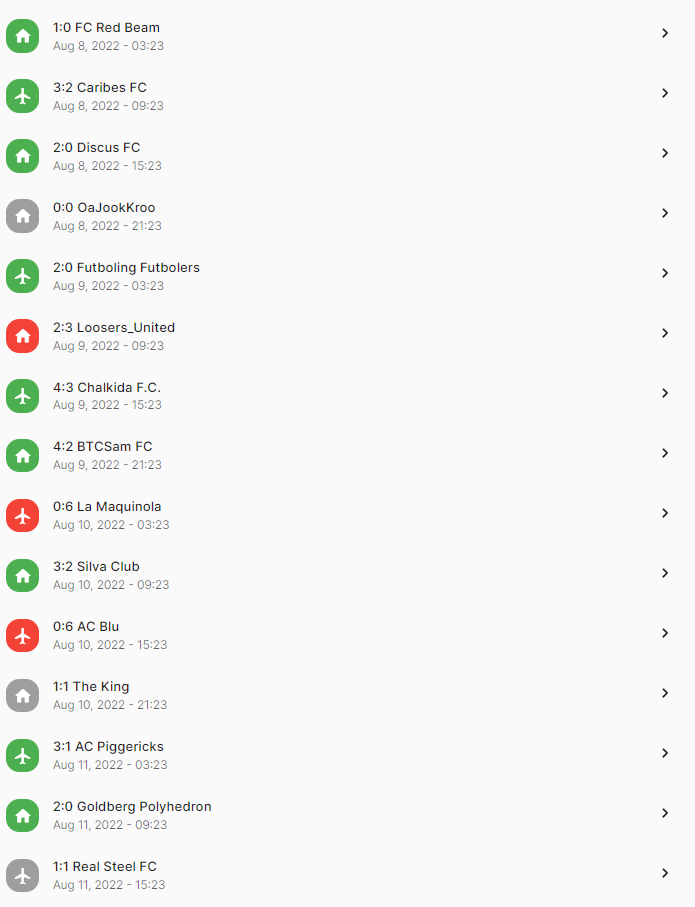 And the end of the season: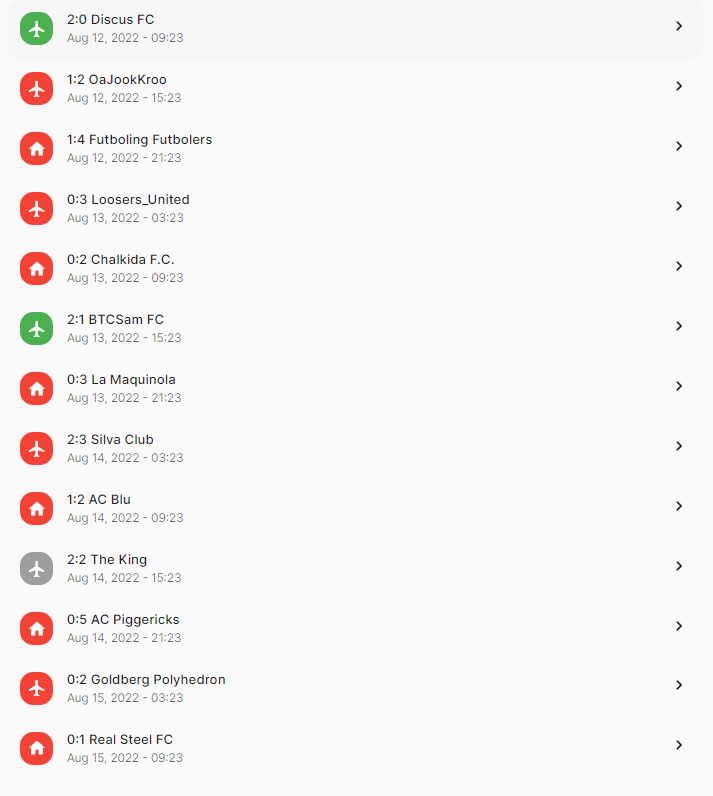 You can see that is quite a difference between the two halves of the season. I have a feeling the next season will not go well.
We increased around 600k fans which is a nice result. Not quite as good as the 750k from the promotion season; however, this pace is great for the club's growth. Stadium utilization is up to 88% with the current fanbase.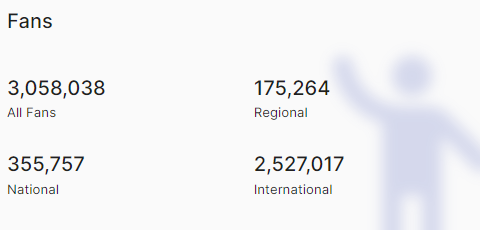 Season 88 Financial Results
We ended the season a little over 2.5m RBN in the positive. It was a great result. It is probably best not to overreact to the results, since we may not be in League 1 for long.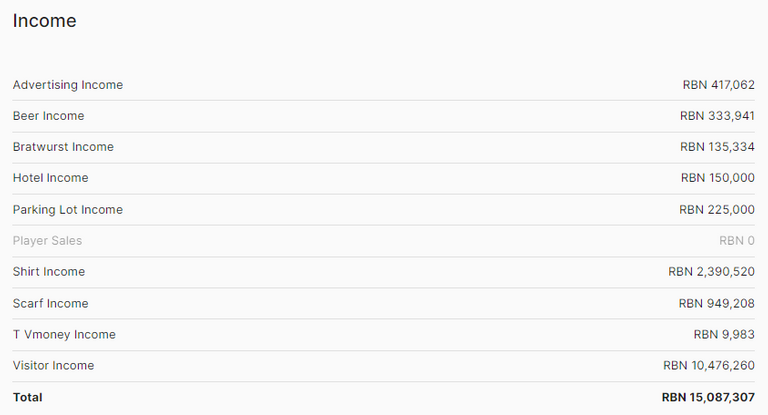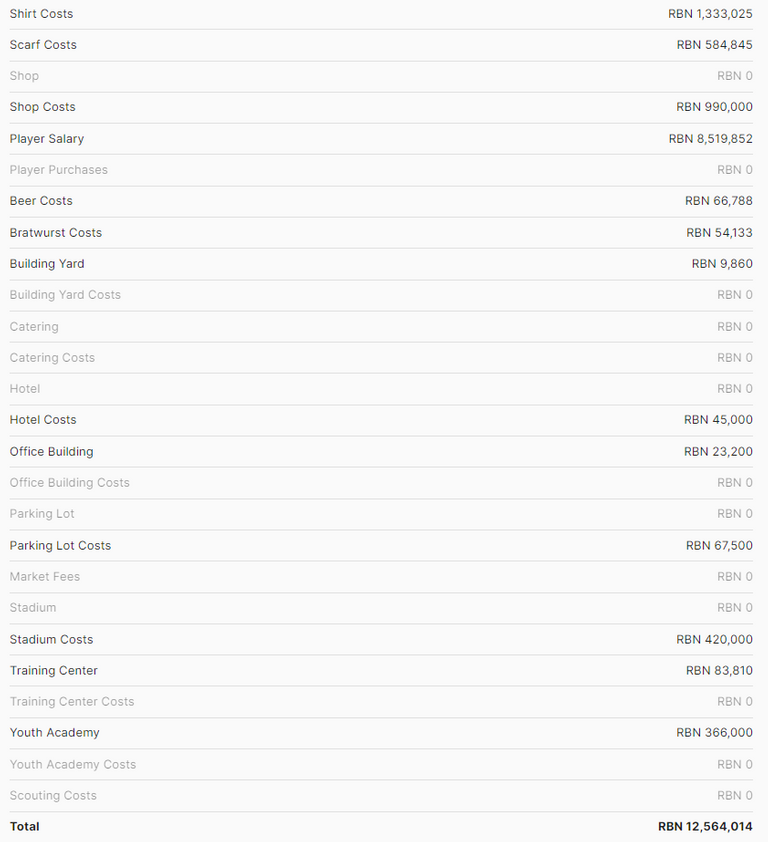 Revenue increased by almost 5m RBN from the last year. Expenses increased by about 3m RBN. The revenue bump in League 1 is a big one. Our roster is slightly more expensive than we would like, but the revenues are plenty for the roster.

The year over year shows this was a better financial result than most seasons. Hopefully, we can put the revenue to good use.

The owners got a bonus of .399 Hive as a reward for the season. A nice bonus!
Facilities Update
We should be caught up on stadium expansions for now. The average utilization is now 88%, which would normally mean expansion time. Last time we were in League 1 we expanded our stadium then were relegated with a stadium that was way too big. We will wait to start another expansion.
-Stadium Capacity - Level 12
-Catering Capacity - Level 11
-Shop Capacity - Level 7
-Hotel - Level 10
-Parking Lot - Level 11
-Office Building - Level 8
-Building Yard - level 4
-Youth Academy - Level 14 - Currently upgrading
-Training Center - Level 3
We almost have the youth academy fully upgraded. We are expecting the youth prospects to help finance and build our roster.
Squad
The season 89 squad is okay. I don't think we have enough talent to stay in League 1. We aren't quite ready to really spend a lot of money to stay in the league, so I'm hoping for some luck to stay up. If not, we will continue to build our club and fanbase.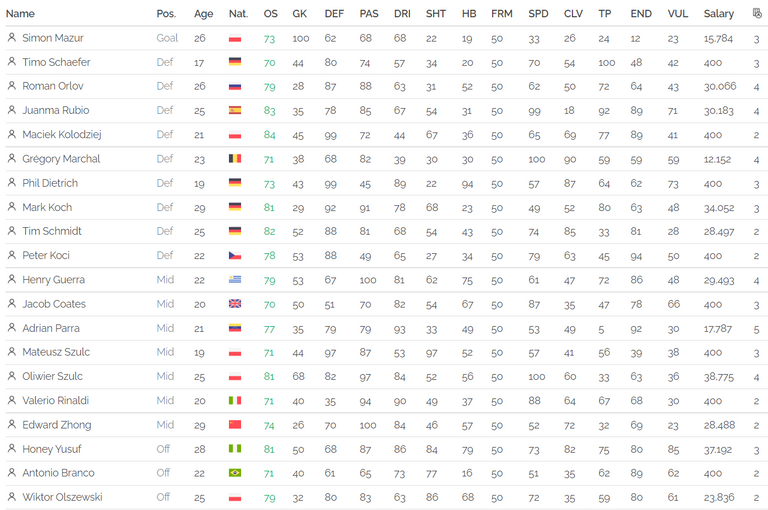 Season 89 Strategy
We will continue our strategy of trying not to get relegated. We are not ready to invest heavily, so we may need some luck to help us. We continue to build the club and fanbase.
About Rabona
Rabona is a classic football (soccer) simulation game built on the Hive blockchain. It is play-to-earn style game where in-game currency can be traded for cryptocurrency. The gameplay is very simple, so there is no need to be a football (soccer) fan to figure out what is going on.
See my previous post introducing Rabona for more information on how to get started or more detail on the game itself. https://peakd.com/oneup/@belhaven14/cheap-to-playplay-to-earn-series-rabona.
Here is my referral code if you just want to jump in: https://rabona.io/?ref=belhaven14
Best of luck to you and see you in Season 89!
---
---