El Himno Más Esperado #3: Remontada y Goleada del Madrid y Trámite para el Napoli
---
Una nueva jornada de la Champions a llegado, y junto a ella empieza a sonar El Himno más Esperado por Todos, trayéndonos dos partidos excelentes, y tal cual como hicimos en nuestro episodio pasado, hoy tenemos como invitado al gran Héctor Salcedo (@drsal), un madridista de corazón que nos acompañará a analizar los duelos en Frankfurt y Anfield.
Comenzamos comentando lo sucedido en Alemania, donde el Napoli visitó al Eintracht Frankfurt, equipo que es el actual campeón de la Europa League, hecho muy importante, pues nos pareció que no fue rival para los italianos. El conjunto de Spaletti traslado su gran momento en la Serie A a Europa, fue el claro dominador del partido, y pese a llevarse una victoria por 2 goles, pudieron ser muchos más, Trapp le atajó un penal a Kravadona y en la segunda parte le negó un mano a mano, cuando el georgiano intentó una vaselina, además de que el Chucky Lozano impactó un balón a la base del palo izquierdo, instantes antes de la falta dentro del área a Osimhen, que hoy volvió a marcar a pase del mexicano, y vio como segundos después le anulaban otro tanto por un clarisimo fuera de juego.
A new day of the Champions League has arrived, and along with it, The Most Awaited Anthem by All begins to play, bringing us two excellent matches, and just as we did in our last episode, today we have the great Héctor Salcedo (@drsal) as a guest. , a Real Madrid player at heart who will accompany us to analyze the duels in Frankfurt and Anfield.
We begin by commenting on what happened in Germany, where Napoli visited Eintracht Frankfurt, a team that is the current Europa League champion, a very important fact, since it seemed to us that it was no match for the Italians. Spaletti's team transferred their great moment in Serie A to Europe, they were the clear dominators of the match, and despite taking a 2-goal victory, there could be many more, Trapp saved a penalty from Kravadona and in the second half he denied a one-on-one, when the Georgian tried a Vaseline, in addition to Chucky Lozano hitting a ball at the base of the left post, moments before the foul on Osimhen inside the area, who today scored again from the Mexican's pass, and saw how seconds later another goal was annulled for a very clear offside.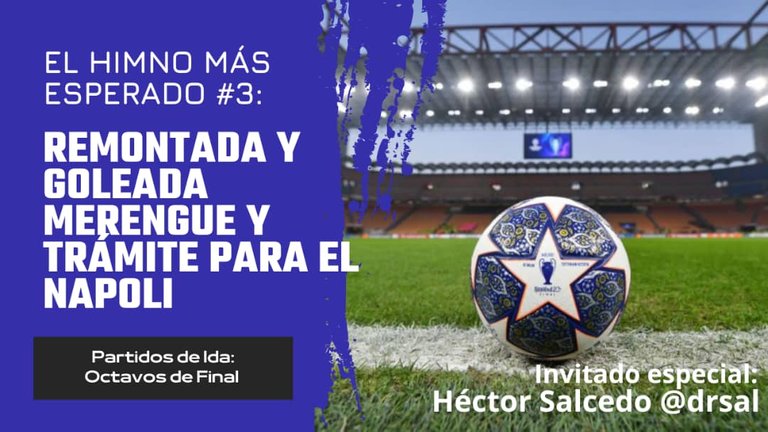 El Napoli ejerció un monopolio absoluto de la pelota, mientras que el Frankfurt tuvo que conformarse con tratar de crear peligro a base de contragolpes, aprovechando la velocidad de sus carrileros y delantero centro, pero las cosas se pusieron aún peor cuando a la hora de juego Kolo Muani vió la tarjeta roja directa luego de un pisotón a Zambo Anguissa, algo rigurosa pues ambos fueron a la disputa del balón. La vuelta será dentro de 21 días, y viendo lo sobrado que está el Napoli en la Serie A, pensamos que en su estadio cerrará está eliminatoria sin ningún problema.
Napoli exercised an absolute monopoly on the ball, while Frankfurt had to settle for trying to create danger based on counterattacks, taking advantage of the speed of their wingers and center forward, but things got even worse when at game time Kolo Muani saw the direct red card after stomping on Zambo Anguissa, something rigorous since both went to dispute the ball. The return will be in 21 days, and seeing how abundant Napoli is in Serie A, we think that this tie will close at their stadium without any problem.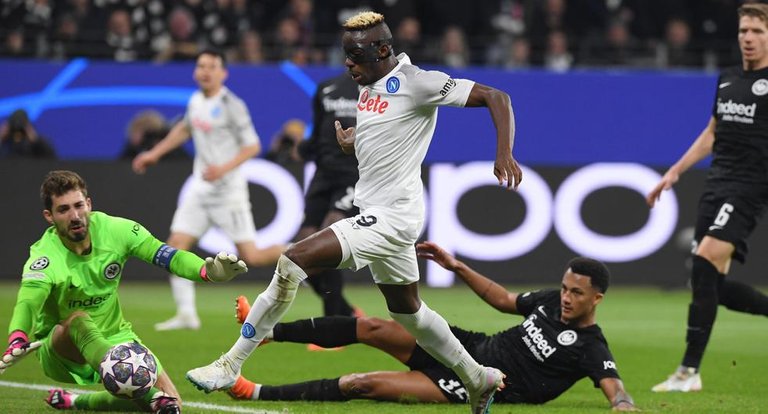 Link
Ahora, hablando del plato fuerte de la jornada, el actual campeón visitó al Liverpool en Anfield, un partido muy interesante por la rivalidad entre estos dos equipos, que finalmente se terminó resolviendo de la forma más inesperada posible. El Liverpool logró ponerse 2 a 0 rápidamente en el marcador, Darwin Nuñez anotó de taco a pase de Salah, y luego el mismo egipcio capitalizó un error garrafal de Courtois, pero aún faltaba mucho en el reloj, y el rey de las remontadas sería quien diría la última palabra de la noche.
Cuando el Madrid peor lo estaba pasando, Vinicius Jr se cargó el equipo al hombro y en cuestión de 15 minutos igualó el marcador, luego de otro error garrafal de un portero, pues Alisson al intentar despejar un balón, terminó impactándolo en el brasileño, y el esférico fue a dar al fondo de las redes.
Now, speaking of the highlight of the day, the current champion visited Liverpool at Anfield, a very interesting match due to the rivalry between these two teams, which finally ended up being resolved in the most unexpected way possible. Liverpool managed to quickly get 2-0 on the scoreboard, Darwin Nuñez scored from Salah's pass, and then the same Egyptian capitalized on a blunder by Courtois, but there was still a long way to go on the clock, and the king of comebacks would be the one would say the last word of the night.
When Madrid was going through the worst, Vinicius Jr shouldered the team and in a matter of 15 minutes equalized the score, after another blunder by a goalkeeper, as Alisson, trying to clear a ball, ended up hitting the Brazilian, and the ball went to the bottom of the nets.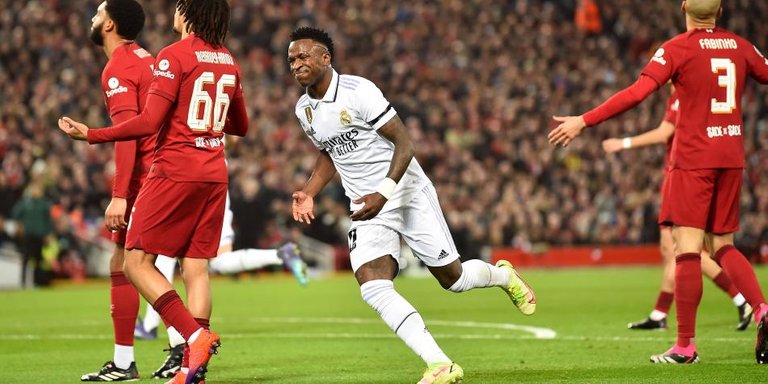 Link
En la segunda parte Ancelotti realizó un ajuste a su equipo, pues el Madrid por la banda zurda era un coladero ya que Modric no cuenta con el mismo despliegue físico en la marca que en sus mejores años, por lo que lo cambio de banda y Fede Valverde paso a esa zona del campo, tapando cualquier intentó ofensivo de los Reds por allí. En los primeros minutos de la reanudación, Militao le dió la ventaja al Madrid luego de una desatención de la defensa de los locales, y Benzema se encargó de rematar al equipo de Klopp con un doblete histórico.
Pese a que aún queden 90 minutos en el Santiago Bernabéu, nuestra opinión en esta llave es muy clara, los merengues ya son equipo de los cuartos de final, ya que no vemos capacidad de reacción en el Liverpool, sus flancos son muy débiles y si adelantan sus líneas en busca de la heroica, jugadores como Vinicius o Rodrygo pueden ser letales a la contra.
In the second part Ancelotti made an adjustment to his team, since Madrid on the left wing was a strainer since Modric does not have the same physical deployment in the brand as in his best years, so he changed bands and Fede Valverde moved to that area of ​​the field, covering any offensive attempt by the Reds there. In the first minutes of the restart, Militao gave Madrid the lead after a lack of attention from the home defense, and Benzema was in charge of finishing off Klopp's team with a historic brace.
Despite the fact that there are still 90 minutes left at the Santiago Bernabéu, our opinion in this key is very clear, the meringues are already a team for the quarterfinals, since we do not see Liverpool's ability to react, their flanks are very weak and if They advance their lines in search of the heroic, players like Vinicius or Rodrygo can be lethal on the counter.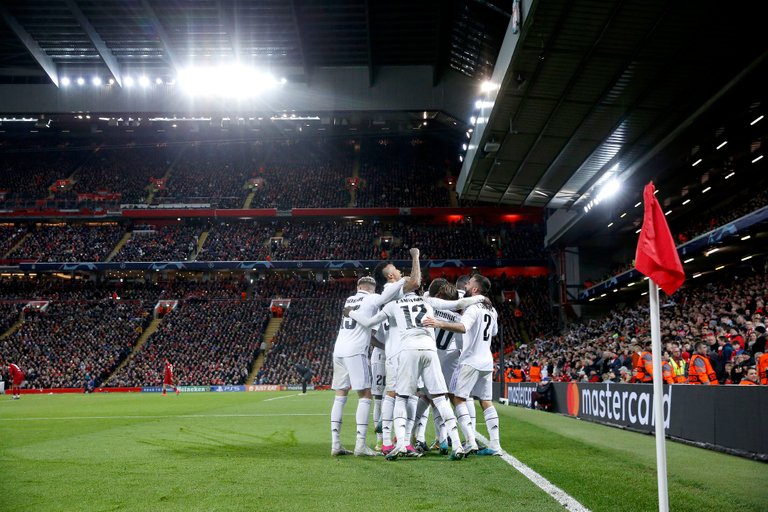 Link
Muchas gracias por su apoyo, nos vemos de nuevo cuando el Himno más Esperado por Todos vuelva a sonar y nos regale nuevamente 90 minutos del deporte más bello del mundo.
Thank you very much for your support, we'll see you again when the Most Awaited Anthem by All plays again and gives us again 90 minutes of the most beautiful sport in the world.
---
▶️ 3Speak
---
---