I changed my story and changed my life

This is the story about how I guided a blind woman through a crowd of 70,000+ people while running. But first, the backstory.
---
In 2010, I did Sydney's City to Surf, an iconic event that sees you run from the centre of Sydney to Bondi beach. Despite having lived in Sydney (Australia) for most of my life, it was the first time I'd run it as an adult and only the second time ever.
At the time I was training for a team ultra marathon and saw it as a good opportunity to train with my running buddies. Not being the fastest runners in Sydney we ended up in one of the slower start packs and the 14km to Bondi became more like 16 with all the weaving we had to do.
70,000 people leaving the city to tread every step to Bondi all within a couple of hours on the same one morning certainly makes for a crowded affair. And since Australians aren't the best at sticking to the left to let faster people (walkers, runners or drivers for that matter) past, I had the infuriating experience of hitting walls of people walking when I was fit enough to run most of 14km without stopping. I genuinely have no idea how fast I can run from the City to Bondi because there were forever people in the way.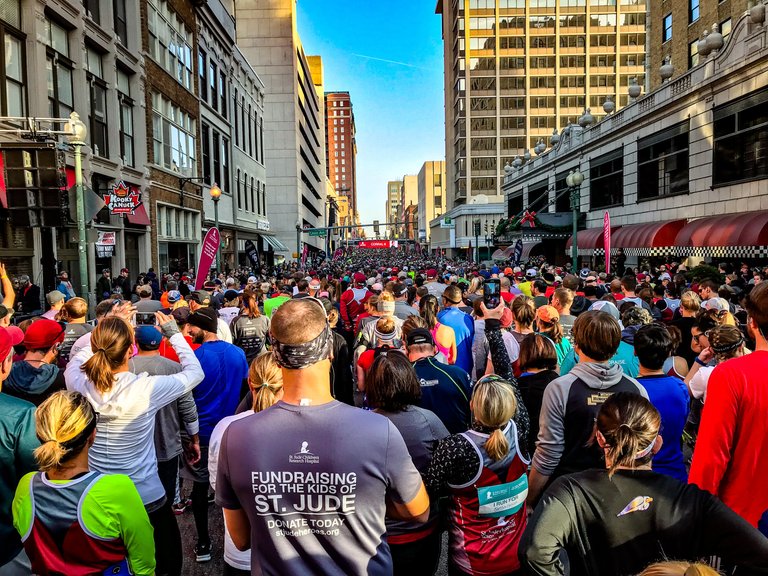 Source
After this experience I swore I'd never do City to Surf again.
I focused on the kind of events I loved; long distance, technical trail runs. I took (egoic) pride in running events that were far too difficult for the average Sydney runner in places that others weren't game to bushwalk let alone ever think about running. And when City to Surf rolled around each year and people asked if I was running it, I disdainfully turned my nose up like it was beneath me.
Then in 2018 it was time to view this race in a new light.
I had recently joined Achilles, an organisation that pairs sighted runners and walkers with visually impaired athletes. I had seen it as an opportunity to use my strong experience as a runner to help someone else. I could never have guessed how much I would get from the experience.
Very quickly I began to realise how much I take my eyes for granted.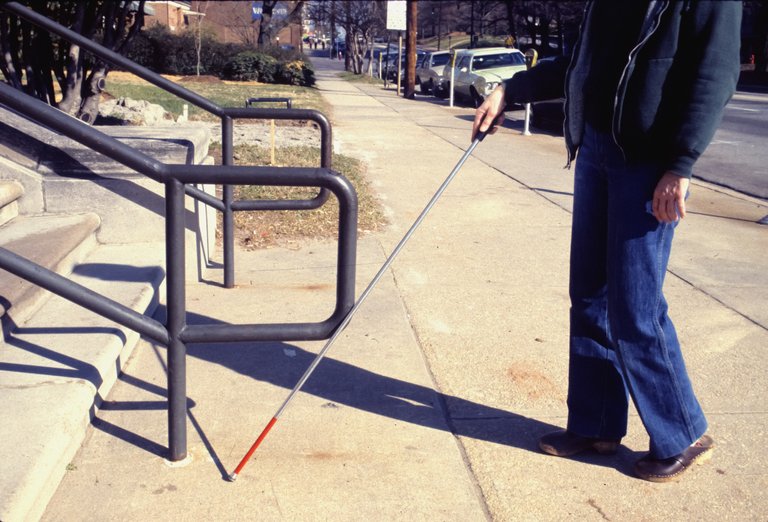 Source
As I turned up to Sunday morning trainings I saw that even the most accomplished runners (some of whom could sustain an even faster pace than I could over the 10km training route) were never going to be able to run in the incredible bush run locations I ran in so very often.
So when I was asked if I would guide one of the Achilles runners in some of the upcoming races that year, including the City to Surf, I said yes. I realised I needed to get over my disdain, and that old story, if I was really committed to helping my fellow runners the way I said I was.
I won't lie, I was anxious about keeping the brave and gorgeous Zhila (pictured below) safe in such a crowded race and I did wonder this week why the hell I had put my hand up.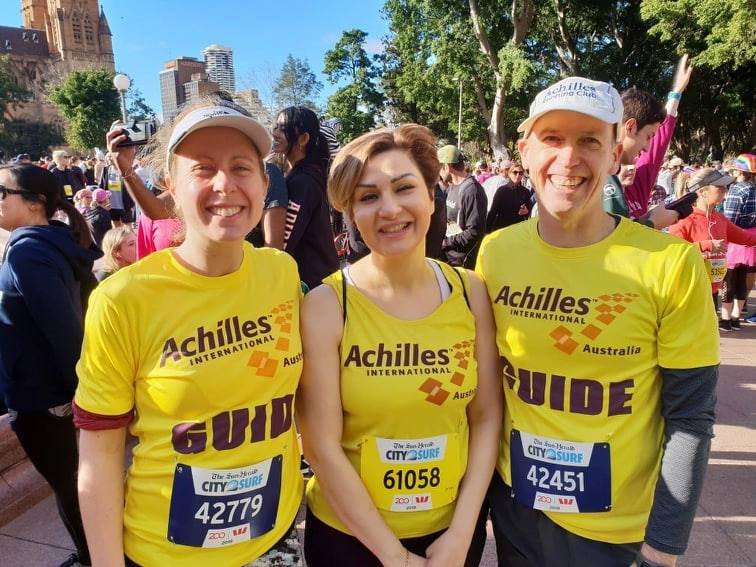 (Photo taken by a friendly event volunteer on my phone. Left to right: myself, Zhila and Mark).
But I only had to remember that there is literally no way that athletes like Zhila and my other friends at Achilles can participate in an event like this without the help of a sighted, able running guide.
So I got over myself.
And I backed myself; I remembered that I have been running for most of my life. I reminded myself that I flew through their sighted-guide training like a natural. I recalled that I had been along to Achilles training every 2-3 weeks for months already. And I realised I had already guided in two other races that year. I was as ready as I was going to be.
So I told myself a new story.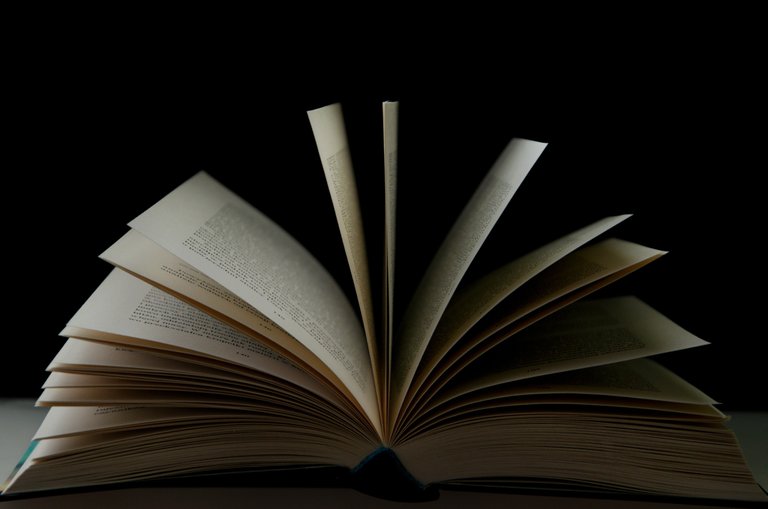 Source
I told myself that I had the experience to do what I had said yes to doing, and that if anyone could do this, it was me.
I told myself to focus on how grateful I was to have the opportunity to guide, and the privilege that it is to do so.
I asked myself to focus on Zhila and appreciate her trust in me.
And I felt deep gratitude to have my new buddy Mark as my co-guide; a cooler guy I couldn't have asked for.
I rocked up that morning and as I weaved my way through the thousands and thousands of people in Hyde Park, I remembered to be grateful that I knew the city so well. I was thankful that our Achilles event organiser Brian had done such a thorough job of explaining how it would all work on the day. I was also super grateful that there were volunteers marshalling this event and making this whole thing possible.
I silently thanked the person who was in charge of choosing the number of portable toilets. And I laughed as I saw the first crazy outfit. And then the next. And then the next.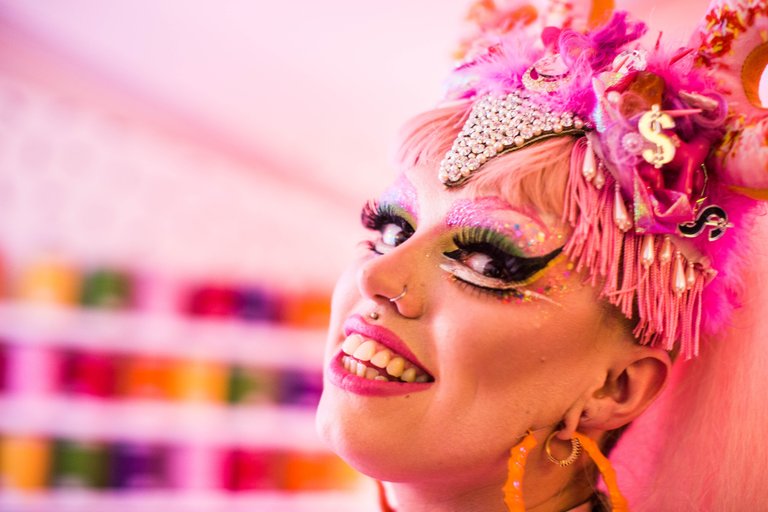 Source
As I met with Mark and Zhila I stayed in this feeling. I stayed as present as possible, as grateful as possible, dealing with only whatever was just in front of us. And somehow we safely got through the 14km, with the three of us, from the centre of Sydney out to Bondi beach, on foot.
I continued to marvel at people's inventive outfits.
I described as many of these to Zhila as possible, so she could enjoy the silliness too.
I crossed back and forth with my legendary co-guide Mark about obstacles and how best to navigate the next wall of walkers we ran into again and again and again.
I soaked up the beautiful water and city views that Mark and I were lucky enough to be able to see in those brief moments between keeping an eye out for the trip hazards that were everywhere.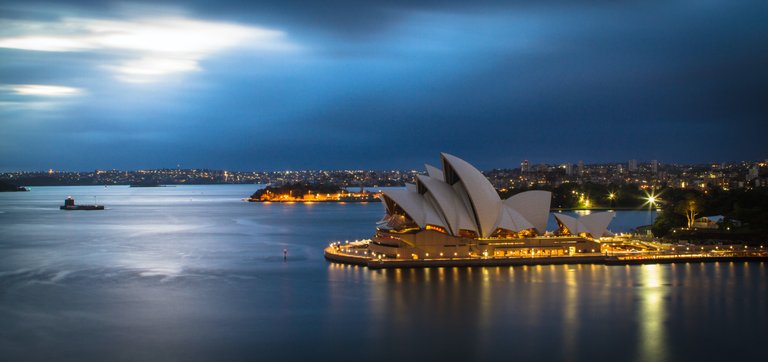 Source (Note: while this is an actual photo of Sydney Harbour you don't get that exact view when you run the City To Surf. But there are equally beautiful views along the way... I just had my hands full while we were running! 😉)
I loved on the music that was played--loudly--by willing musicians every 1km along the route, and I did a half-arsed attempt at dancing, whilst running or walking, and still guiding. Often all I could manage was one hand in the air, waved in their direction and a big grateful smile.
I thanked every person I could after calling out to them to move out of the way for this "blind runner coming through". I was grateful when people had left their earphones and music at home, and swiftly moved out of the way. I quietly hoped that for a moment they considered how lucky they are to have good eyesight.
I got teary as I watched three athletes in wheelchairs struggle their way up Heartbreak Hill, stopping in the middle of the road because that's all they could do in that moment.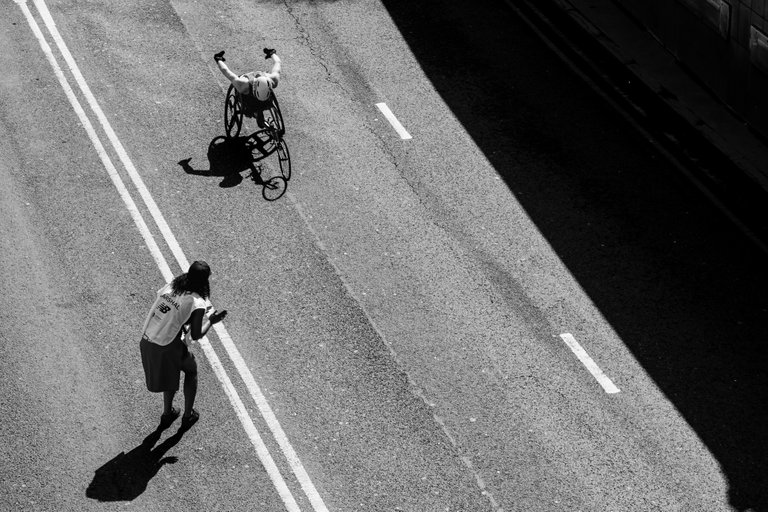 Source
I listened to Mark's bad jokes whilst holding Zhila's hand and rolled my eyes when I realised I had to interpret his joke because she didn't understand it.
And I watched my watch, giving Zhila updates about her progress, and was stoked when we realised Zhila had just snuck in with a PB.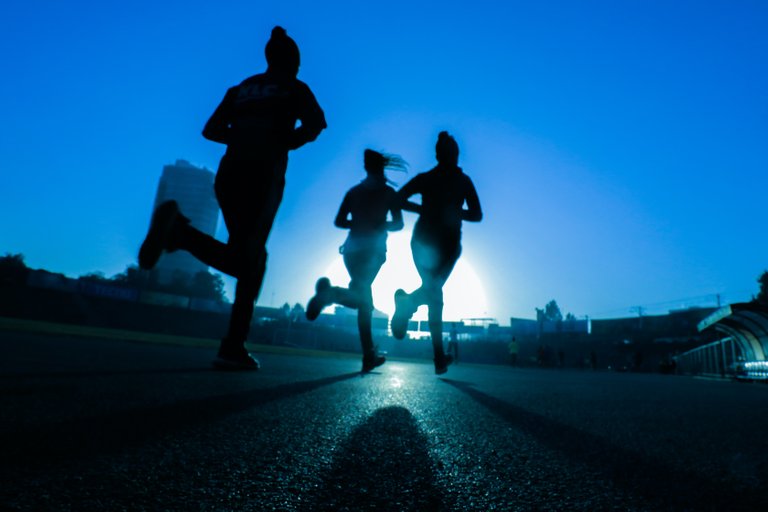 Source
It was a very big morning.
It was a morning that I came away from with a renewed appreciation for everything. For the many people who get into running because of this event that is within reach for them. For the huge number of people it takes to make this iconic race happen. For the moderate weather that meant it wasn't too uncomfortable for a day in the middle of winter. For the fun, and the atmosphere, and the outfits, and the music, and the ridiculous lengths so many people went to in order to make it fun for themselves and others.
And I'm grateful that I decided to tell myself a new story. That I dropped the ego and the disdain, the anxiety and the fear, and I looked for the opportunities that this day would bring. And because of that, I had an amazing day.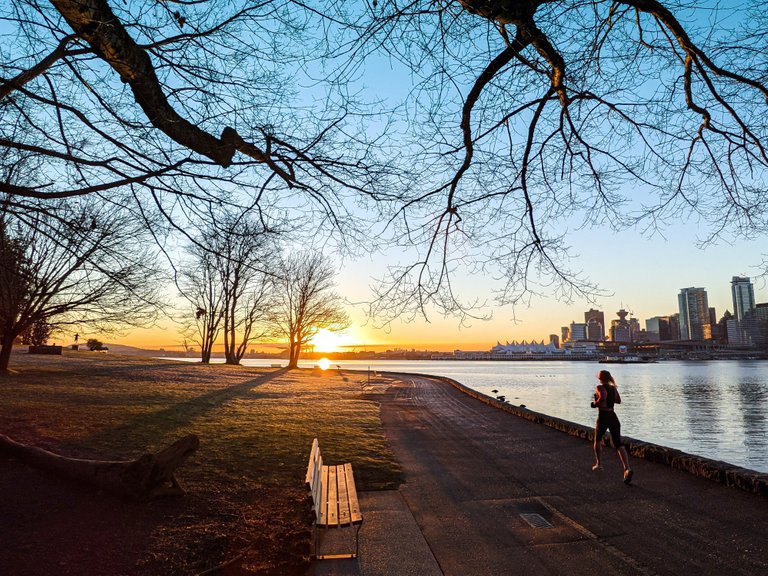 Source
---
---