Jupiler League Week 2 Saturday Previews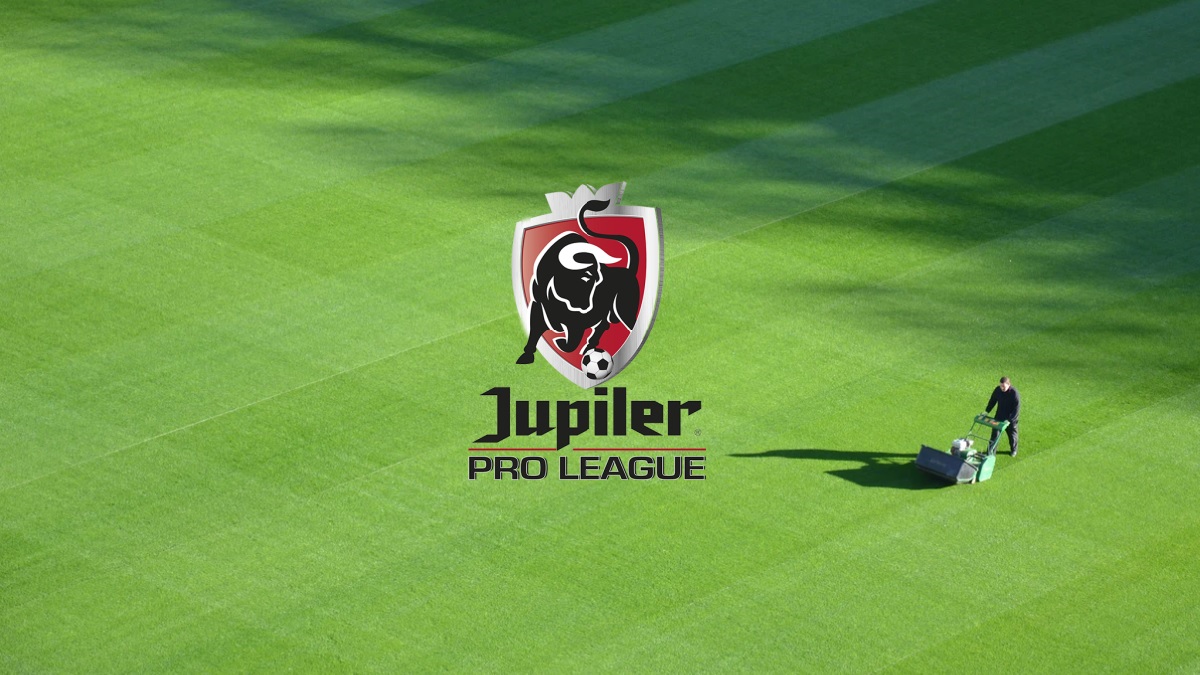 These are previews from matches involving Belgian Teams with all the latest on team news, player form, injuries along with my personal betting angles, ...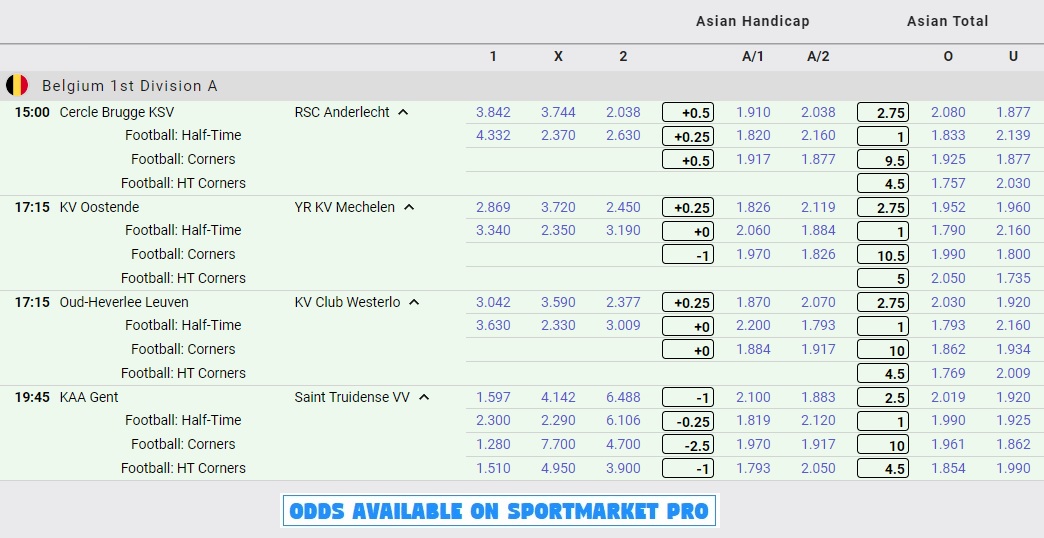 Not much betting action yesterday aside from the pre-game bet which ended in a push as 1-0 was a pretty fair result in the match between Union and Charleroi. I once again opposed Union based on what I saw in their upcoming Champions League Qualifier match at home taking rangers +0 @ 1.880 for 0.4 units.
Cercle Brugge vs Anderlecht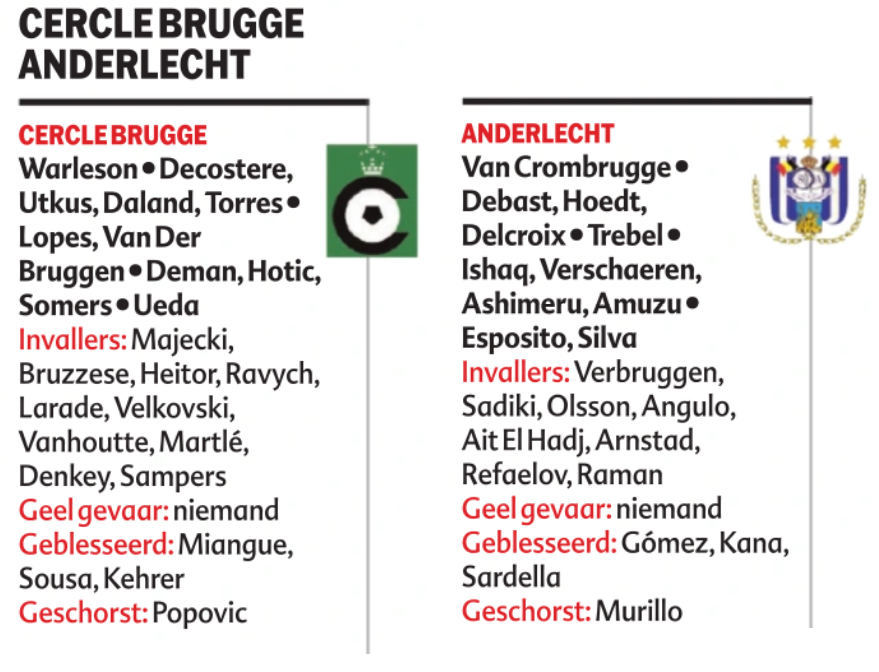 Cercle Brugge went on a really hot streak at the end of last season also just playing great pressing football under their coach Thalhammer. They however lost key offensive player Matondo which left them with not creating that much in their match against Westerlo (0 shots on target). A red card of Popovic (who is suspended today) also didn't help them. Overall, I still see cercle as an ok team. Anderlecht won with a 2-0 score and you can see the potential they have in the team while it all wasn't yet too convincing against a rather poor Oostende side. Especially later in the match they weren't able to carry the midfield. Their 2 new loaned strikers Esposito & Silva who should be a really added value to the team are able to play and might be in the starting 11. At this point, Anderlecht feels like a team that won't be that spectacular but still take their points. For this match today I'm just going to wait and see what happens.
No Pre-Game Bets
---
Oostende vs Kv Mechelen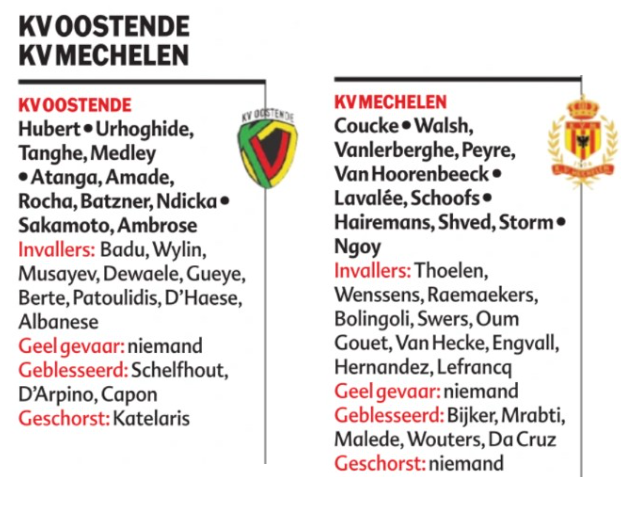 Oostende lost to Anderlecht and seem to have a striker problem. They have Gueye who should be their best striker but he started on the bench for to me an unknown reason. Traditionally, coach Vanderheadge plays offensive-minded at home. Mechelen at this point doesn't look as good as last season and they lost last week at home against Antwerp who not yet live up to the team they have. So Mechelen is not yet a team I'm looking to back at this point. I guess a draw would not be the worst result for both as they both lost last week. Pure based on quality, Mechelen should be better which explains the -0.25 line. The only bet I'm slightly tempted by is Mechelen +1 corners but I will wait for in-game before potentially taking a bet on that.
No Pre-Game Bets
---
OH Leuven vs Westerlo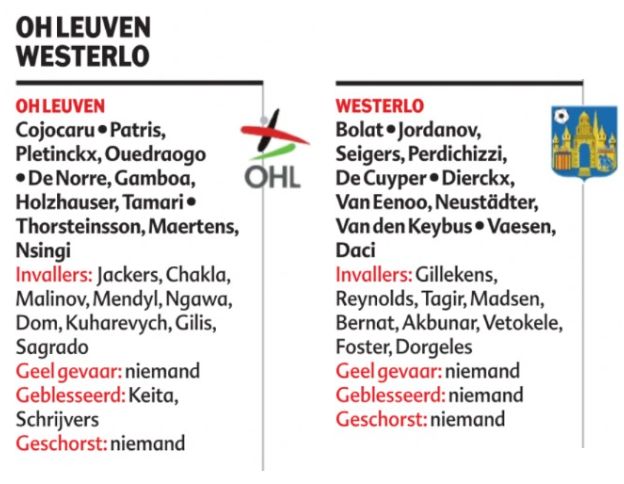 OHL is not fully ready yet, especially on the offensive end, but they still managed to win with a 0-2 score against Kortijk which doesn't give an accurate view as they were outplayed in the 1st half pretty much. Westerlo took a 2-0 win against Cercle who had to play with 10 most of the match. At this point based on the odds they are getting, I think Westerlo could be a bit too overhyped and i'm not sold yet that they are the real deal similar to Union Last season. This to the point where I'm willing to take a 0.25 unit gamble on
OH Leuven +0.25 @ 1.951
on this match as they showed good resilience against kortrijk last week. For promoted teams, there usually is quite a gap between home and away matches.
---
AA Gent vs Sint-Truiden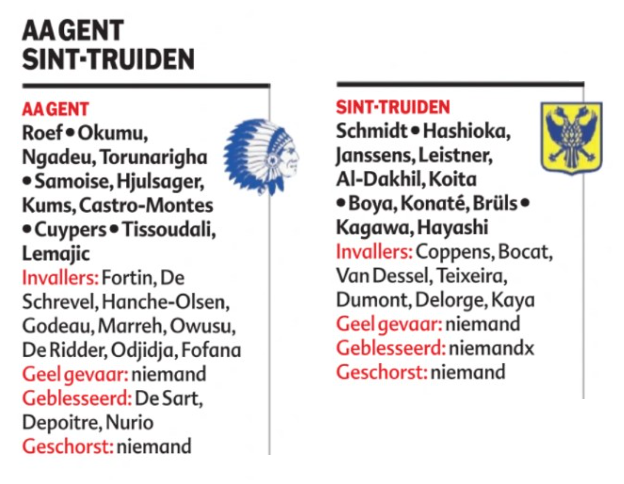 AA Gent was really unfortunate last week as they got 2 clear penalties denied. They went from being 1-0 behind to 1-2 ahead against Standard who mainly played defense after getting a red card. They never looked in danger after that, but a lack in focus still somehow made them take the 2-2 late for an unneeded point loss. De Sart & Depoitre are still injured with Odidja set to start on the bench. Overall I rate AA Gent pretty high in what they should be capable of great things similar to last season. Stvv in their home match against Union came out really strong and with very high energy scoring the 1-0 on a counter in minute 23' and continuing afterward. After the 1-1 came out of nowhere in the 2nd half, they seemed a bit shaken up which over the 90 minutes gave a fair 1-1 draw. Stvv is now unbeaten in their last 10 league matches mainly at home and against smaller teams. I'm expecting similar high-energy from them which will have to be matched by AA Gent. Over the 90 Minutes, Gent should simply be the superior team in their current form and once the 1st goal comes, at least 1 more should follow. The odds for me are worth the pre-game gamble as I took 0.3 units on
AA Gent -1.5 @ 2.758
. If AA Gent ends up winning, I see it likely with more goals so I rather go high-odds & lower stake.
---
Late info might change my view on what is written in these previews. I will cover these matches live in our SBC Discord Channel..
---

I take all my Pre-Game & Live bets with my Betting Broker Sportmarket Pro who always provides the best offers on the market with a 1 click solution and doesn't limit winning players offering high limits. For more info check my Sportmarket Pro Review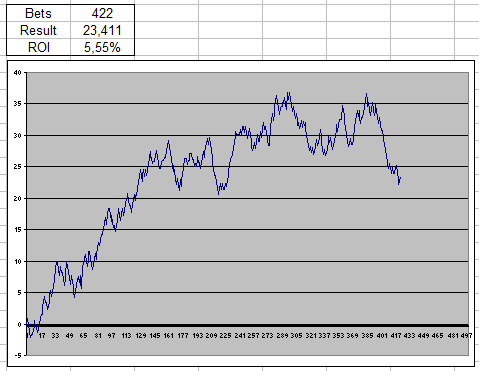 I share many of my pre-game bets in all my preview posts as bold selections which are all counted as 1 unit flat bets. See these just as info and not as actual betting advice. If you do make sure to shop around for the best odds. In total, there were 422 Bets good for +23.411% or +5.55% ROI on all these bets combined.
---
Season 2022-2023 Crypto Bets
| Date | Bet | Stake | Odds | Result | Bookie |
| --- | --- | --- | --- | --- | --- |
| 24/07/2022 | KVM vs ANT O2.5 | 60 USDC | 1.663 | -60 USDC | sx.bet |
| 23/07/2022 | CHA vs EUP U3 | 0.002 BTC | 1.810 | -0.002 BTC | sportbet.one |
| 23/07/2022 | ZWA +0 CK | 700 TRX | 1.800 | +560 TRX | Wink |
---
Crypto & Blockchain-Based Bookies and Exchanges that I'm personally using as they allow anonymous betting with no KYC or personal restrictions...
---
Previous Crypto Bet Results & Record
| Year | Bets | Won | Lost | Push | Staked | Profit BTC | ROI |
| --- | --- | --- | --- | --- | --- | --- | --- |
| 2022 | 56 | 27 | 25 | 4 | 0.115 | +0.0166 | +14.45% |
| 2021 | 4 | 1 | 2 | 1 | 0.0250 | -0.002845 | -11.38% |
| 2020 | 1 | 1 | 0 | 0 | 0.0100 | +0.01271 | +127% |
| 2019 | 59 | 24 | 27 | 5 | 0.5900 | -0.02199 | -3.7% |
| 2018 | 136 | 65 | 64 | 7 | 1.233 | +0.112687 | +9.14% |
| 2017 | 70 | 34 | 34 | 2 | 0.658 | +0.006912 | +1.05% |
| Total | 326 | 152 | 152 | 19 | 2.631 | +0.124074 | +4.72% |
---
---