Jupiler League Week 2 Sunday Previews
These are previews from matches involving Belgian Teams with all the latest on team news, player form, injuries along with my personal betting angles, ...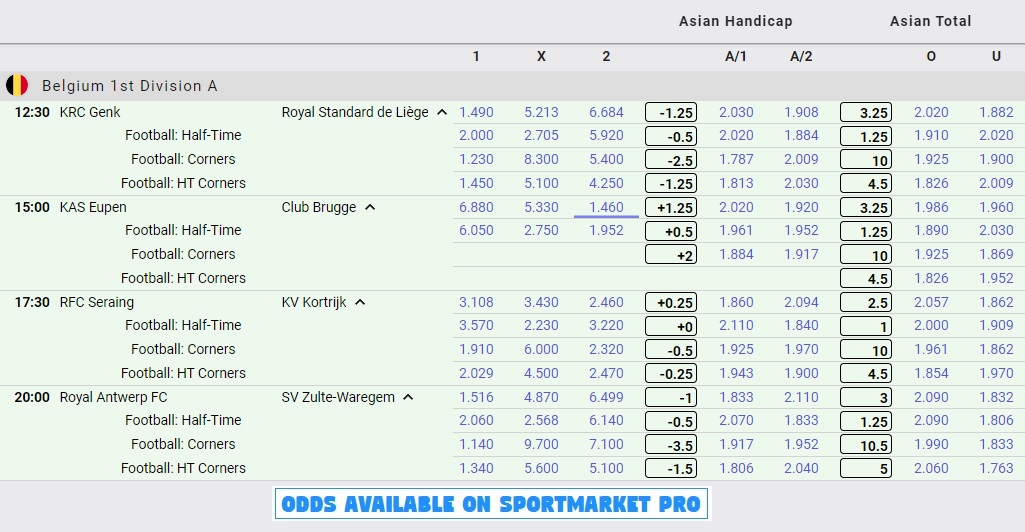 Saturday was a betting day where I mostly managed to limit the losses and minimize the downside. Sunday now has 4 interesting matches in store with pre-game betting action in each of them...
Genk vs Standard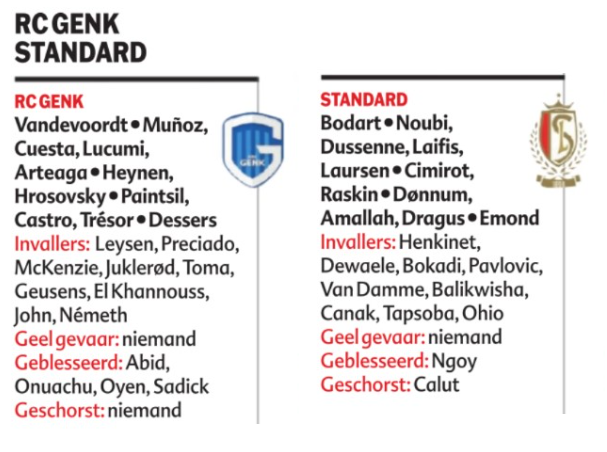 Racing Genk pretty much surprised everyone playing highly motivated and with a fresh football game away against Club Brugge in the first match of the season where they deserved more than a 3-2 loss. They do have the quality in the team and it looks like new coach Vrancken already managed to bring that fighting spirit. I don't expect anything else today and Genk purely on quality should just be the superior team against Standard who kind of continued their trend of last season with not that much that has changed just yet. Standard at this point is a former top team that needs to build again under their new owners. They took a 2-2 draw against AA Gent at home with 10 vs 11 most of the match but this was more due to AA Gent giving it away combined with the ref helping them big time. Overall it just was not good enough yet. I did take a 0.5 unit early bet on
Racing Genk -1 @ 1.957
(now 1.768 on Pinnacle) which I shared on the
SBC Discord
at the time I took it as always. Ito is no longer with Genk while Onuachu is injured along with Oyen which keeps me from potentially go for an over bet. I also took a crypto bet of 1000 TRX on Genk -0.75 @ 1.700 on
Wink.org
---
Eupen vs Club Brugge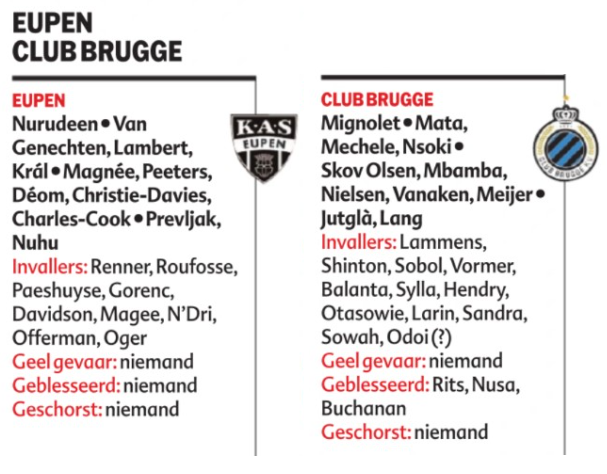 Eupen lost away in Charleroi last week and showed lack in overall experience. Charleroi was unable to really confirm their mature performance against Union this week which kind of weakens the performance of Eupen more. They now play Club Brugge who seem to be going with the same pattern as last season. They have the team with the most quality in the league but fail to systematically dominate and crush their opponents to comfortably win their matches also covering the handicaps. After a 10-minute study round they played an open attractive match showing some vulnerability in the defense and having to count on Mignolet. In any match, Club Brugge should be able to easily win but the question remains how much they will push beyond that as they get very comfortable once in a lead. The main question for me is if the odds are worth the gamble to back Club Brugge. If not, I will be waiting for in-game confirmation, better odds in-game later in the match reducing the handicap line, or them falling behind. They were the best 1H team last season while Eupen ranked near the bottom. Club Brugge taking the lead in the first half is what I initially took in this match yesterday with a 0.2 unit bet on
Club Brugge 1st Half -0.5 @ 1.990
and I will be looking to potentially expand on this in-game if what I want to see happens. Club Brugge Team total over is also an option.
---
Seraing vs Kortrijk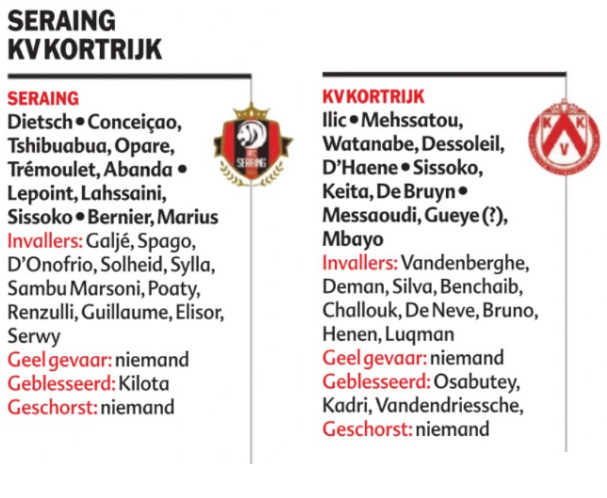 Seraing showed a similar pattern compared to last season where they didn't look competitive whatsoever in their first match. Previously this was followed by a match where the did show a lot more so I'm not just blindly going to oppose them. Especially not against Kortrijk where the fans already want coach Belhocine out after the 0-2 loss at home against OHL and the bad streak of 12 losses - 3 draws - 1 Win in their previous 16 League matches. Their main striker Gyueye on top is questionable for the match today so I will have to wait for line-up confirmation before potentially taking any bets. They did play a really good 1st half in the match against OHL totally dominating but failing to create major chances let alone finish them. This is a similar pattern to last season where they often played good 1st halves. If Gueye turns out to be in the starting 11, I might take a bet on Kortrijk 1st Half +0. Seraing played very compact and structured in their match coming for a draw. They only had 2 attempts and 0 shots on goal and that against Zulte-Waregem. I do anticipate Kortrijk to be the team with more initiative to go forward from the start and took 0.16 units on
Kortrijk 1st Half Corners +0.25 @ 1.890
. I also like the Seraing Team Total Under as Kortrijk is capable defensively while Seraing lost most of their scoring power. 0.25 units on
Seraing Team Total Under 1 @ 2.02
is what I took as a pre-game position which I might sell during the match if needed / possible.
---
Antwerp vs Zulte-Waregem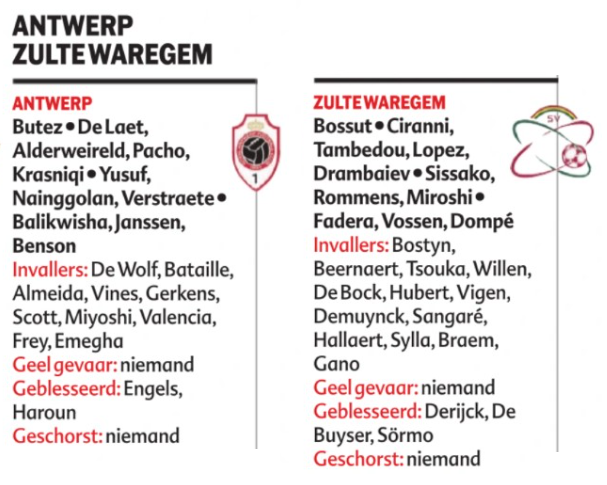 Antwerp managed to qualify for the next round of the conference league during the mid-week but it went rather difficult against a small defensive-minded team over the 2 legs and they also had a difficult travel which won't help their overall freshness. On paper, they do have a team to contend for the title but from the matches so far it looks like they still have to improve and grow a lot. Zulte-Waregem took a deserved win again Seraing showing good enthusiasm under new coach Leye. Overall though, I don't see Zulte-Waregem as a team that has enough quality to really surprise anyone this season, and kind of the best-case scenario is for them to have a season in the mid-table without ever getting in trouble. I was really considering Zulle 1H +0.5 @ 1.97 early in the week just because Antwerp so far disappointed along with the fatigue factor. I skipped however and the odds now are down to 1.813 which by no means is high enough for the risk and it feels like the situation Antwerp is in is fully calculated into the line. The 1H under I also had on my rader which has not moved in price. I would be way more surprised to see a wide-open up and down match compared to a start where Antwerp patiently try while Zulte-Waregem putting a lot of energy into it with main focus to not give anything away. I took 0.35 units on
1st Half under 1.25 @ 1.803
which still wins half even if there is 1 goal in the 1st half.
---
Late info might change my view on what is written in these previews. I will cover these matches live in our SBC Discord Channel..
---

I take all my Pre-Game & Live bets with my Betting Broker Sportmarket Pro who always provides the best offers on the market with a 1 click solution and doesn't limit winning players offering high limits. For more info check my Sportmarket Pro Review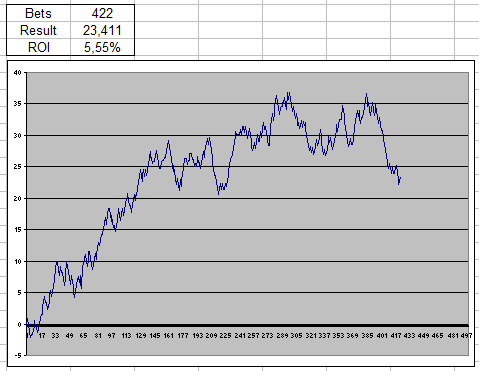 I share many of my pre-game bets in all my preview posts as bold selections which are all counted as 1 unit flat bets. See these just as info and not as actual betting advice. If you do make sure to shop around for the best odds. In total, there were 422 Bets good for +23.411% or +5.55% ROI on all these bets combined.
---
Season 2022-2023 Crypto Bets
| Date | Bet | Stake | Odds | Result | Bookie |
| --- | --- | --- | --- | --- | --- |
| 31/07/2022 | Genk -0.75 | 1000 TRX | 1.70 | TBD | Wink |
| 24/07/2022 | KVM vs ANT O2.5 | 60 USDC | 1.663 | -60 USDC | sx.bet |
| 23/07/2022 | CHA vs EUP U3 | 0.002 BTC | 1.810 | -0.002 BTC | sportbet.one |
| 23/07/2022 | ZWA +0 CK | 700 TRX | 1.800 | +560 TRX | Wink |
---
Crypto & Blockchain-Based Bookies and Exchanges that I'm personally using as they allow anonymous betting with no KYC or personal restrictions...
---
Previous Crypto Bet Results & Record
| Year | Bets | Won | Lost | Push | Staked | Profit BTC | ROI |
| --- | --- | --- | --- | --- | --- | --- | --- |
| 2022 | 56 | 27 | 25 | 4 | 0.115 | +0.0166 | +14.45% |
| 2021 | 4 | 1 | 2 | 1 | 0.0250 | -0.002845 | -11.38% |
| 2020 | 1 | 1 | 0 | 0 | 0.0100 | +0.01271 | +127% |
| 2019 | 59 | 24 | 27 | 5 | 0.5900 | -0.02199 | -3.7% |
| 2018 | 136 | 65 | 64 | 7 | 1.233 | +0.112687 | +9.14% |
| 2017 | 70 | 34 | 34 | 2 | 0.658 | +0.006912 | +1.05% |
| Total | 326 | 152 | 152 | 19 | 2.631 | +0.124074 | +4.72% |
---
---