Jupiler League Week 22 Saturday Previews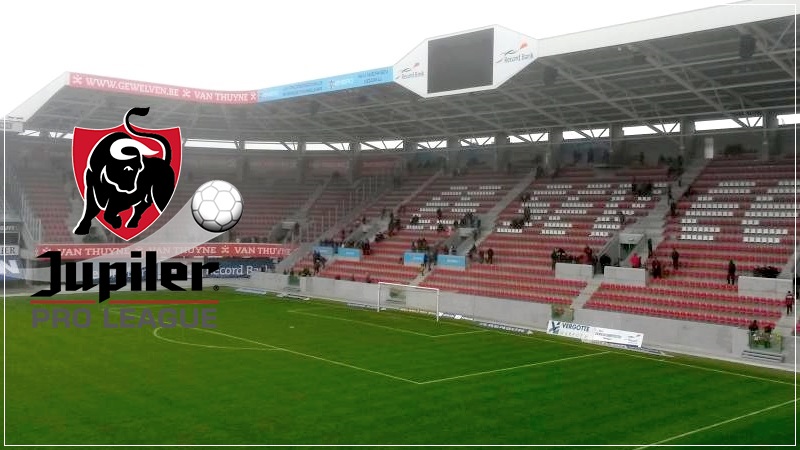 These are previews from matches involving Belgian Teams with all the latest on team news, player form, injuries along with my personal betting angles, ...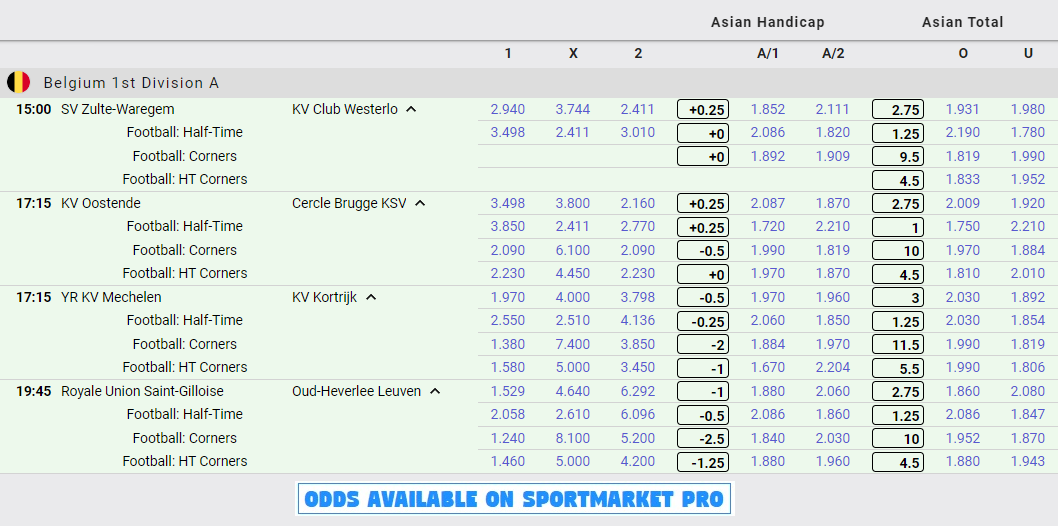 The match between Eupen and Genk was postponed due to heavy snow which I totally overlooked as where I live the weather was just normal.
---
Zulte-Waregem vs Westerlo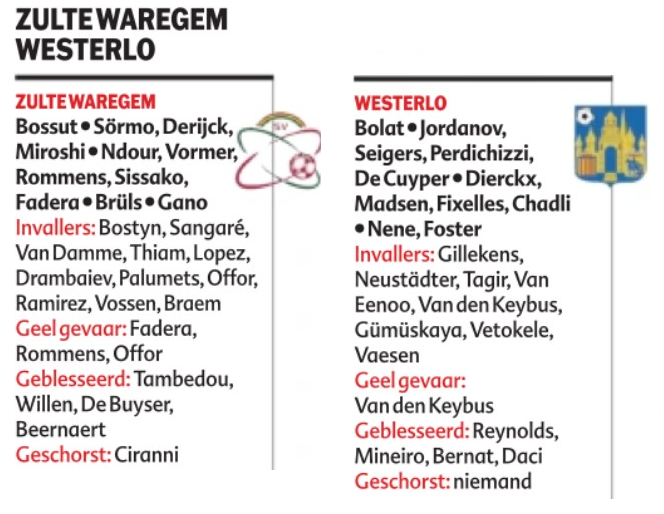 Zulte-Waregem after the winter break with Vormer and Bruls in the team kind of switched momentum to a point where they are able to actually win matches also putting up better overall performances which is giving them confidence. They won during the mid-week against in a match that could have gone both ways and where both teams continued to go for it late in the match. Zulte took the lead early thanks to a defensive mistake from Anderlecht and looked like a team that won't easily keep a lead in case they take it. They also didn't manage to take a clean sheet in their last 18 away matches. Westerlo played another solid match against at home against Genk but failed to win as every chance from Genk pretty much went in. Westerlo has been a team that goes for it at home resulting in plenty of goals but they tend to be less adventurous in their away games especially after taking the lead. Zulte-Waregem for me is a team that should finish just above the relegation zone while Westerlo is a playoff 2 team. Both teams kind of have momentum and ok form which makes me have to go with the team that should have just more overall quality in this match at the line that is offered. I took 0.25 units
Westerlo 1st Half +0 @ 1.813
and 0.2 units on
Westerlo -0.25 @ 2.104
with an eye to possibly also take some on Westerlo Team Total Over 1.25 in-game. I'm also considering a tiny bet on a high odds over corner bet early in-game.
---
Oostende vs Cercle Brugge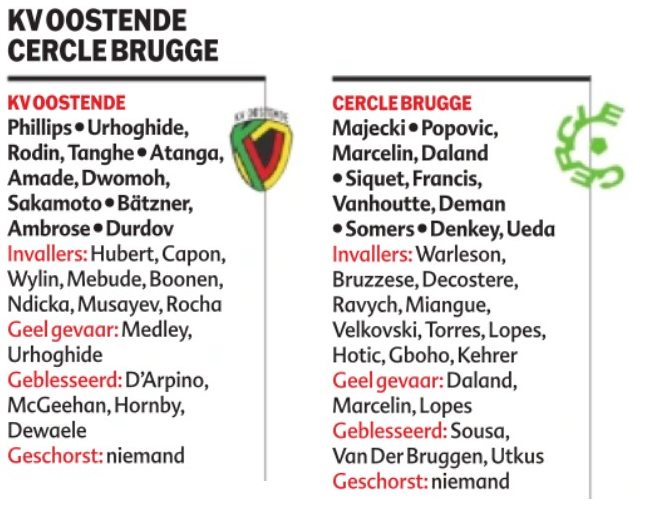 Oostende despite not playing that badly is in a really bad streak right now and the coach change effect has totally faded. They have now 5 losses in a row with each going to 3 goals or more and are the worst defense in the league. This only translated in slight winnings on the over lines more so at home and they generally failed to cover their Asian handicaps. Cercle Brugge after a good run against poor teams, failed to win against Mechelen, Westerlo, Charleroi, and Union. They haven't played bad but also didn't impress mostly failing to create much at the time they need to push. The 0.25 line on the home team feels about right and I'm staying away from that before really seeing more.
No Pre-Game Bets
---
Kv Mechelen vs Kv Kortrijk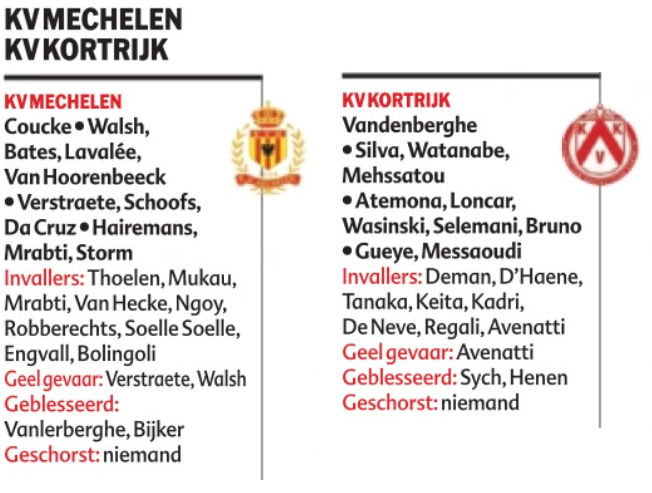 Kv Mechelen had a brief coach change effect but now seem to be back struggling a lot more to put quality play on the pitch which has put them closer to the relegation zone again. If anything though, the home advantage still does make quite a big difference for them and they haven't lost a match there in a while. Kortrijk is one of the teams that picked up their form now with 3 wins in their last 4 matches which got them out of a relegation spot and just 1 point behind on Mechelen. Mechelen has been an ok team at home in the 1st half while Kortrijk away in total only took 4 points in 1st half away matches. I liked the Kortrijk +0.75 line which was available until this morning before totally collapsing. At the current line I'm not willing to oppose Mechelen due to their home record. Both teams are rather high on shots on target in their latest matches especially Mechelen at home (putting numbers of 7 - 10 - 7 - 9 - 6 in their last 5 home games) Kortrijk (6-4-6-5 in their last 4 away games). So on paper it should be an entertaining match which at the same time migh be crushed by the stakes as they both are in the bottom with this being a 6-point match. The corner total line by now also adjusted to the high corners from Mechelen since Defour took over. Basically all the lines seem properly adjusted which forces me to skip this one for now.
No Pre-Game Bets
---
Union vs OH Leuven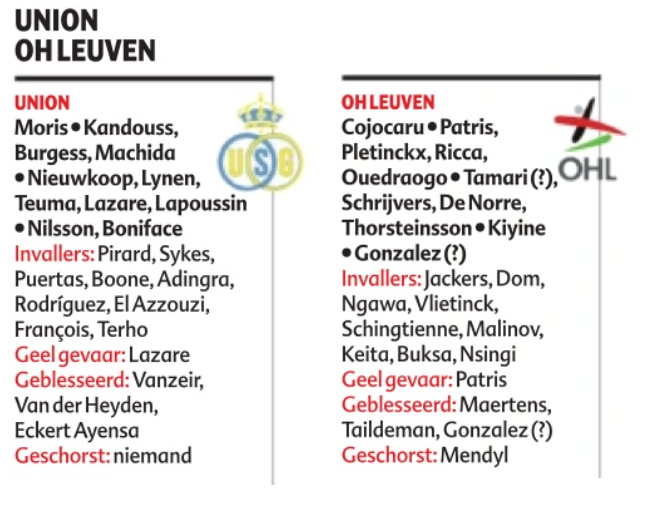 Union remains a solid team and they are strong in 2nd place rarely having real off days especially at home. They will be without Vanzeir but have enough quality for that not to be an issue. Strangely enough they have been an under team at home while having more goals on the road. OHL only managed to get a 1-1 draw at home agains Eupen in a match where they had quite some missings. Maertens will still be out wile Gonzalez and Tamari who are both important are questionable. Basically this is another match where I see the odds just as razor sharp and I'm not confortable to take anything without seeing more first.
No Pre-Game Bets
---
Late info might change my view on what is written in these previews. I will cover these matches live in our SBC Discord Channel. I'm also sharing all my early pre-game bets there at the time that I am betting them myself.
---

I take all my Pre-Game & Live bets with my Betting Broker Sportmarket Pro who always provides the best offers on the market with a 1 click solution and doesn't limit winning players offering high limits. For more info check my Sportmarket Pro Review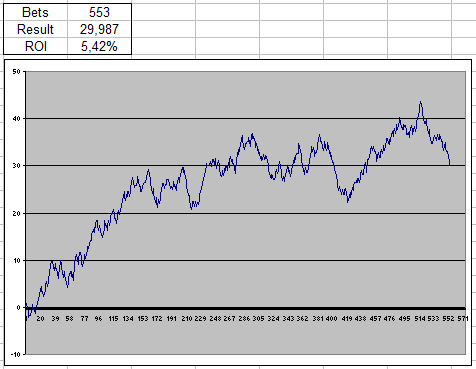 I share many of my pre-game bets in all my preview posts as bold selections which are all counted as 1-unit flat bets. See these just as info and not as actual betting advice. If you do follow, make sure to shop around for the best odds. So far this season, I had 131 of these bets good for +6.576 units profit or +5.02% ROI. This brings the total at 553 bets for +29.987 units and +5.42% ROI since the 2020-2021 Season (Last Update January 2023).
---
Season 2022-2023 Crypto Bets
| Date | Bet | Stake | Odds | Result | Bookie |
| --- | --- | --- | --- | --- | --- |
| 18/01/2023 | ZWA +1 | 2.010 | 5000 WGR | +5050 WGR | Wagerr.com |
| 14/01/2023 | GNK & BTS | 10000 XFUN | 2.380 | -10000 XFUN | Xfun.bet |
| 14/01/2023 | SER vs STA U2.5 | 0.002 BTC | 1.970 | +0.00194 BTC | Sportbet.one |
| 14/01/2023 | SER vs STA 1H U1 | 0.003 BTC | 1.962 | -0.003 BTC | Sportbet.one |
| 08/01/2023 | ZWA vs KVM O11 CK | 10000 XFUN | 2.200 | -10000 XFUN | Xfun.bet |
| 07/01/2023 | Westerlo TT O1 | 0.002 BTC | 1.720 | +0.000 BTC | Sportbet.one |
| 07/01/2023 | CER vs WES O2.5 | 0.001 BTC | 1.810 | -0.001 BTC | Sportbet.one |
| 07/01/2023 | CER vs WES O11 CK | 10000 XFUN | 2.470 | -10000 XFUN | Xfun.bet |
---
Those that want to follow without risk should be able to get a No-Deposit bonus at Sportbet.one where it's possible to just log in with your social media account without the need for any blockchain-related stuff. Check this post on the bonus.
---
1st season half Crypto Bet Results
Most of my bets were placed on Wink, Wagerr, & Sportbet. Based on the current BTC Price compared to the currencies that were used, I staked a total of 0.104985 BTC and I managed to make a profit of +0.02224 BTC good for +21.18% ROI
| Bookie | Bets | Staked | Profit | ROI |
| --- | --- | --- | --- | --- |
| wink.org | 14 | 9800 TRX | +3460 TRX | +35.3% ROI |
| Wagerr | 12 | 89000 WGR | +20550 WGR | +23,09% ROI |
| Sportbet.one | 11 | 0.036 BTC | +0.01425 BTC | +39.58% ROI |
| sx.bet | 1 | 60 USDC | -60 USDC | -100% ROI |
| Betfury.io | 1 | 100 USDT | -100 USDT | -100% ROI |
---
Crypto & Blockchain-Based Bookies and Exchanges that I'm personally using as they allow anonymous betting with no KYC or personal restrictions...
---
Previous Crypto Bet Results & Record
| Year | Bets | Won | Lost | Push | Staked | Profit BTC | ROI |
| --- | --- | --- | --- | --- | --- | --- | --- |
| 2022-2023 | 39 | 24 | 14 | 1 | 0.10498 | +0.02224 | +21.18% |
| 2021-2022 | 56 | 27 | 25 | 4 | 0.115 | +0.0166 | +14.45% |
| 2020-2021 | 4 | 1 | 2 | 1 | 0.0250 | -0.002845 | -11.38% |
| 2019-2020 | 1 | 1 | 0 | 0 | 0.0100 | +0.01271 | +127% |
| 2018-2019 | 59 | 24 | 27 | 5 | 0.5900 | -0.02199 | -3.7% |
| 2017-2018 | 136 | 65 | 64 | 7 | 1.233 | +0.112687 | +9.14% |
| 2016-2017 | 70 | 34 | 34 | 2 | 0.658 | +0.006912 | +1.05% |
| Total | 365 | 176 | 166 | 20 | 2.73598 | +0.146314 | +5.53% |
---
---