Jupiler League Week 24 Sunday Previews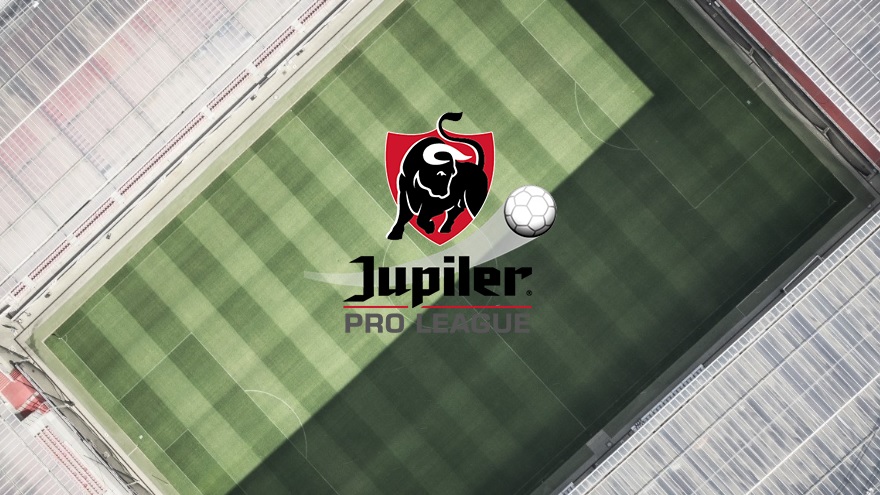 These are previews from matches involving Belgian Teams with all the latest on team news, player form, injuries along with my personal betting angles, ...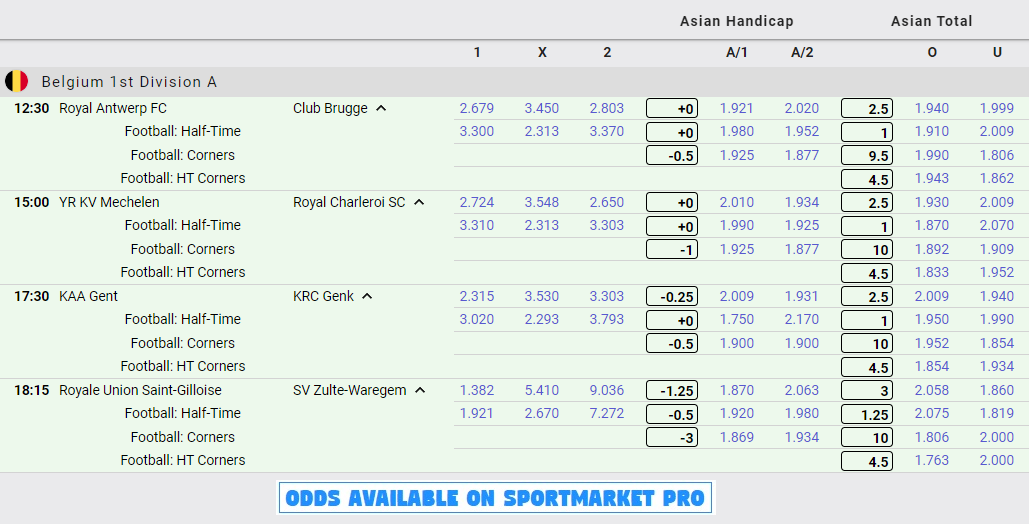 Another day where things didn't really go my way while I wasn't all too unhappy with the actual bets. Luckily there are more new chances with 4 matches on Sunday...
---
Antwerp vs Club Brugge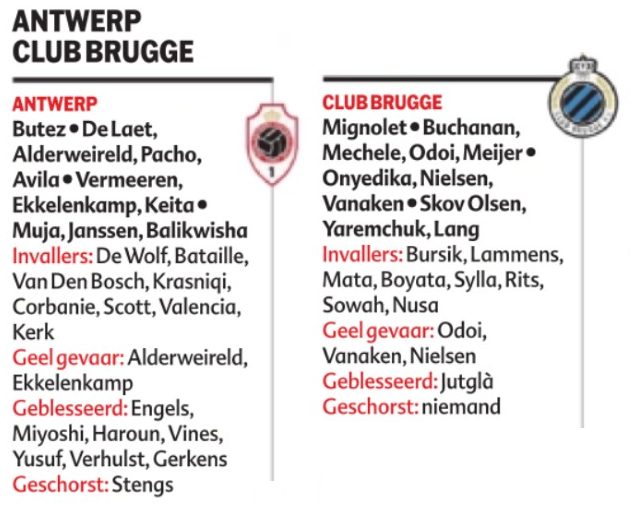 Antwerp had a mid-week match in the cup losing 1-0 against Union in a match where both teams were unwilling to take risks with a late goal for the home team. They still have quite some injured players and Stengs is suspended. Their general form however has been pretty good and they are 6 points clear of Club Brugge. If anything I'd say that if they could they would probably sign for a point in this match also given how they played in previous matches avoiding all risks. Club Brugge on the other hand is out of form and after 10 matches without a win they managed to break that streak with a narrow flattering 1-2 win against Zulte-Waregem. Jutgla is injured and scoring hasn't been easy for them as Yaremchuk keeps missing the biggest chances. Antwerp remains a solid home team with a 8W-2L-1P record against the asian handicap and I'm not looking to oppose them against Club Brugge who simply haven't shown their best form. I fear this one might turn out in another match with both teams aren't willing to take risks. I'm not quite willing to take a gamble on it though.
No Pre-Game Bets
---
Kv Mechelen vs Charleroi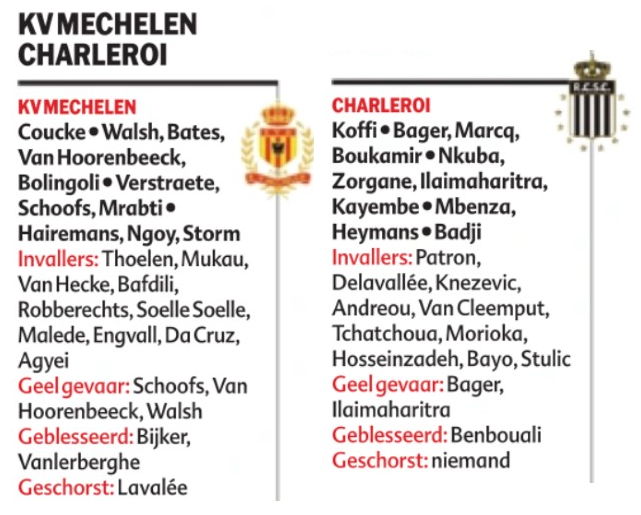 Mechelen played a mid-week cup match away winning 1-2 against Zulte-Waregem in a match that could have gone both ways. They remain a team that generally lacks some quality which mostly shows in away matches while the home support to a certain degree manages to make up for it. Storm also is picking up a better form which helps them. Right now they are a team that I'm looking to oppose away but don't really want to bet against at home. Charleroi after Mazzu became their coach managed to win 2 matches followed by 2 draws and last week his first loss. The draws however came against Brugge and Gent while the loss was against Union. From the looks of it, it's not the intention of Charleroi coach Mazzu to just break down the opponent and score 1 goal on the counter against non-top teams so I do expect a willingness to also go forward from them. Mechelen right now is not a team that I'm willing to back while at the same time getting a +0.25 line is just not enough to oppose them at home. Both teams do have most of their goals later in the match so I also have no need to get in pre-game on the over which I have a lean on. I do expect corners as Mechelen has been a high corner team under Defour and will look to get into that possibly early in the match. All that leaves me once again with
No Pre-Game Bets
---
AA Gent vs Racing Genk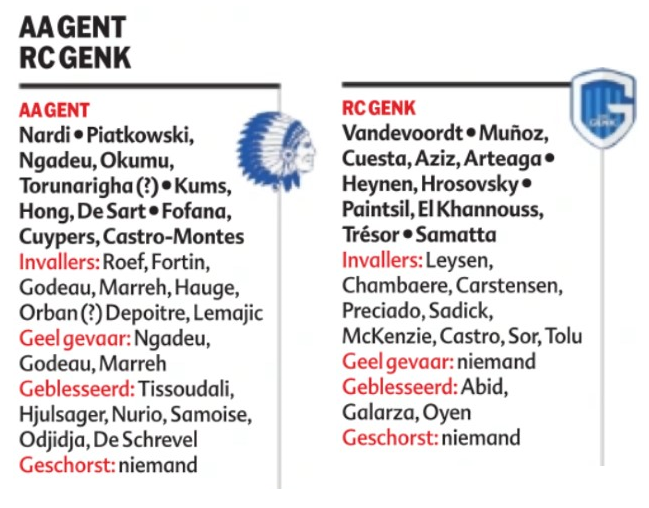 Genk played a mid-week match away against Eupen not getting further than a 1-1 draw having a rare off-day. Top striker Onuachu having left for sure was a factor as his replacement Samatta just hasn't found their old form yet. Overall they still have a great team though and plenty of offensive options. AA Gent lost last week deserved against Cercle and right now are quite far away to their best fore of last year. Their coach also tempered expectations during his press conference as Salah left the team while they still have a ton of important players injured. Samoise, Tissoudali, Odidja, Hjulsager, Nurio all are oit while Torunarigha is questionable leaving them with very few options on the bench also needing young players like Fofana to step up. I got in on Genk very early before Onuachu was transferred and before Genk disappointed against Eupen. I'm not sure that I would take it now as these events for sure had a big influence on their chance but I did take 0.4 units on
Genk +0 @ 2.068
and also 0.2 units on
Genk 1st Half +0 @ 2.03
. The price went up and I was willing to take 0.1 unit extra on
Genk +0.25 @ 1.928
while also taking a 10000 WGR Crypto bet on
Genk +0.25 @ 1.880
over at
Wagerr.com
.
---
Union vs Zulte-Waregem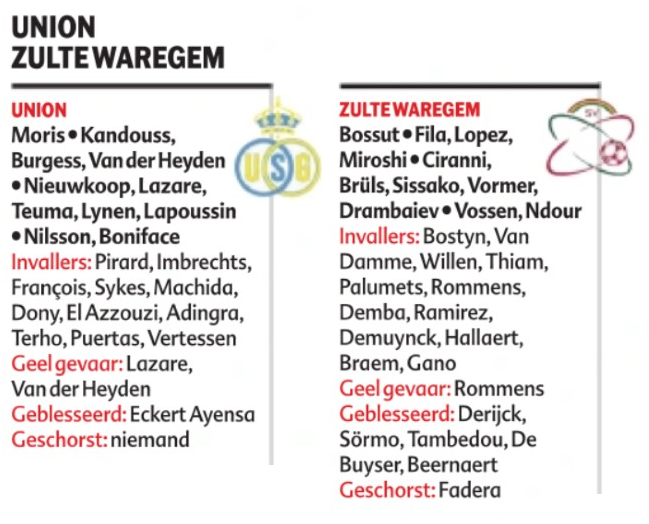 Union played a cautious but good match in the cup and managed to get a great 1-0 result with an eye to quality in the reverse match. They also managed to win away against Charleroi not pushing after taking the lead. In their last home league match they weren't that impressive taking a 1-goal win. They continue to generally put up good performances but at the same time also give off some vibes that the many matches mostly with the same A-Squad while a player like Vanzeir left will have an impact at some point. Zulte-Waregem has been in somewhat of a revival at least when it comes down to their performance but at the same time they continue to have a hard time to actually get results . One of their best offensive players Fadera is also suspended. They are a team that I'm willing to back at a soft line against mind and low-ranked teams but not so much against Union. I'm keeping the betting action for in-game so
No Pre-Game Bets
---
Late info might change my view on what is written in these previews. I will cover these matches live in our SBC Discord Channel. I'm also sharing all my early pre-game bets there at the time that I am betting them myself.
---

I take all my Pre-Game & Live bets with my Betting Broker Sportmarket Pro who always provides the best offers on the market with a 1 click solution and doesn't limit winning players offering high limits. For more info check my Sportmarket Pro Review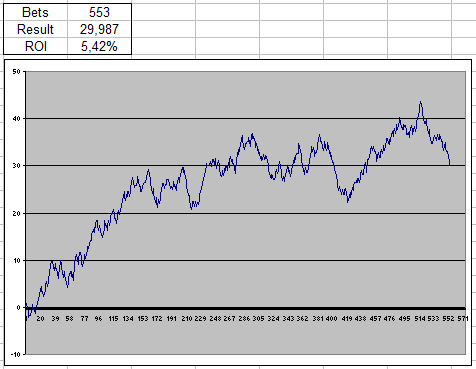 I share many of my pre-game bets in all my preview posts as bold selections which are all counted as 1-unit flat bets. See these just as info and not as actual betting advice. If you do follow, make sure to shop around for the best odds. So far this season, I had 131 of these bets good for +6.576 units profit or +5.02% ROI. This brings the total at 553 bets for +29.987 units and +5.42% ROI since the 2020-2021 Season (Last Update January 2023).
---
Season 2022-2023 Crypto Bets
| Date | Bet | Stake | Odds | Result | Bookie |
| --- | --- | --- | --- | --- | --- |
| 05/02/2023 | Genk +0.25 | 10000 WGR | 1.880 | TBD | Wagerr |
| 01/02/2023 | Genk TT O 1.5 | 0.0027 BTC | 1.630 | -0.0027 BTC | Sportbet.one |
| 01/02/2023 | Genk 1H -0.5 | 10000 XFUN | 2.200 | -10000 XFUN | Xfun.bet |
| 01/02/2023 | Genk 1H -0.5 | 0.0023 BTC | 2.160 | -0.0023 BTC | Sportbet.one |
| 29/01/2023 | Genk 1H -1 | 0.0012 BTC | 2.680 | +0.002016 BTC | Sportbet.one |
| 28/01/2023 | WES vs KVM O 13.5 CK | 5000 XFUN | 4.400 | +17000 XFUN | Xfun.bet |
| 27/01/2023 | STA vs EUP O13.5 CK | 5000 XFUN | 4.600 | -5000 XFUN | Xfun.bet |
| 18/01/2023 | ZWA +1 | 2.010 | 5000 WGR | +5050 WGR | Wagerr.com |
| 14/01/2023 | GNK & BTS | 10000 XFUN | 2.380 | -10000 XFUN | Xfun.bet |
| 14/01/2023 | SER vs STA U2.5 | 0.002 BTC | 1.970 | +0.00194 BTC | Sportbet.one |
| 14/01/2023 | SER vs STA 1H U1 | 0.003 BTC | 1.962 | -0.003 BTC | Sportbet.one |
| 08/01/2023 | ZWA vs KVM O11 CK | 10000 XFUN | 2.200 | -10000 XFUN | Xfun.bet |
| 07/01/2023 | Westerlo TT O1 | 0.002 BTC | 1.720 | +0.000 BTC | Sportbet.one |
| 07/01/2023 | CER vs WES O2.5 | 0.001 BTC | 1.810 | -0.001 BTC | Sportbet.one |
| 07/01/2023 | CER vs WES O11 CK | 10000 XFUN | 2.470 | -10000 XFUN | Xfun.bet |
---
Those that want to follow without risk should be able to get a No-Deposit bonus at Sportbet.one where it's possible to just log in with your social media account without the need for any blockchain-related stuff. Check this post on the bonus.
---
1st season half Crypto Bet Results
Most of my bets were placed on Wink, Wagerr, & Sportbet. Based on the current BTC Price compared to the currencies that were used, I staked a total of 0.104985 BTC and I managed to make a profit of +0.02224 BTC good for +21.18% ROI
| Bookie | Bets | Staked | Profit | ROI |
| --- | --- | --- | --- | --- |
| wink.org | 14 | 9800 TRX | +3460 TRX | +35.3% ROI |
| Wagerr | 12 | 89000 WGR | +20550 WGR | +23,09% ROI |
| Sportbet.one | 11 | 0.036 BTC | +0.01425 BTC | +39.58% ROI |
| sx.bet | 1 | 60 USDC | -60 USDC | -100% ROI |
| Betfury.io | 1 | 100 USDT | -100 USDT | -100% ROI |
---
Crypto & Blockchain-Based Bookies and Exchanges that I'm personally using as they allow anonymous betting with no KYC or personal restrictions...
---
Previous Crypto Bet Results & Record
| Year | Bets | Won | Lost | Push | Staked | Profit BTC | ROI |
| --- | --- | --- | --- | --- | --- | --- | --- |
| 2022-2023 | 39 | 24 | 14 | 1 | 0.10498 | +0.02224 | +21.18% |
| 2021-2022 | 56 | 27 | 25 | 4 | 0.115 | +0.0166 | +14.45% |
| 2020-2021 | 4 | 1 | 2 | 1 | 0.0250 | -0.002845 | -11.38% |
| 2019-2020 | 1 | 1 | 0 | 0 | 0.0100 | +0.01271 | +127% |
| 2018-2019 | 59 | 24 | 27 | 5 | 0.5900 | -0.02199 | -3.7% |
| 2017-2018 | 136 | 65 | 64 | 7 | 1.233 | +0.112687 | +9.14% |
| 2016-2017 | 70 | 34 | 34 | 2 | 0.658 | +0.006912 | +1.05% |
| Total | 365 | 176 | 166 | 20 | 2.73598 | +0.146314 | +5.53% |
---
---