World Cup 2022 | Day 6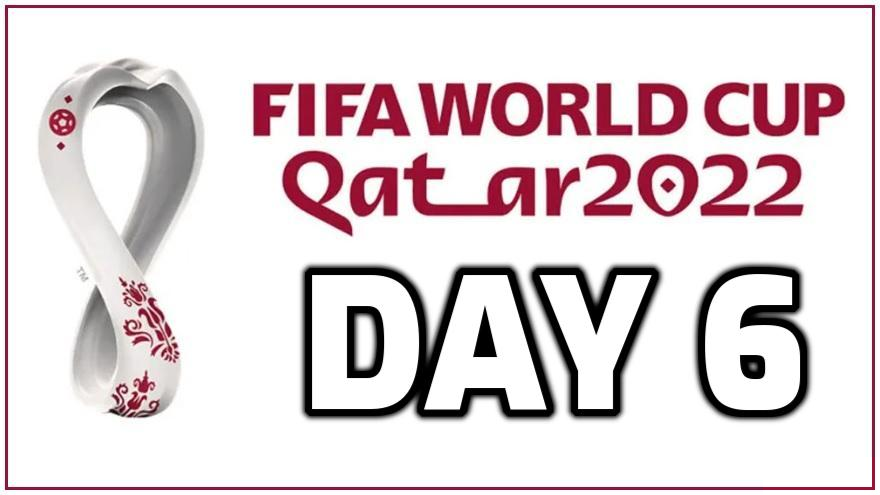 Similar to the Belgian League and the previous European Championship, I am covering the World Cup with Previews and bets to increase my personal discipline.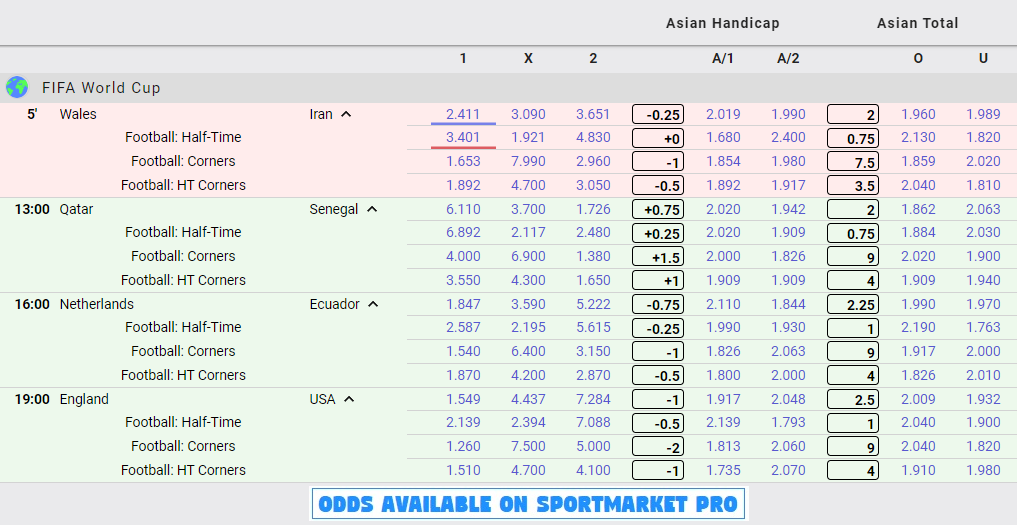 I went back to cautiously taking some bets on Thursday but it's still hard to find bets with conviction and pretty much everything still feels like flipping coins. This was the case for the 3 bets I had which all could have won or all could have lost resulting in a 1W-2L
I'm still not fully into the tournament and probably never will get into it keeping both the number of bets and the stakes low. These 2nd round matches of the group stage should be more interesting and more info is available now also on the team which works both ways as books along with bettors are better in making estimations.
Results Day 5
0.10 Unit Live Uruguay -0.25 Ck @ 2.20 (3-3) --> WON +0.10 unit
0.10 Unit Live Portugal 1H -0.5 @ 2.103 (0-0) --> LOST -0.10 unit
0.10 Unit Pre Brazil vs Serbia Over 2.75 @ 1.994 --> LOST -0.10 unit
The match between Wales and Iran already started so I'll be skipping that one in this post.
---

Qatar vs Senegal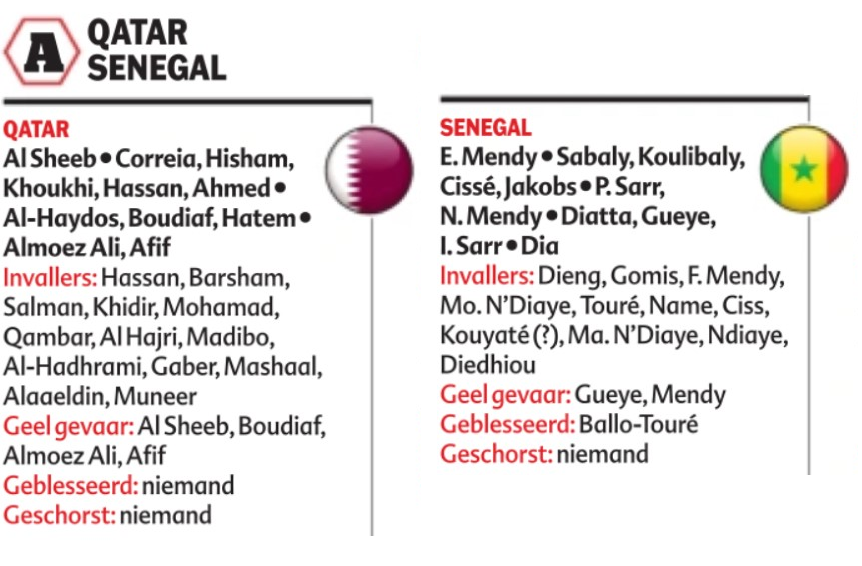 Senegal is a team expected to go to the next round while Qatar showed that their level of play just is not up to the world cup standard. During their first match, the odds against Qatar crumbled because of this and I managed to take 40 USDT on Senegal -0.5 @ 2.00 as a crypto bet on
Betfury.io
with the odds now sitting at 1.730. Senegal looked ok against Holland despite the loss and this is a must-win match for them. Most likely, Qatar will be better compared to their match against Ecuador. I assume everyone will look to oppose Qatar which makes it tricky.
---
Netherlands vs Equador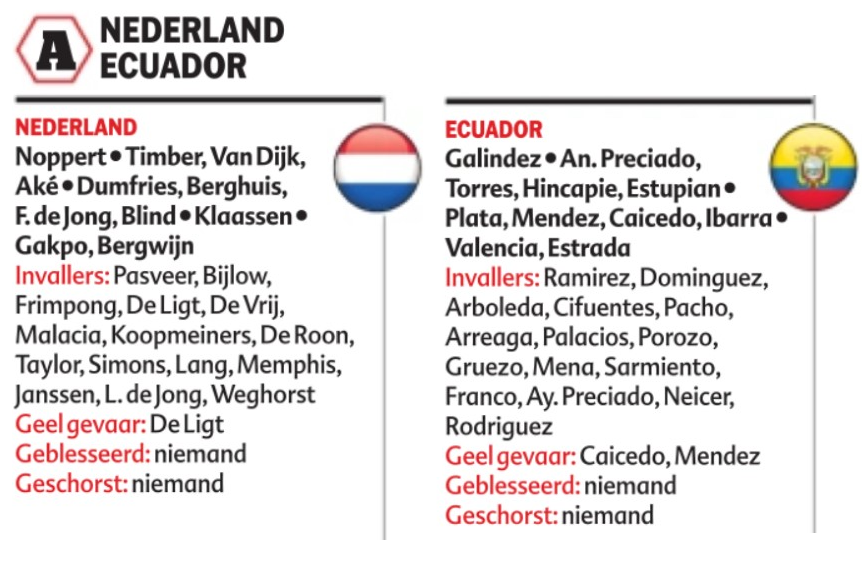 Netherlands was not that dominant against Senegal but still managed to win with a 2-0 score. They will have Depay back. Both teams have 3 points meaning that a draw will keep their faith in their own hands. The Netherlands will be the team with the most drive to go forward most likely and it wouldn't be a surprise for Equador to park the bus. If that shows to be the case, I might take Netherlands on the 1H corners handicap.
---

England vs USA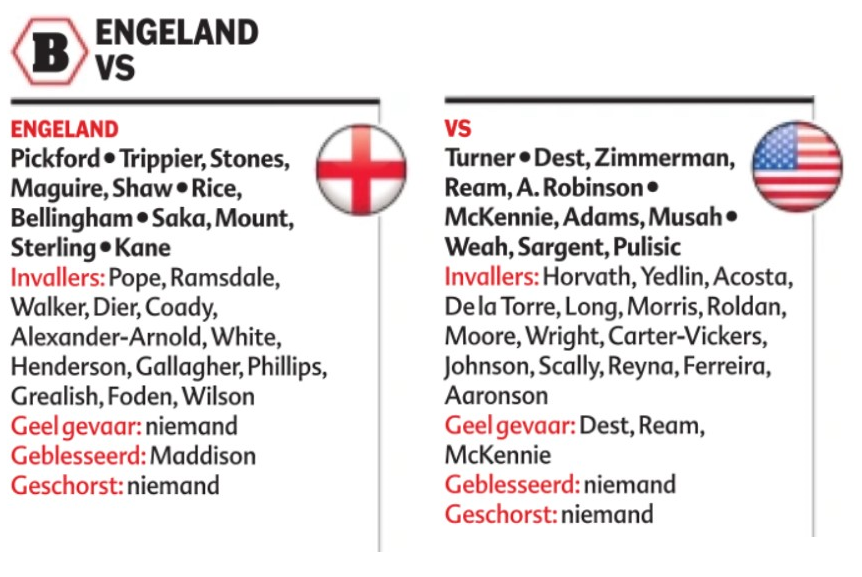 England played a good match winning with a massive 6-2 score against Iran who are now looking quite good against Wales. USA played with lots of intensity against Wales and it will be interesting to see what they can do against a better team. The ref for this match has given on average 6.5 cards a match and it should be a game with somewhat of a derby feel to it and USA bringing lot of intensity. I'm liking the Over 3.5 Cards @ 1.960 over at
betfury.io
but it looks like either that bet is limited or my account is limited as I can only bet 1.6$ on it.
---
Late info might change my view on what is written in these previews. I will cover these matches live in our SBC Discord Channel. I'm also sharing all my early pre-game bets there at the time that I am betting them myself.
---

I take all my Pre-Game & Live bets with my Betting Broker Sportmarket Pro who always provides the best offers on the market with a 1 click solution and doesn't limit winning players offering high limits. For more info check my Sportmarket Pro Review
---
World Cup 2022 Betting Results
Day 05 | 01W-02L-00P | 0.30 Units Staked | -0.100 Units Loss
Day 04 | 00W-00L-00P | 0.00 Units Staked | +0.000 Units Won
Day 03 | 02W-06L-00P | 0.60 Units Staked | -0.365 Units Loss
Day 02 | 03W-08L-01P | 1.05 Units Staked | -0.446 Units Loss
Day 01 | 00W-01L-00P | 0.05 Units Staked | -0.050 Units Loss
 Total 06W-17L-01P | 2.00 Units staked | -0.961 Units Loss | -48% ROI

World Cup 2022 Crypto Bets
| Date | Bet | Stake | Odds | Result | Bookie |
| --- | --- | --- | --- | --- | --- |
| 25/11/2022 | Senegal -0.5 | 40 USDT | 2.000 | TBD | Betfury.io |
| 23/11/2022 | BEL vs CAN BTS | 6000 XFUN | 2.211 | -6000 XFUN | XFun.bet |
| 20/11/2022 | Cameroon 0 Points | 10 USDT | 4.000 | TBD | Betfury.io |
| 20/11/2022 | Cameroon last Group | 20 USDT | 1.560 | TBD | Betfury.io |
---
Crypto & Blockchain-Based Bookies and Exchanges that I'm personally using as they allow anonymous betting with no KYC or personal restrictions...
---
IMPORTANT !
Past results don't guarantee Future Results. There are very few people that are equipped financially and psychologically to handle the ups and downs of gambling on a daily basis. If you're not a professional, every instinct you have will attempt and probably will sabotage your success. Human nature runs completely contrary to being successful at gambling. These bets are posted as a way to help myself in order to stay disciplined, always hold yourself accountable if you end up following. Proper Bankroll Management can highly decrease the risk of heavy losses!

Posted using SportsTalkSocial
---
---