Goblin Shaman The Hip Hypnotist INCLUDING Battle Guide, Giveaway, and More!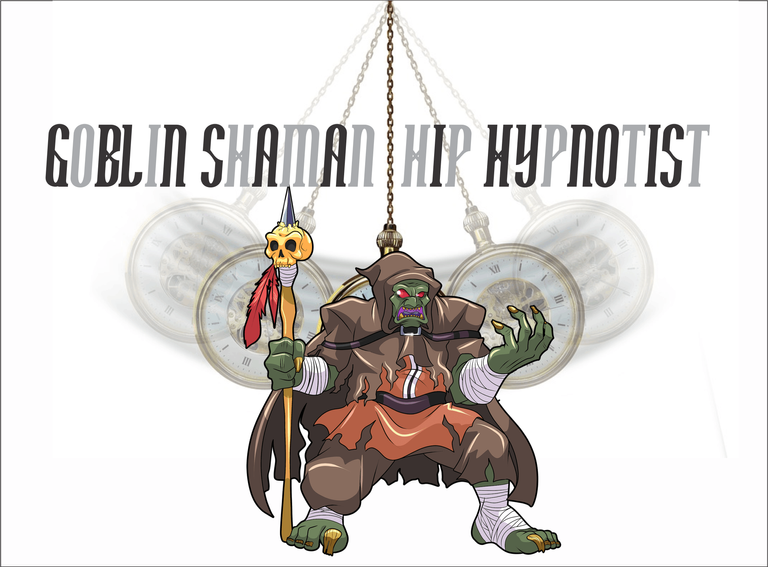 Card Impressions
If you aren't playing Splinterland yet click here to sign up and get a FREE card and #Play2Earn now.
Greetings battlemages, this week we will be looking at Goblin Shaman. His powerful curses and spells reduce all of his enemies max hp by 1, and with cost 3 and 4 hp he is quite good as a spacer and debuffer at lvl 1. This card acquires 1 magic attack at lvl 3 and debuffs the speed of all creatures from lvl 5 onward. Goblin Shaman doesn't lose it's edge at later lvls. Not the fastest or deadliest card on it's own, but when used with the right lineup it can truly change the outcome of the match. Additionally, this card is available in all of our Spellbooks (as of writing this post) and many of you have already used or encountered this sinister goblin sorcerer.
Strategy and Placement
The issue with goblin shamans strong debuff is that if he perishes, all your enemies regain that 1 max hp that they lost. So you don't want him to die before his debuff has at least improved the battle. If he dies before any enemies he acts just as a spacer and the -1 maximum hp debuff doesn't effect the enemy. So to garner maximum effectiveness you want him to have some protection on either side.
In my battle located here I placed him in position 4. Meaning he has 2 units stopping sneak damage from reaching him from the back (naga wizard's armor plating acts as an excellent buffer for the melee damage that is commonly associated with the sneak ability), and 3 units ahead of him in front.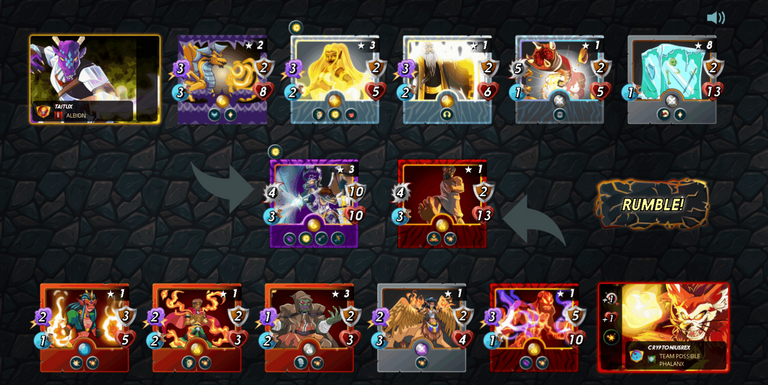 Magnor absorbed the majority of damage and dies rather quickly in round 1. He valiantly absorbed an entire volley of 21 damage before the cold embrace of the grave and gave the remaining backline enough time to deal considerable damage.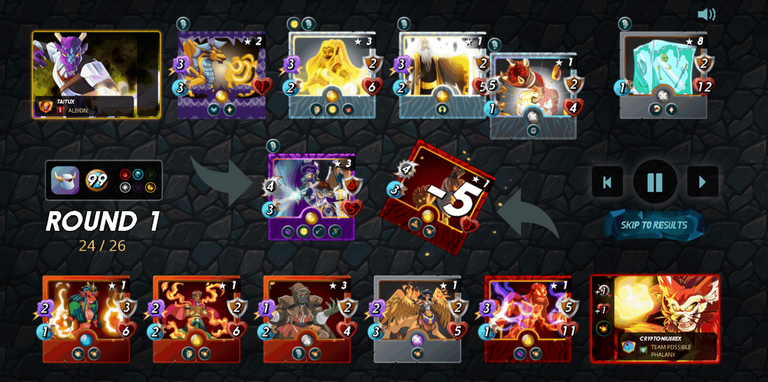 Thanks to blast damage the enemy's second position tank (Gold Dragon) is destroyed, revived, and destroyed AGAIN. After this the enemy begins to topple like dominos to the remaining blast damage from the backline. Despite the majority of my units surviving this was a fight much much closer than it appears.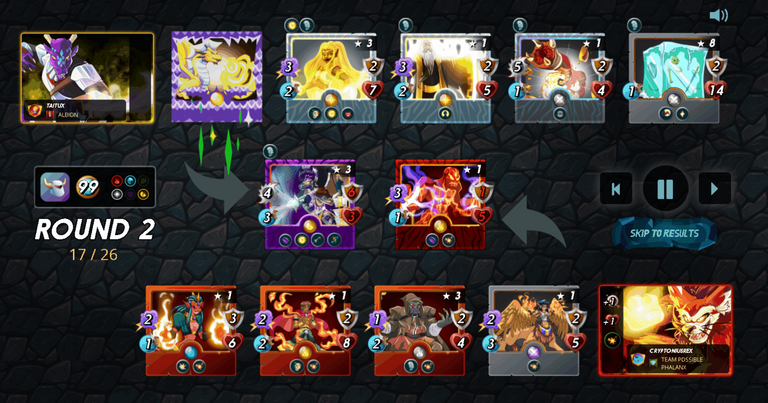 My lineup was composed of magical creatures and this gave me an edge in the armored up ruleset (my opponent did the same and expected the same) and Caladuum having void let him survive the arcane barrage unleashed by my opponent. Likewise Magnor nullified a great deal of damage allowing my squishier backline some time to barrage the enemy. Despite not having the highest DPS available this lineup destroys the enemy AND the infamous gelatinous cube.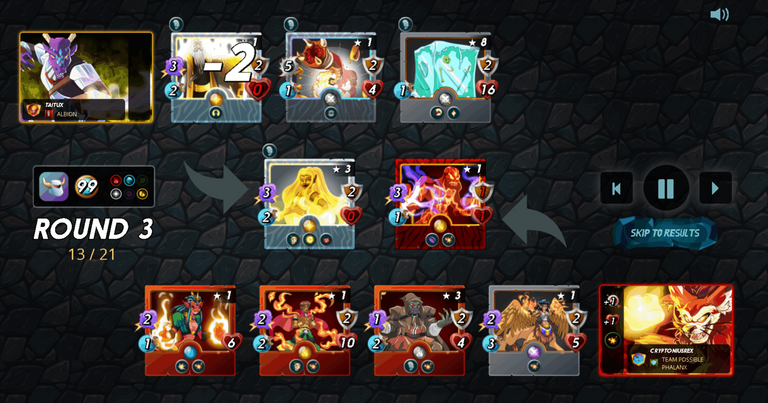 If I had high damage ranged cards with pierce and high damage (like the stronger Yodin lineups in diamond and champion level play) the enemy would have melted much quicker and the duel would've been much shorter. In this instance the enemy's 1rst and 2nd position tank ALMOST were able to vanquish my 1rst and second position. This would've lead to a loss due to being blasted to death with magic damage one by one or dying to fatigue with gelatinous cube at the end from not dealing enough damage per turn to combat it's gargantuan healing in the late game. However, luckily this was not the case.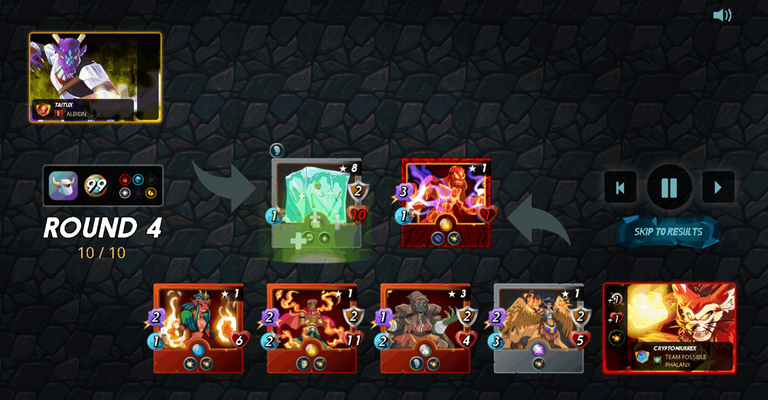 It should also be noted that goblin shaman's debuff reducing max hp can also reduce tank healing abilities (ie cube and gold dragon in this match).
Talking Tidbits
In the lore, goblin shamans of the burning lands are powerful hypnotists and spell casters rendering enemies paralyzed under their gaze. The debuffs that the goblin shaman has are likely to reflect this lore. Overall goblin shaman is a good card (even at lvl 1) and should be considered for any low or high mana fire lineup.
Hip Hypnotist Giveaway and Last Weeks Winners
Congragulations @quasarborn you won the elven cutthroat delegation from last week's giveaway for 15 days. Enjoy your deadly delegation!

To enter this weeks giveaway for a chance to win the delegation of a gold foil giant squid for 15 days you merely have to like this post AND comment anything (anything at all). Don't forget to hit that follow button to encounter more giveaways tournaments and other Splinterlands related content!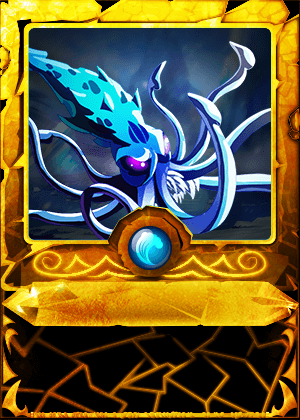 Keep Summoning and See You in the #Splinterlands
---
---