A Better Playoff Picture
         So, the Phillies lost the World Series to the cheating Astros. It's all right. It's not like I haven't seen the Phillies win one before. Their making this far as an underdog this year was more than impressive.
         Since the regular season of college football is winding down, the Playoff rankings are out. Here's what it looks like on ESPN: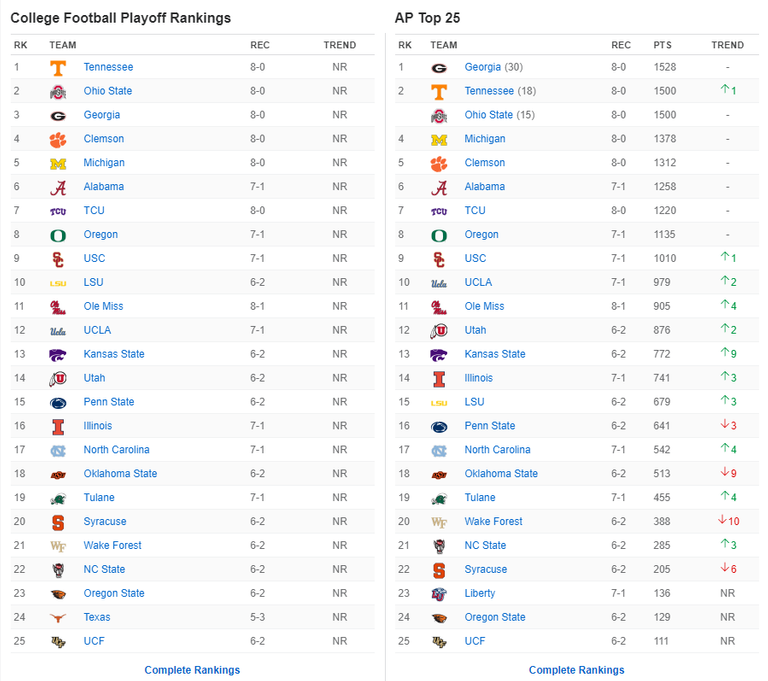 There are a few differences between the Playoff and AP rankings. I do want to point out that Liberty beat Arkansas this weekend. That team is better than they look.
         There were many outstanding games this weekend, so the rankings you see here will change tonight or tomorrow. Here are some of my favorites: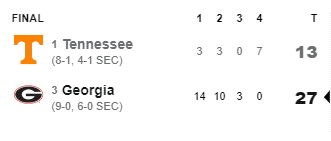 I expected Georgia to triumph over Tennessee. It was more interesting that the Volunteers were at the #1 spot. A cynical me says resume padding. Regardless, this solidifies the Bulldog's dominance over their side of the SEC.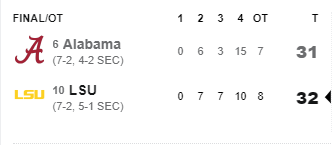 Put the Alabama and LSU game in context, and the resume padding scheme seems more plausible. Too bad for the Crimson Tides when the Tigers pulled a daring two-point conversation in overtime to put them through the match. If LSU wins the rest of the season, they will be the ones in the SEC championship. The worst-case scenario is having Alabama win the conference championship and muck up the Playoff.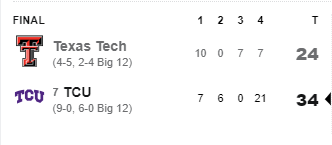 In other news, TCU has done a spectacular job taking down opposition in the Big 12. I hope to see them playing in the Playoff later. Here's hoping that they can beat Texas next week!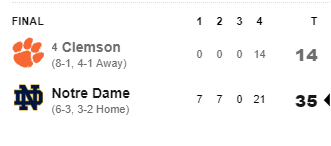 On the contrary, Clemson doesn't seem like a powerhouse team. Given the biases, however, it's more than likely the ACC champion will be considered over the Pac-12 champion. That is if Oregon or USC isn't the champion there. I can almost guarantee the committee will snob Utah if the Utes take the Pac-12 crown.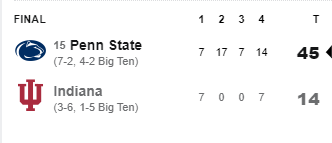 All the politics and schadenfreude aside, my teams won this weekend. Penn State might be able to win out the season and hopefully land on a decent bowl game. There will be no Big Ten championship, much less a national one until they can overcome Ohio State and Michigan for years to come.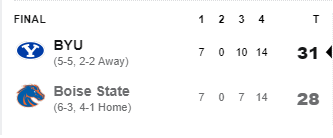 Here come BYU winning games they have no business winning. I have to give them credit for winning against the Broncos at the smurf turf though. The four-game losing streak sunk most people's hopes of a bowl game this season. Lucky for the Cougars, they are facing Utah Tech next week. If they can't beat them at home, they should give up on football. As it turns out, BYU is going for my worst-case scenario of ending the season with a 7-6 or 6-7 record.
         Stay tuned for more madness in the next two weeks.
Posted using SportsTalkSocial
---
---