A Weekend of Upsets
         College football went well for me this past weekend. Both BYU and Penn State won their games. For the Cougars, it was a massive victory. Here's what the AP Top 25 looks like on ESPN after week 2: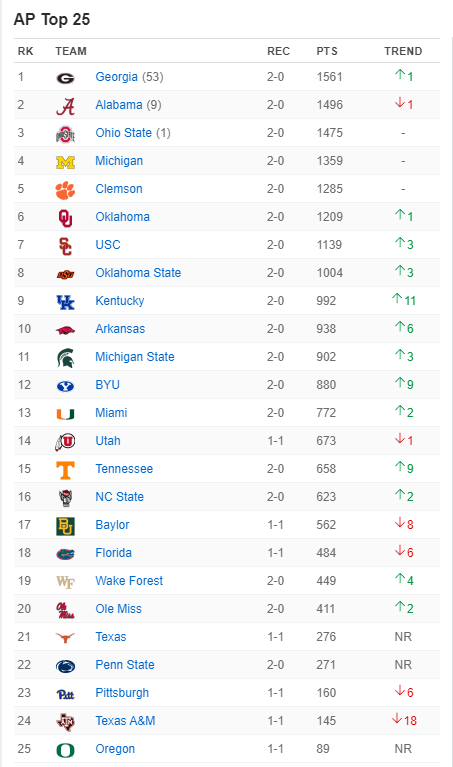 After defeating Baylor, BYU jumped from #21 to #12. Cougars defeated the Bears in double overtime 26-20. The game was as close as the score indicates. BYU missed two field goals that could have ended the game in regulation. Home-field advantage helped the Cougars to squeeze by.
         Penn State somehow ended up on the ranking list despite not beating anyone significant. It's probably to pad the resume of other Big Ten teams later. Notre Dame and Texas A&M proved that they were overrated. Houston also lost to Texas Tech, adding to the weekend upsets.
         I'm glad Georgia is placed ahead of Alabama after Tide's suboptimal performance against Texas. It's funny that Texas is now in the Top 25 for losing a game.

         The Cougars will be facing Oregon this week in an away game. I don't think the Ducks are Playoff contenders this year after Georgia gave them that beating. However, they are still a Pac-12 opponent with home-field advantage.
         After the upsets last weekend, Notre Dame looks quite beatable, even at a neutral location. I think Arkansas will be the biggest game BYU will play against in Provo this year. Some of my more optimistic friends think the altitude could be a disadvantage for the Razorbacks, but we shall see. Everyone else looks beatable, but Boise State's smurf turf could be a trap game like it always has throughout history.

         I'll gauge the Nittany Lions' potential after their game against Auburn. I don't see them standing a chance against Ohio State and two of the three Michigan schools. Who knows? They might surprise me. I think having a winning postseason is the more realistic first step since the pandemic.
---
         The season is only getting started. Lots of football ahead!
Posted using SportsTalkSocial
---
---