College Football heats up!

         It's almost halfway through the season. Things are getting heated! Looking through ESPN, you see upsets and posers exposed as a result. With that said, this week ended well for my teams.


         BYU will face off with Notre Dame in Nevada next week. After Baylor lost their second game of the season this week, I worry about the Cougars' chances against the Fighting Irish. Then again, I may be pleasantly surprised.
         Penn State will face Michigan next. I hope the Nittany Lions trounce them since the Wolverines haven't played anyone significant this year. I don't see Penn State as a Playoff contender, so I don't see Michigan as one either.
Other highlights

         For a moment, I thought I was looking at basketball.

         So, UCLA may be a contender for the Pac-12 besides USC.

         Most of us forgot about TCU. I know I did. Maybe this is the year they will shine in the Big 12? I mean, Oklahoma and Texas are already out of the equation.
The Top 25 now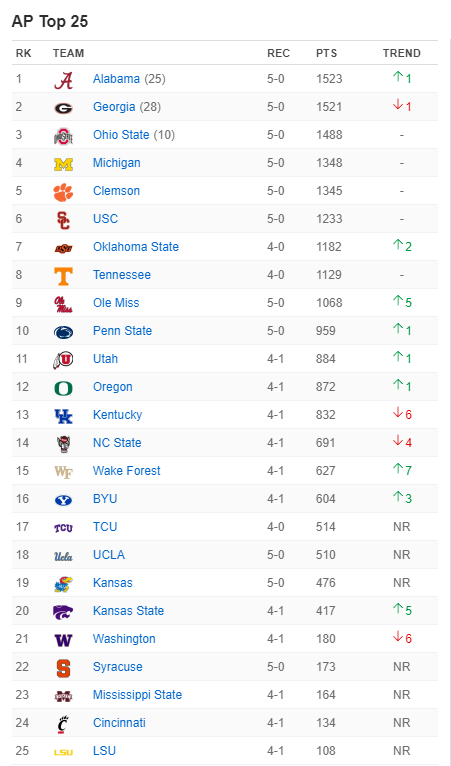 As you can see, there's quite a bit of shakeup in the Top 25. I'm not surprised Alabama got bumped into first again. Georgia struggled against Missouri. I will be annoyed if two SEC teams make it to the Playoff again.
Posted using SportsTalkSocial
---
---