Last Season as Independent
         It's that time again! We are back for another season of college football. To reiterate, I'm a BYU and Penn State fan. Unfortunately, both teams did not live up to their potential last season; Penn State more so than BYU. BYU did well until they bombed their post-season. Penn State fell apart after midseason against Iowa.
         Anyways, let's take a look at the AP Top 25 preseason: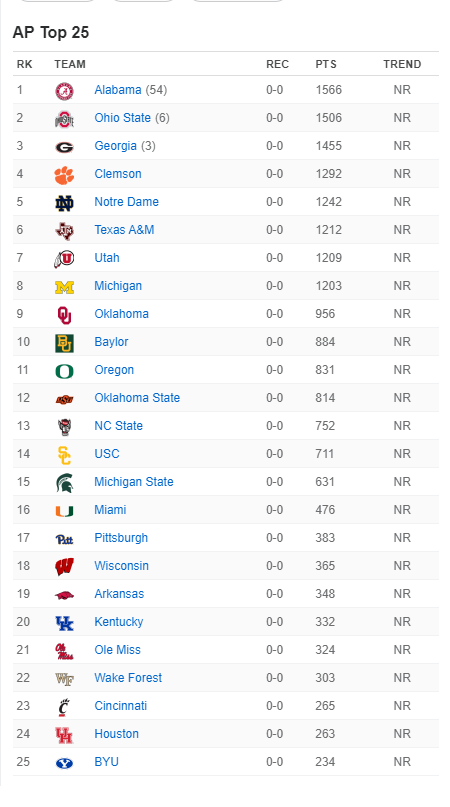 As usual, they put Alabama at the top of the list. I hope another team can take the crown this year. Preseason rankings usually have little meaning since we don't know how things will play out. For example, Utah and Ohio State were rather lackluster last season, but they did win their respective conferences.

         I'll only look at the BYU schedule this time around. It's their last season as an independent team before joining the Big 12 next year. Penn State's schedule isn't anything special this year. I'll be glad if the Nittany Lions have a winning post-season.
         The Cougars signed up for more tough opponents this year. Facing Baylor and Notre Dame at home won't be an advantage against these stellar teams. I'm not even confident that BYU can beat Arkansas at home. We often chuckle at the Razorbacks' performance in the SEC, but they play against top-tier opponents.
         On the away side, it feels more like tossups. The Pac-12 hasn't been dominant in football in a long time, so I'm unsure how to gauge them. Stanford has been inconsistent in recent years. Oregon can be good, sometimes. However, they are no pushovers. Boise State could well embarrass BYU at the smurf turf this year.
         If I were a cynic (I probably am), this could easily be a 6-6 regular season with a 7-6 or 6-7 finish. Even if I were optimistic, I see a 9-3 regular season. I predict the three losses will be against Baylor, Notre Dame, and Arkansas. Will BYU surprise people? We shall see.
         What's important is that their recruitment should drastically improve once they are in the Big 12. I know of young LDS athletes that would have gone to BYU but opted for other P5 schools for career prospects. As a Big 12 member, an athlete can play in a P5 school and pay much cheaper tuition for education could be a competitive alternative.
         It's not only football. I can't wait when Kansas comes to kick the Cougars' trash in basketball when the time comes. It'll bring a lot of life into the Marriot Center. I hope the traffic will be worth it.
Posted using SportsTalkSocial
---
---