Season's End
         With Georgia's triumph over Alabama, it concluded the college football season. The AP came out with their final ranking for the year. I'm sure the Playoff Committee will post theirs later, but the difference will be minute.
         Here's the final ranking as posted on ESPN: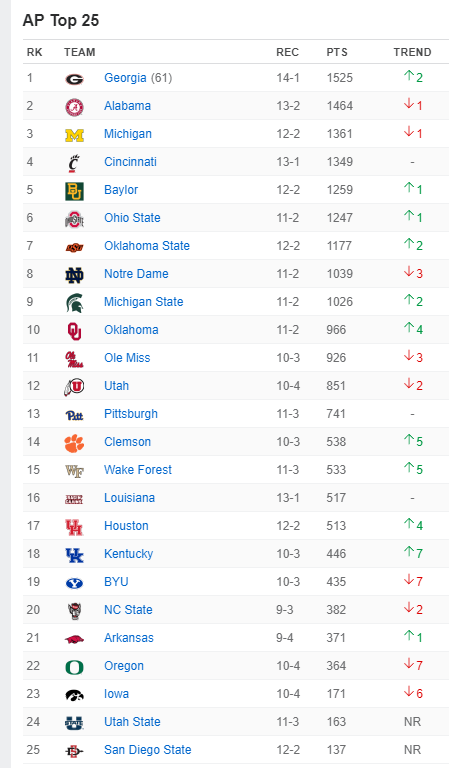 The Good
         I am glad Georgia won the national championship. It was as projected. Although the blunder during the SEC championship annoyed me to no end. It felt like a ploy to put 2 SEC teams into the Playoffs.
         BYU finished ranked despite having two terrible losses. One against Boise State and the other against UAB. Some say it's an incredible season for Utah schools as you can see U of U and Utah State ranked as well. The best part about this year was BYU going to the Big 12 in 2023. This will change recruiting and prestige going forward. BYU snapping the losing streak against Utah is also a nice outcome. It's too bad being in a P5 conference is more advantageous still as the Rose Bowl has proven.
         All the future Big 12 teams did very well this season. This does ease my mind knowing BYU isn't hopping into a dying conference. Even the basketball scene will be lit as the conference will gain a top 15, by size, basketball arena in the nation. Can't say the traffic in Utah will improve with more potential visitors.
The Bad
         Penn State was awful this year. The game against Iowa exposed them as an unimpressive team. Everything was downhill from that point on. I hope that changes next season.
         BYU losing the bowl game to UAB was second only to their Boise State loss. UAB isn't even the best team in Conference USA. Fans blamed injuries, etc., but which team doesn't have injuries? This goes to show the Cougars lack depth.
         Playoff expansion talk stalled again. That's not a surprise as business deals and historical relationships are complex. You can find articles like THIS on Sports Illustrated that discuss more in depth about the politics that go on. To be frank, SEC doesn't need it. They've done very well the past 20 years. Although, the arrogance is showing. It doesn't help that Texas and Oklahoma are moving into that conference as well.
---
         Well, that concludes football season for me. I don't care about the NFL for the most part. I may still catch bits of the commercials, but that's about it. It's time to watch a bit more basketball.
         Until this fall, stay put.
---
---