Stumbling into Week 8
         Last week was a disaster for both of my college football teams. Penn State and BYU received beatdowns from their opponents.

         Up until this point, Michigan has never played any team of significance. Their absurdly high ranking felt undeserved. Beating the Nittany Lions showed that there might be more to the Wolverines. Or, Penn State is horrible, and their rank is there to pad the other team's resume.
         Looking at the rest of the schedule, I don't see Penn State win against Ohio State. However, they are more than likely to win out the rest of the season. I'm hoping for an 11-2 or 10-3 season. No Big Ten championship for the Nittany Lions this year again.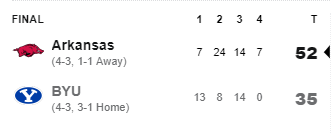 As expected, Arkansas outclassed BYU in every way. Some optimistic fans thought the altitude would be a factor against the Razorbacks. They couldn't be more wrong. I have said it before, Arkansas is a good team. They only look bad because they play in the SEC with the toughest teams in the country.
         Like Penn State, the rest of the season should be a breeze, minus a game or two here and there. I'm somewhat concerned about the games against Boise State and Stanford. My original prediction for BYU this season was 10-3. I wouldn't be surprised if the Cougars end the season with 8-5 or 9-4.
         Despite the disappointment, I was pleased by Tennessee's upset against Alabama. It's too bad Georgia is on the same side of the SEC as Tennessee. The only way to bump Alabama from the SEC championship is if Ole Miss pulls an upset against the Crimson Tide.
         Let's check out the AP Top 25 on ESPN.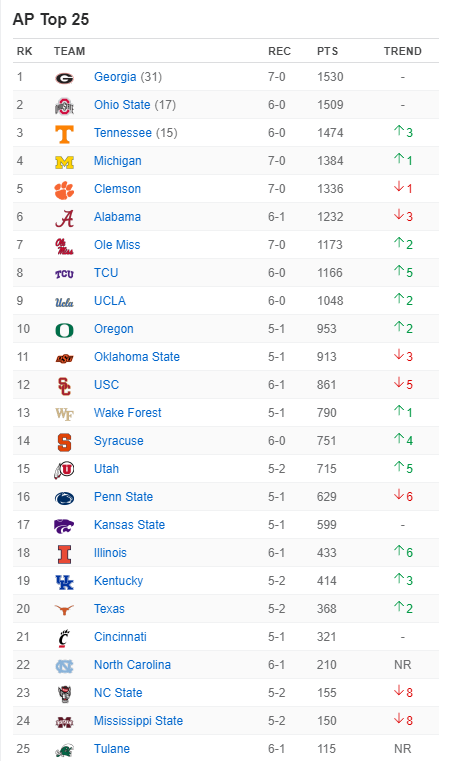 We are halfway through the season! Here are the undefeated teams in the P5 conferences after week 7 of college football:
         SEC: Georgia, Tennessee, Ole Miss
         Big Ten: Ohio State, Michigan
         ACC: Clemson, Syracuse
         Big 12: TCU
         Pac-12: UCLA
         Don't blink, more upsets are on the way!
Posted using SportsTalkSocial
---
---