Super Bowl Wrap Up
         For those of you who watched the Super Bowl this weekend, I hope you enjoyed the game! I didn't watch the opening or the halftime shows. I was never a fan of those.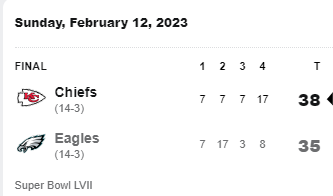 This game ended as anticipated: high scores and a close margin.
         As I mentioned before, I didn't care who took the title this year because I'm a fan of both the Eagles and the Chiefs. I enjoyed the game while knowing the result would be in my favor no matter what.
         I had fun spending time with friends in the neighborhood at their place. All the kids in the neighborhood hung out together in the play area while the adults cheered upstairs. One of my buddies even dressed in a custom-made suit with the Eagles theme for church service that day.
         I won't post the pictures here since I have never gotten their consent to post stuff on the chain. In hindsight, I should have taken more photos of the foods prepared for the occasion.
         Unfortunately, due to the nature of visitation schedules, I departed early. So, I didn't catch the "questionable" call against the Eagles at the end. When you look up the stats on ESPN, they didn't reflect how close the game was.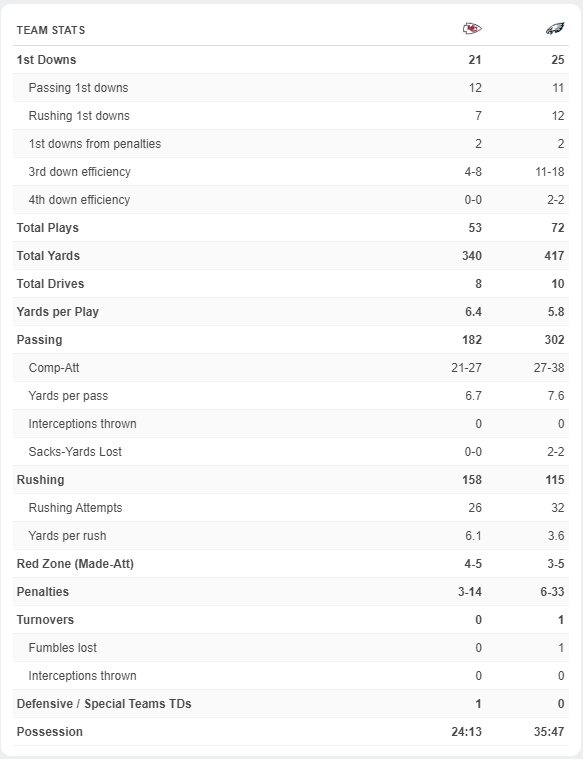 At first glance, you would think Eagles dominated. The Chiefs were slightly better at scoring with much less possession time. Overall, this was an enjoyable match. I don't know how many years I'll have to wait before such a matchup happen again.
Posted using SportsTalkSocial
---
---