The One True Champion
         All that's left in NCAA College Football is to wait for the national champion to emerge. Looking through the ESPN scoreboards, I was pleased with what I saw.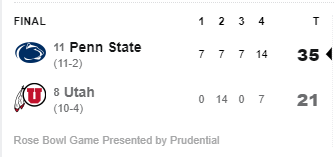 As a Penn State fan, you could see why I was glad to see them triumph over Utah. Add the fact that I'm also a BYU fan, and the facts speak for themselves. It would appear that the Pac-12 champion couldn't overcome the third-best team in the Big Ten. Before you think USC could have done any better, they did lose the Cotton Bowl to Tulane. That should tell you a lot about the state of the Pac-12.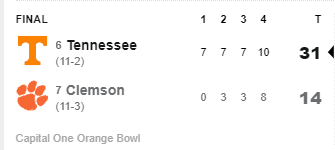 The Utes aren't alone in their category. Clemson suffered a similar fate when they faced off against Tennessee. The ACC had no high-powered competition this year.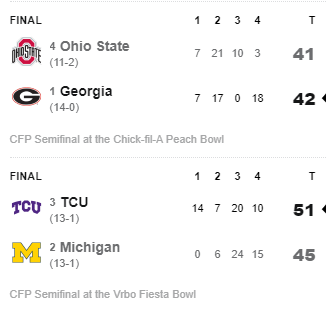 Many expected Michigan to beat TCU, but the Horned Frogs pulled a surprise. There were questionable calls on both sides. Let's take a moment and appreciate the high-scoring games. It would be amusing if TCU goes all the way in several days. Of course, I still believe Georgia will win it again this year.
         I do have to point out how close the Ohio State-Georgia game was. Perhaps there is a possibility that TCU could be the winner. I expected the Bulldogs to crush the Buckeyes, but that didn't happen.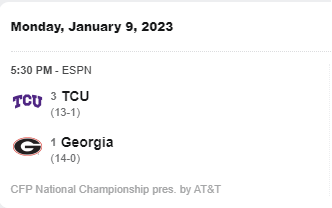 What say you? Who do you think will win on January 9th?
         College basketball will be a bit bland for me until March Madness since neither of my teams is doing great. Like I have said before, I might dabble in a bit of NFL seeing both the Eagles and Chiefs are doing well.
         Happy New Year's!
Posted using SportsTalkSocial
---
---