We are now at Week 4

         In the most typical BYU fashion, they lost spectacularly against Oregon last week. The Cougars still did not have their first-string wide receivers playing. It goes to show the lack of depth on the part of BYU. Although I must admit, the Ducks looked like they had much bigger guys.
         BYU will be facing Wyoming next at home. I hope nothing too crazy happens in that game. The Cougars should have no problem against their opponents before Notre Dame.

         I was surprised when Penn State became a top 25 team. There's no doubt it's a resume padding maneuver for the more dominant Big Ten teams. With that said, I was glad they beat Auburn in an away game. The real challenge for the Nittany Lions is when they face off against Michigan in the upcoming weeks.
         For perspective, Michigan currently ranks at #4. They have only played bottom-of-the-barrel teams so far. I hope Penn State gives them a tough game when the time comes.
---
         Let us go back and check out the AP Top 25 on ESPN.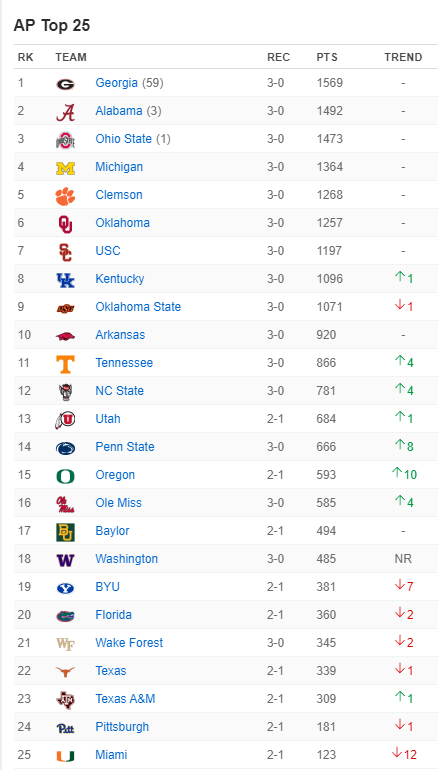 We are now in week four of college football. It's getting exciting.
Posted using SportsTalkSocial
---
---