Tres historias, un juego // Three stories, one game || OPINION

      Cuando un fanático del béisbol va al estadio, nunca sabe lo que va a presenciar en el juego de pelota. Es decir, el béisbol es tan impredecible como la mayoría de los deportes, pero la proporción de incertidumbre agregada es mucho mayor. Se producen miles de historias que gravitan sobre el estadio en cada cita. Es decir, podríamos enumerar muchas alrededor de lo sucedido entre los Rays de Tampa y los Angelinos de Los Ángeles antier.
When a baseball fan goes to the ballpark, They never know what they are going to witness at the ball game. In other words, baseball is as unpredictable as most sports, but the proportion of added uncertainty is far greater. There are thousands of stories that gravitate to the stadium on each date. I mean, we could list many around what happened between the Tampa Rays and the Los Angeles Angelinos the day before yesterday.
      ¿Ejemplos? La excelsa defensa del segunda base venezolano Luis Rengifo que ayudó a preservar el no-no o las atrapadas providenciales de Brandon Marsh en el left-fielder; en fin, acontecimientos que influirían en el resultado final del partido. Pero no, acá vamos a resaltar tres historias raras de ver en una de las joyas escasas del béisbol: el no hit, no run. ¿Las víctimas? Los chicos de Florida quienes batean mucho, son segundos en su división y resultaron alejados de los Yankees voladores en el este de la Americana.
Examples? The excellent defense of Venezuelan second baseman Luis Rengifo helped preserve the no-no or the providential catches of Brandon Marsh at left-fielder; in short, events that would influence the final result of the game. But no, here we are going to highlight three rare stories to see in one of baseball's rare jewels: the no-hit, no-run. The victims? The boys from Florida who hit a lot, are second in their division and turned out to pull away from the flying Yankees in the American East.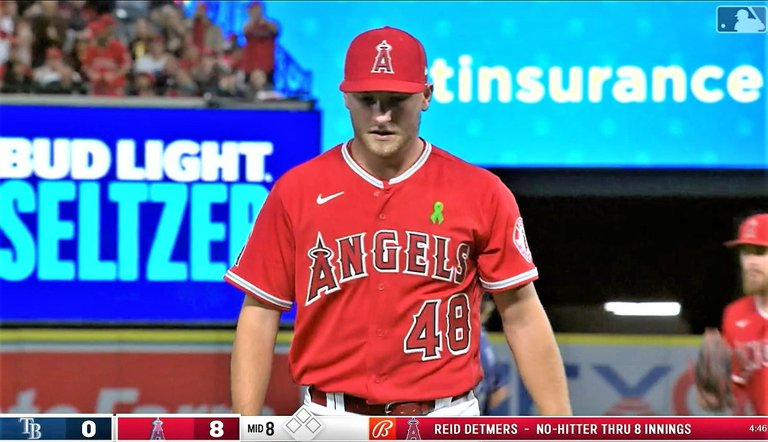 Screenshot: Source

      El novato Reid Detmers llegó ese día al estadio con la incertidumbre multiplicada por dos, es decir, no sabía lo que iba a pasar en el juego y había estado pitchando para +5.00 de efectividad. Iba abrir el doceavo juego de su carrera y quería hacer el trabajo bien porque los fantasmas de las ligas menores siempre andan rondando por allí, para quienes no se consolidan arriba. Comenzó su faena y la providencia ha querido que un out cayera tras otro. Una sinker espectacular, una curva muy decente y una recta promedio fueron sus armas para sacar de paso a los bateadores.
Rookie Reid Detmers arrived at the ballpark that day with uncertainty multiplied by two, that is, he didn't know what was going to happen in the game and he had been pitching for a +5.00 ERA. He was going to open the twelfth game of his career and he wanted to do the job well because the ghosts of the minor leagues are always hanging around for those who do not consolidate at the top. He began his work and providence wanted one out to fall after another. A spectacular sinker, a very decent curve, and an average straight were his weapons to get the batters out of the way.
      La segunda historia está íntimamente relacionada con la pizarra final: Brett Phillips batea por primera en el séptimo inning y el primera base Jared Walsh no pudo dominar la pelota. El asunto radica en que la conexión fue violenta y puso en aprietos al anotador oficial. La joya dependía de lo que decidiera y los minutos pasaron para angustiar al público en el estadio. Con dos posibles decisiones: error o infield-hit, el anotador podría ganarse una ovación o un abucheo. El tipo fue profesional y no se dejó intimidar: error. El estadio estalló en vítores como si hubiera caído el último out del inning.
The second story is closely related to the final slate: Brett Phillips hit for first in the seventh inning and first baseman Jared Walsh could not overpower the ball. The issue lies in the fact that the connection was violent and put the official scorer in trouble. The jewel depended on what he decided and the minutes passed to distress the public in the stadium. With two possible decisions: error or infield hit, the scorer could earn an ovation or a boo. The guy was professional and undeterred: mistake. The stadium erupted in cheers as if the last out of the inning had fallen.
      ¿No es hermoso el béisbol? A estas alturas del juego los Angelinos ganaban por ocho carreras, así, en el octavo episodio sucedió algo extraordinario. No sabemos porqué el mánager de Tampa tomó la decisión de enviar a un jugador de posición a la lomita, pero sospechamos quería descansar al cuerpo de relevistas. Algo nada extraordinario como lo puede revelar las estadísticas. Solo que esa decisión le costaría más carreras a Tampa y he aquí lo extraordinario que lleva a nuestra tercera historia.
"Isn't baseball beautiful? At this point in the game, the Angelinos were up by eight runs, so in the eighth inning, something extraordinary happened. We don't know why the Tampa manager decided to send a position player to the mound, but we suspect he wanted to rest the relief corps. Nothing extraordinary as statistics can reveal. Only that decision would cost Tampa more runs and here's the extraordinary thing that leads to our third story.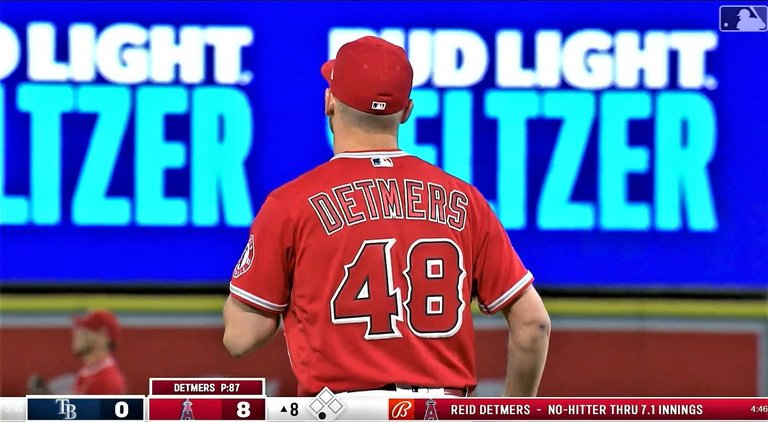 Screenshot: Source

      Mike Trout y compañía le dieron la bienvenida con un par de carreras, para que el japonés estrella Otani también le diera un doble, dejando el turno para Anthony Rendón. Este tipo se paró del lado izquierdo del home-plate siendo bateador derecho (4528 turnos de ese lado de la goma), no creemos para irrespetar al béisbol, sino que le parecían suficiente diez carreras de ventaja. Por supuesto no iba a regalar el turno y en cuenta de una bola sin strikes hizo swing de gradas depositando la pelota fuera del terreno por el right-field ¿Que tal?
Mike Trout and company welcomed him with a pair of runs, so that the Japanese star Otani also gave him a double, leaving the turn for Anthony Rendón. This guy stood on the left side of home plate as a right-handed hitter (4528 innings on that side of the rubber), we don't think to disrespect the baseball, but he thought it was enough of a ten-run lead. Of course, he was not going to give away the turn and on a no-strike count, he made a grandstand swing depositing the ball out of the field in the right field. Amazing..!
      El doceavo no hit, no run de la historia para los Angelinos, devolvió el alma al cuerpo de Reid Detmers y le compró mucho tiempo de juego en el roster principal como abridor. Los sucesos pequeños pero conectados al juego de pelota son muy variados, por ello quienes conocen del juego disfrutan tanto de las inesperadas historias que salen de un estadio. Y antier en los Ángeles vimos un nuevo capítulo en la ya larga épica del béisbol.
The twelfth no hit, no run in history for the Angelinos put the soul back into Reid Detmers' body and bought him a lot of playing time in the main roster as a starter. The small but connected happenings in the ball game are so varied, which is why those who know the game enjoy so much the incredible stories that come out of a stadium. And yesterday in the Angels we saw a new chapter in baseball's long-running epic.
---
P.S. English is not my native language, apologize for that.
I used a web translator for english text (DeepL)

Las estadísticas usadas para el artículo son extraídas de MLB // Statistics used for the article are extracted from MLB

---
---