Do I have thinking error??? / Habe ich einen Denkfehler???
Hello everyone.
Today I wanted to do a swap on MetaMask.
I wanted to swap about 10§ BnB into Afit tokens.
Now I noticed that for 10 Hive (rate currently $1.00) I get about 24000 Afit.
When I do the swap I get at Metamask 2332.xxx
Look at the picture once: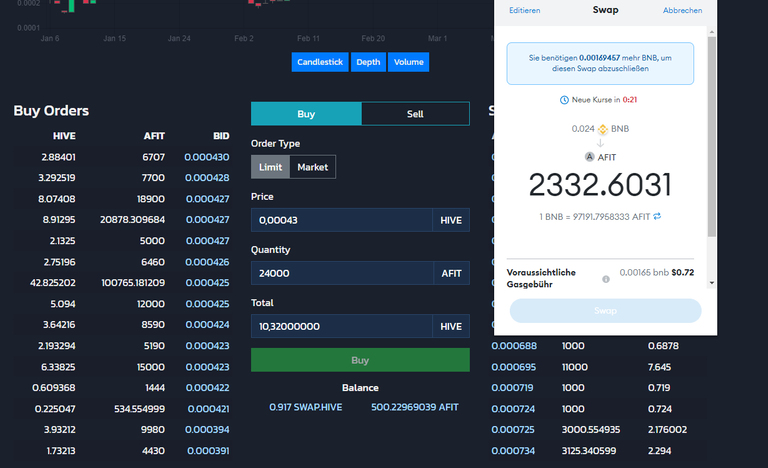 Can someone explain to me, whether I have built in here somewhere a thinking error - or what is wrong there????
Thank you for information.
The Filosof
Translated with www.DeepL.com/Translator (free version)
DEUTSCH
Habe ich einen Denkfehler?
Hallo Allerseits.
Heute wollte ich bei MetaMask einen Swap durchführen.
Ich wollte ca. 10§ BnB in Afit Token tauschen.
Nun habe ich festgestellt, dass ich für 10 Hive (Kurs zur Zeit $1.00) ca. 24000 Afit erhalte.
Wenn ich den Swap durchführe erhalte ich bei MetaMask 2332.xxx
Seht Euch das Bild einmal an: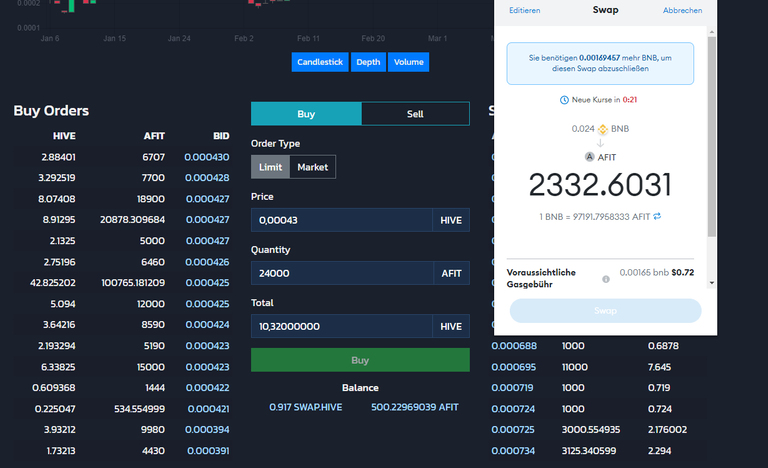 Kann mir einer erklären, ob ich hier irgendwo einen Denkfehler eingebaut habe - oder was da nicht stimmt???
Ich Danke Euch für Informationen.
Der Filosof
Posted using SportsTalkSocial
---
---