Getting Whitelisted on Proofofbrain.io isn't Cheap!

This evening I got on my computer and saw that the NFT section is now available on proofofbrain.io. I raced to the profile section to aign up for the whitelist and saw this: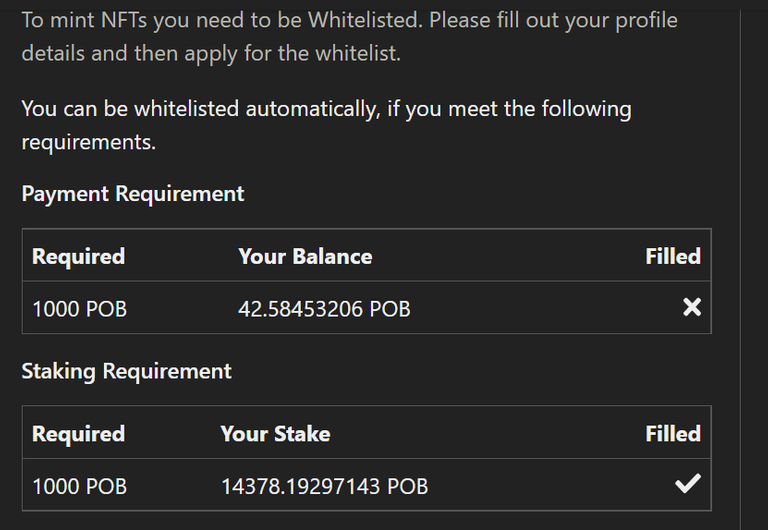 Image Source: proofofbrain.io/nfts/profile
Oh, uuuhhhhh....one thousand POB tokens.... Maybe one hundred or two hundred but....That's quite a bit.
There are only a few weeks left for me to reach my goal of 15,000 staked POB tokens by the first day of 2022. I want to get to 50,000 staked by 2025. Paying 1000 POB to get the privilege of minting NFTs on proofofbrain.io is like falling 2% behind on my 2025 staking goal. I just spent the last few weeks buying POB to make up for falling behind a few months ago. I swore to myself I wouldn't fall behind that goal again.
Right now I am powering down my @holovision account and will be getting 31 HIVE for the next few weeks. Right now and maybe again next week I could probably get 500 POB at 0.06 SWAP.HIVE like I've been doing for the last few weeks but I've been planning on putting the next few power downs towards other tokens that are currently low like LEO and investing a little in a few diesel pools.
For right now I've filled out my profile on proofofbrain.io's NFT secrion. Maybe in a few months I can put 1000 POB into getting the privilege of minting NFTs for that website. For now I need to focus on my 15,00 POB stake goal and a few investments for the future. I am already whitelisted on palnet.io so I can post NFTs there until I can justify to myself paying 1000 POB.
The good news is that once I do eventually pay 1000 POB minting editions on proofofbrain.io; after that it is cheap.It seems @mineopoly minted 12 editions of an NFT for 17 POB. That's at least reasonable.


Image Source: https://hiveblocks.com/@mineopoly
---
---